In Memorial Page
2010 - date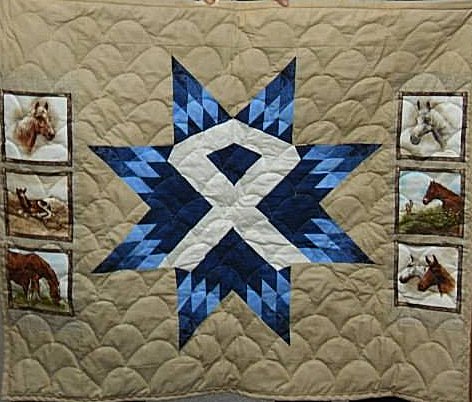 Quilt made in memory of Mike (Buggs) Thompson JR by his daughter Aricka Rose.
We are using this as our masthead for this page
---
Since the Ride started a number of the Riders and supporters have passed away. I wanted to add a page here to remember them.
The first person we remember is

Billy Ray DuMarce.


February 25th 1989 - August 29th 2010
Billy Ray was a young man we all remember from the Dakota 38 movie, his beaming smile and nervousness at being around non Natives who surprised him by their support. I believe, his words made us all think differently about what we could do to make things better for him and others who feel the same way. So many of us around the world know Billy Ray through the movie, he spoke to our hearts..
25th February 2014. Billy Ray's Birthday

Happy Birthday my lil BillyBobBillyray Dumarce! You are always thought of...always missed and forever loved. RIP my boy - Kristie Keeble

Happy Birthday! Billy Ray!! You have touched the lives of people all over the world in a good way. - Josette Peltier

you are remembered Billy Ray...... - Anita Martin

Happy birthday you are missed....but you left strong messages through the video... thank you. - Lola Blaine

It would be a great idea to do this in my nephew Billyrays memory. He believed strongly in this ride as his Grandpa Baine Wilson believed. - SylvesterRita WilsonBaker

Happy Birthday and thank you, Billyray, your life will echo forever? - Nancy Hamilton Britt
Happy birthday Billy Ray sorry I never got to meet you. it was pretty devastating for me, when I realized he passed on. and I only knew him from the movie - Gordon Sturrock
I was very touched by hearing this young man's words in the film and it hit my heart when I saw that he had passed. On this day I can only hope that the way he touched those who saw the film gives some strength to his family. It would seem that his memory is very much in the spirit of continuing and building the education and reconciliation the Ride provides. - Diane R. Anderson
This is the young man on the video…really speaking from his open heart? He is a beautiful Soul… Happy Birthday BillyRay - I hope it is okay to say that he really just melted my heart in that video. What he was talking about … many of us had/have/do struggled with. By the time the Ride is over (in the film) he is our kid, our young man, our little brother cause he let people stand right beside him when he shared what he had to say. He spoke for others. He maybe didn't see how strong that was (I believe now he does) What he did by standing in his truth takes courage. BillyRay and all these youngsters (families too), it is a privilege to hold space for those good intentions, that kind of courage. I was glad I got to hear what he had to say. Thank you ...and please ...comfort to his family. - Dawn Cunningham Beard
Happy Birthday, Billyray ! Dawn, your words say what my heart felt when I was watching the video. I believe this young man made quite an impression on many. All good thoughts and prayers for his family..... - Ruth Gerhardt
Happy Birthday Billy Ray! He has touched my heart in a beautiful way. - Joy Maddox Dacus
Dawn Cunningham Beard, as others have said, your words express what I felt, too...so much I feel, too sacred to say.? - Nancy Hamilton Britt

thank you every one for the nice caring words. Im glad his words touched all of you. He was such an awesome brother and I miss him every day! - Darlena DuMarce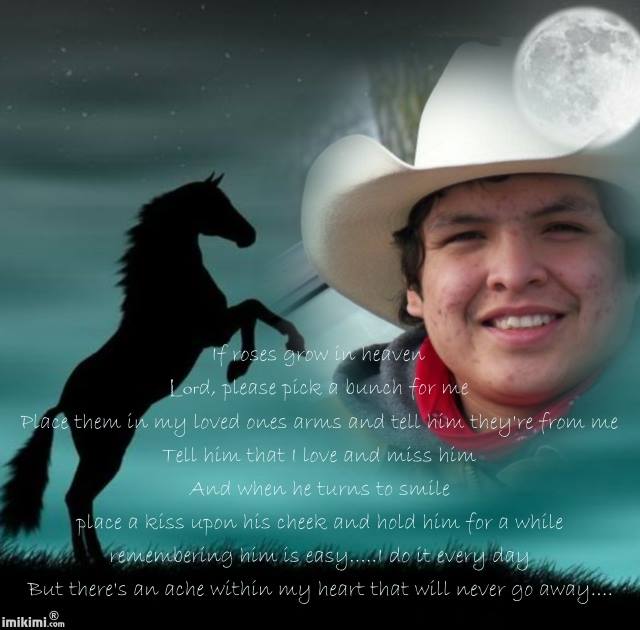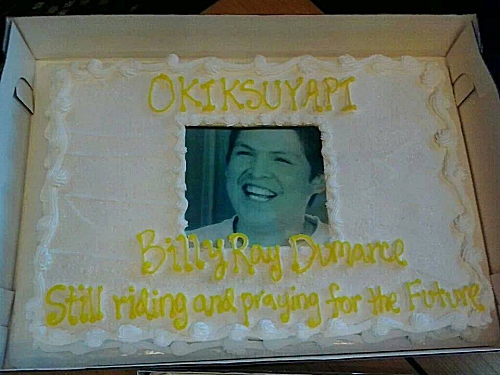 ---
Next is
David Anthony Farmer


1978 - June 2013
From Canteskuya Farmer (Auntie to David)
Han mitakuya pi! Im the tunwin/In'a to David -MATO WAKAN- FARMER GRANT. HIS PARENTS ARE TIMOTHY & PAM GRANT OF MACY NE AND KAREN & RICHARD HILL OF SISSETON SD AND HIS PATERNAL GRANDFATHER STEVEN FARMER SR. OF TWIN BUTTES ND. HIS PATERNAL GRANDMOTHER KAY BURSHEIM. HIS CHILDREN ARE MAHPIYA, MONGACHA, & TUKAN EASTMAN. WE ARE PLANNING HIS MEMORIAL FOR JULY 5TH AT OUR WACIPI IN SISSETON DURING THE FOURTH..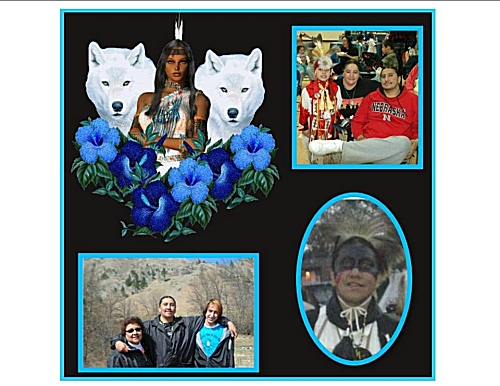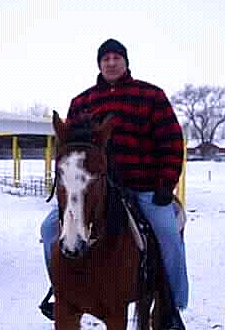 ---
Mike (Buggs) Thompson Jr. -


July 6th 1947 - January 3rd 2013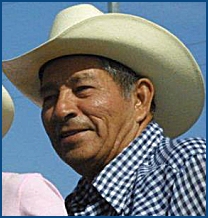 Mike's Grand-daughter, Mary Jane rode in the 2013 Dakota 38 + 2 Memorial Ride in his honor.
What a wonderful thing for a young woman to do

Mary Jane riding in honor of her grandfather Mike in 2013


December 20th 2013 - Today my Winona, my daughter, Mary Jane Thompson-Cavanaugh will join the Dakota 38 + 2 Memorial Ride to honor her beloved grandfather, the late Michael "Buggs" Thompson, Jr. My dad participated in this ride each year, but got sick last year in Morton, MN. He passed away a few weeks later on January 3, 2013 after a courageous fight against cancer. Our family is so proud of Mary Jane for finishing out the ride for her Papa Buggs.

Today Im one proud momma! My heart is filled with joy n it will be a bitter sweet journey for her because she has always wanted to go but her papa will not be there. But we know he is our guardian angel n will be with her spiritually. I pray that God will protect her,.Praying for safe travels, good weather and a good ride for her, my family, all of the riders, horses and helpers. We are soo proud of u, my girl! Finish this ride for Papa Buggs. Lee lee lee!! - Aricka Rose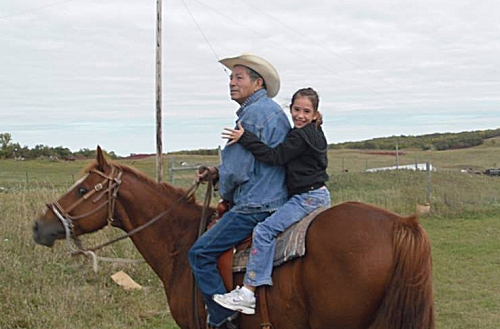 Mike with Mary Jane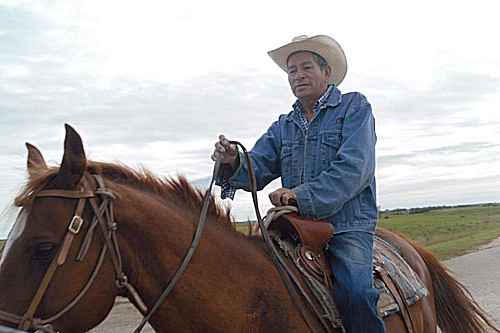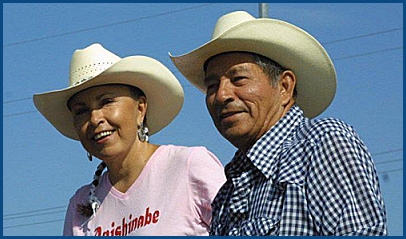 Quilts that Aricka Rose had made in her Dad's name 2014
---
Tatanka Waci (Buffalo Dancer) - James Ryckman


December 1st, 1974 - July 3rd, 2014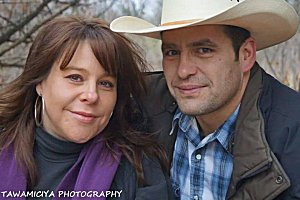 James "Jamie" Patrick Gerald Ryckman, Charging Eagle....

James was born to Gerald and Laura (Byington) Ryckman. he grew up in Sturgis SD. James was a traditional dancer and attended pow wows in MN, SD, ND and WI. He was very artistic, loved to draw and he made his own regalia. We attended the last day of the Ride last year and he was so proud and honored to be there and be a part of this Ride. He had ridden in the past also. He is loved and missed by so many, and his heart will be forever with me (Maryhelen) and his 2 sons.
Survivors include.. Mother, Laura Stempson of St Cloud MN, sons, Andrew Berkey (Brittany Berkey) of Morris MN. Cheyton Ryckman 7 months old. Fiance Maryhelen Paavola of St Cloud MN. Brothers Eugene (Larinda Ryckman Tabaha) Ryckman of Spearfish SD. Michael Stempson of Long Prairie, MN. Sisters.. Alberta (Gary) Mcmains of Belle Fouche SD. Gerelynn (Tony Stanton) Ryckman of Paynesville MN. Marlee Nebben of Brekenridge MN, Crystal (Andrew Patterson) Stempson of Sauk Rapids, MN; aunts, uncles and many nieces and nephews, cousins and many friends. He was proceeded in death by his father, Gerald Ryckman, one brother, Michael Byington, grandparants, uncles; Steve Byington. Richard Byington Sr, and Elmer Ryckman.
James you are truly missed and loved by so many . May you always be dancing in that big circle in the sky!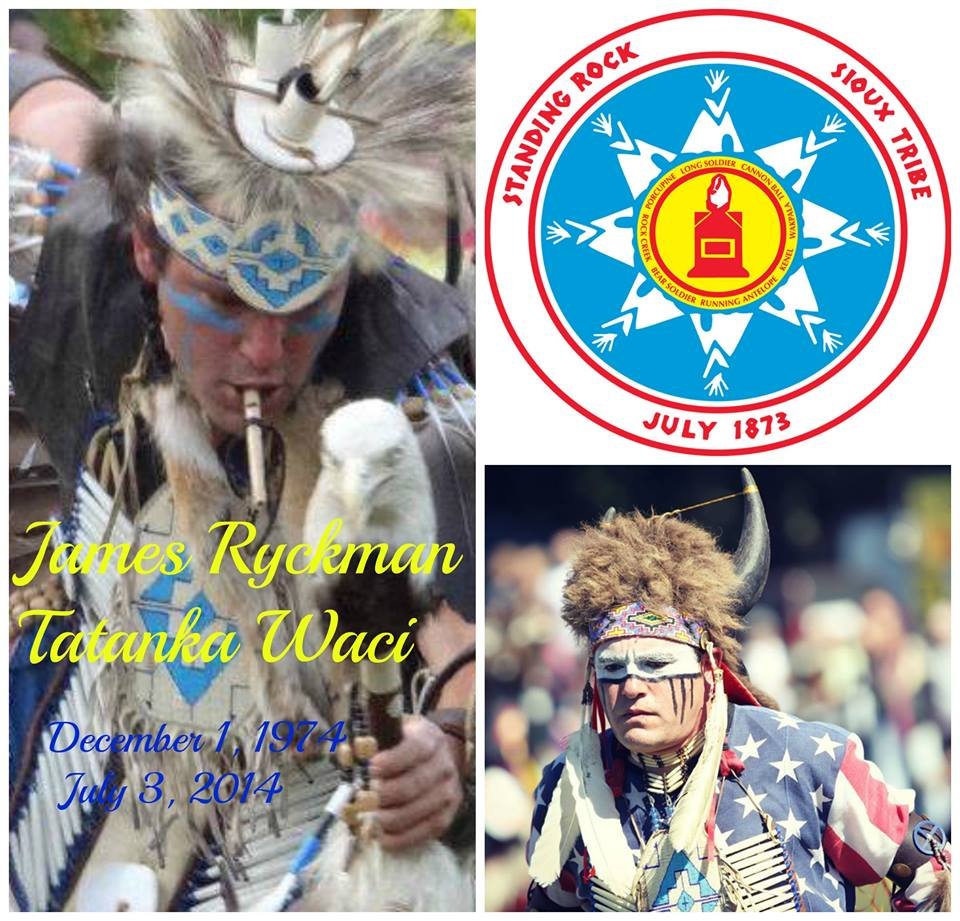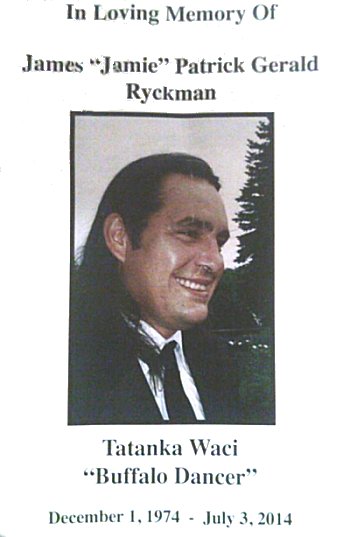 | | |
| --- | --- |
| | |
---

Buffalo - Gus High Eagle


May 26th 1952 - October 18th 2014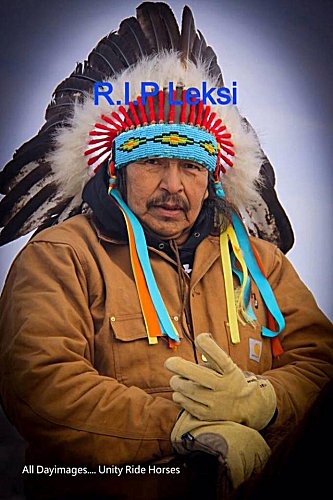 "Brother, you have to keep this dream alive, we have to bring the people back together to be the Oceti Sakowin (7 Council Fires) once again". - Gus High Eagle
FROM JIM MILLER:
To my beloved Dakota 38+2 Memorial Rider family, the sad news of our brother's passing yesterday came as a total shock to us all. As you may or may not know my brother Gus High Eagle has been involved in rides for the past 30 years. He shared with me that the horses are the healers and that he was working for them too. As I look back on this past week, I know that Creator wanted this time for Gus.

Last week we rode on many of the Dakota and Dakota/Ojibway reserves in Manitoba and Saskatchewan sharing the information about the 38+2 Dakota warriors who were publicly executed. Many did not know this piece of history and many did not know of the film. As we rode he said he had relatives on every one of the reserves. Maybe Creator orchestrated this time for Gus to do what he loves best, spending time with his horses and relatives.

He was a man of his word, a man of high integrity and didn't hesitate to discipline us all if he felt we were out of line. We listened to him and respected his word. Who will replace him and fill those boots? He was a true Dakota Chief.

I feel that Creator blessed all of our people with his presence. Every year he brought horses on his own dime. We will miss him greatly. Wherever you are please send prayers up for Emily and his family.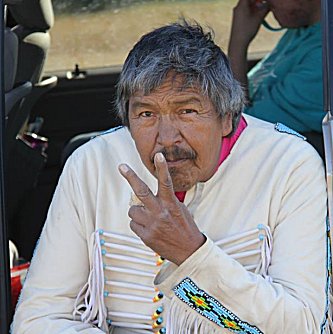 To watch a small video of Gus please click HERE
---
Michelle L. Bausch


May 13th 1976 - December 21 2014
Michelle L. Bausch, 38, of Allen, Nebraska passed away suddenly on Sunday, December 21, 2014 in Fairmont, Minnesota while leaving the Dakota 38 + 2 Memorial Ride.
Shelly was born on May 13, 1976 in Wakefield, Nebraska, the daughter of Dale and Maxine (Lyons) Smith. She attended and graduated from Allen High School in 1994. In August of 1994 she was united in marriage to Mark Bausch. To this union three children were born: Jon, Ally and Nate. The couple later divorced. While working at several places including M.G. Waldbaums, Country Nursery, Opportunities Unlimited, NRP, and the Corner Mart. She graduated from Wayne State College with a degree in Psychology. She later obtained her Masters of Counseling from Wayne State College. She has been working with Nebraska Indian Community College serving the Native Americans on the Rosebud Reservation in South Dakota and the Omaha and Winnebago Reservations as a teacher and counselor.
Shelly had a magnetic personality meeting friends everywhere she went. She enjoyed camping, backpacking, horseback riding, softball, karaoke and attending rodeos. Most of all she enjoyed the time she was able to spend with her friends and family.
She is survived by her three children: Jon Bausch of Waterbury, NE, Ally Bausch and Nate Bausch of Allen, NE, her parents Dale and Maxine Smith of Allen, NE, brothers and sisters Jolene (Wes) Lueth of Wakefield, NE, Kevin (Kathy) Smith of Allen, NE, Richard Smith (special friend Michelle Greenough) of Riverton, WY, Carrie (Cory) Marschner of Columbus, ND and Mindy (Corey) Millard of Martinsburg, NE and several nieces and nephews and cousins.
She was preceded in death by her grandparents, infant brother Tony and her special friend Justin Lineberry.
Funeral services for Shelly will be held on Saturday, December 27, 2014 at 10:30 a.m. at the Evangelical Free Church in Concord, Nebraska; Pastor Todd Thelen will be officiating. The visitation will be held on Friday from 4:00 until 7:00 p.m. at the church in Concord with a prayer service at 7:00 p.m. Burial will be in the Concord Cemetery. In lieu of flowers, memorials are suggested to the family for future designation. Bressler – Munderloh – Smith Funeral Home of Wakefield is in charge of the arrangements.


Photos of Shelly by Nina Fox
---

Elvis Oraye Provost


October 12 1961 - July 18 2019
Elvis was from Wagner, SD. He was one of our Riders. He was also a Freedom Rider. He rode along beside Ken Four Cloud, as they both, along with many others, tried to get Leonard Peltier released from Prison in Florida. They rode from South Dakota to Coleman in Florida where Leonard is imprisoned.
Elvis enjoyed playing the flute and attending powwows. He was a well known figure among the Riders, both our 38 + 2, and the Freedom Ride.
Sadly missed by all who knew him.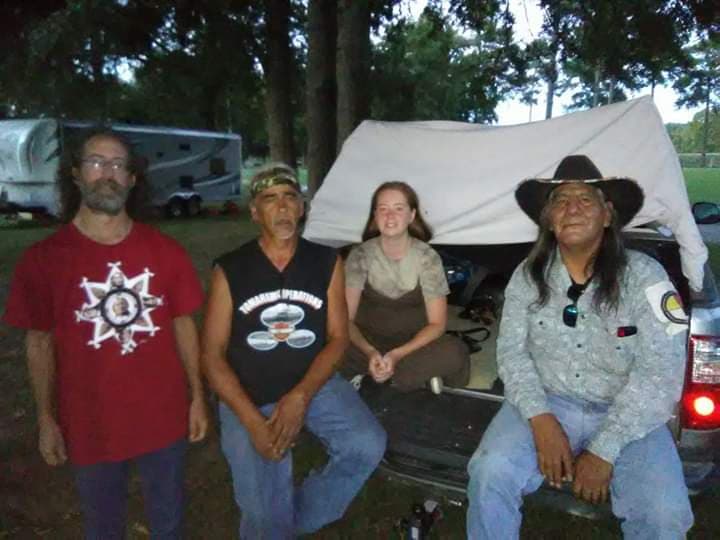 Elvis on the Free Leonard peltier Ride in 2019, Ken Four Cloud second from left


Thank you so much for remembering Elvis we loved him so much and I have so many stories but I know you have limited space so I guess what I want everyone to remember about Elvis is this: Elvis loved everyone with his whole heart and He is loved and missed around the World - Julie Fike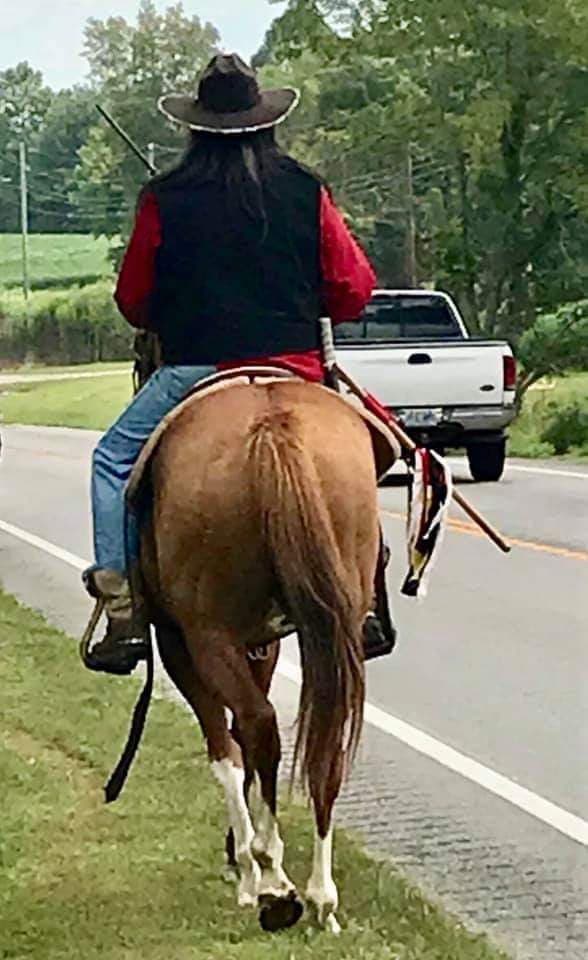 See you later Elvis, Safe Ride!
---
Raymond Shepherd, Jr. - Tas'unke Oh'anko "His Swift Horse"


September 04 1947 - January 15 2020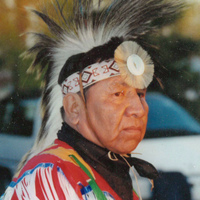 There is no death, only a change of Worlds
From Alberta and Jim Miller -
'Prayers for strength and condolences to the family of Ray Shepherd, a long time Dakota 38+2 rider. Together with his sons they brought a gentle yet strong energy to the ride. He is free to ride with the ancestors, free of earthly burdens and I know he will continue to help us along the trail.'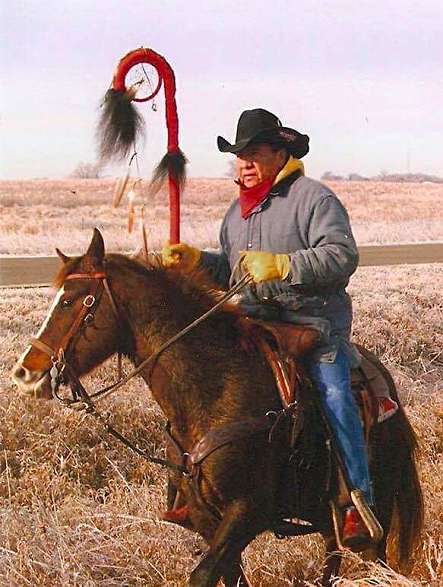 Throughout his younger years, Ray enjoyed playing softball and fast pitch. He attended pow-wows, Dakota 38 + 2 Ride, and Sun Dances. He was a great grass dancer.
Ray also loved rodeoing with The Boys, cookouts and visiting family and friends. He enjoyed his horses, Pearl and Stanley.
He worked for SWO Housing Authority for many years until he retired.
Ray also enjoyed watching his great-grandsons play sports and playing and watching horseshoes.
Ray was a very caring, loving, person who got along with everyone. He will be deeply missed by his children, grandchildren, family and friends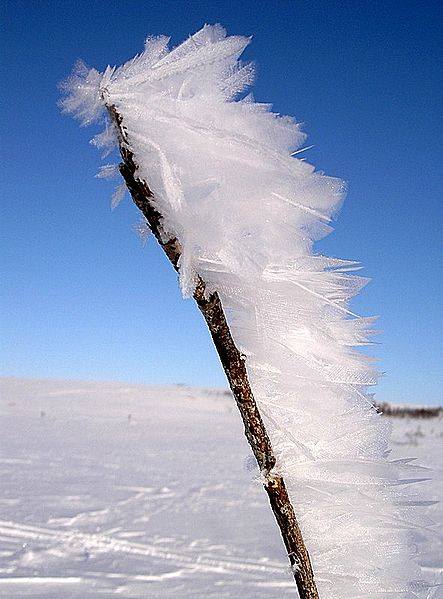 ---
Maza Okiye Win - Yvonne Agnes Leith


August 19th 1939 - February 25th 2013

"Anpetu inicage yaceya tka Maka owancaya wiyuskin. Wiconi canku amani hece wiconi iyakihuni. Maka owanca ya ceya sta niye widuskin - The day you were born, you cried and the world rejoiced. Live your life, so that when you die, the world cries and you rejoice".



| | |
| --- | --- |
| | Yvonne was the spiritual backbone and inspiration for Dakota Wicohan's foundation and work. Despite her long battle with cancer, she continued to encourage, support, mentor, advocate, educate, teach and guide the work of the Dakota revitalization movement. Yvonne journeyed to the spirit world on Monday, February 25th, surrounded by family and friends, ceremony and song. |
Yvonne cooked for the riders and the runners too for many years. She was our supporter, especially for the youth riders of Sunktanka and Dakota Wicohan programs. She was born on August 19, 1939 and entered the spirit world on February 25, 2013. She was a member of the Upper Sioux Community and proud Sisseton-Wahpeton-Mdewakanton Dakota winyan and a good Kunsi and Tuwin to many.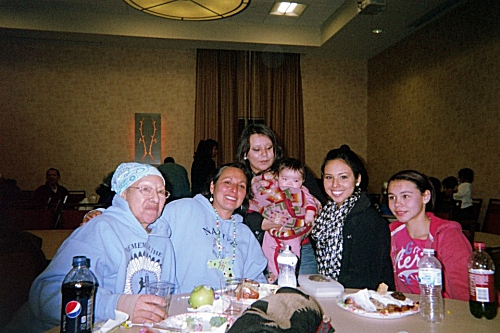 The grandmothers of the ride gave us and continue to give us strength.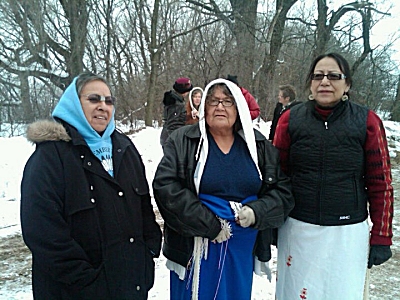 ---
Roger Lee Hook


February 19, 1959 - November 2, 2020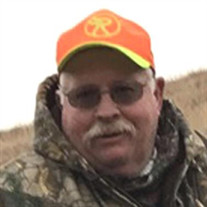 Roger lived in Russell, MN, and for many years has been taking care of the Riders and horses as they come through his area. He along with the Pipestone Community worked together each year so that the Ride was catered for in both places. It was a passion of his. He will be sadly missed.
Roger Lee Hook was born in Redwood Falls, Minnesota, he was married to Brenda Brown in December of 1998 and they made their home in Russell. He was proud to serve on the Russell Fire Department for 25 years and he also worked as a First Responder. Roger also held many offices in the town of Russell, serving as City Counselman, Grace First Parish Church Council member, Mayor, and he was on the board for Bandwagon Days.
Roger is survived by his wife, Brenda; children, Randy (Chrissy) Hook of Russell, Nicole (Matt) Heidecker of Tyler, Renee (Troy) Lehmann of Winthrop; 5 grandchildren, Aubrey Hook, Ripley Hook, Reese Hook, Maxxwell Lehmann, Ethan Lehmann; mother, Delores Hook of Marshall; siblings, Sherlyn (Bruce) Brown of Russell, David (Kim) Hook of Russell, Cyndi Hook of Russell, Daryl (Cheryl) Hook of Tyler, James (Amy) Hook of Griswold, IA; his black lab, Bear; nieces, nephews, other relatives, and friends.
Roger was one who openly spoke his mind, and everyone knew he needed to get the last word. He did things his own way.
Our Admin Cari said, ' I remember him and I saw him the different times I went to meet the Riders in Russell. Always a smile on his face and so helpful to ALL.'
I remember him when I met him along the road on the Ride in 2010, my Neice, our Admin Marge also remembers him when they all got together to organize the hospitality for the Riders each year in Pipestone. He will be missed during the Ride from now on.
I put him just before Chuck so they can chat and have a laugh together!
RIP our friend. Thanks for all you did for the Ride.
---
Chuck (Running Elk) Derby


February 17th 1941 - August 7th 2010

Chuck at Bear Butte 2008
Sadly Missed

Chuck owned and ran the Little Feather Center in Pipestone. He was a quarrier of the sacred red stone and a Pipe maker for over 60 years.

He loved the Ride, and I promised him before he passed over that I would do what I could for it. The Face book group page is continuing because of that promise, and this web page is here because of him as well

His sister Alice Erickson did the same and she now makes sure the Riders are fed and warm, and that the horses are looked after when they come through Pipestone every year. Both she and I will continue to do this while we are able to.

Chuck passed away of Pancreatic Cancer on August 7th, 2010 in his beloved Pipestone, surrounded by his family. He smiled as he passed over and we knew he would be OK

Gloria Hazell-Derby (Chuck's Widow)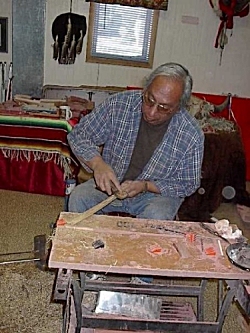 Chuck making a Pipe in the Little Feather Center, Pipestone, MN