The Little Feather Center is very sad to announce the death of some of our family members in 1999, 2000 and 2010.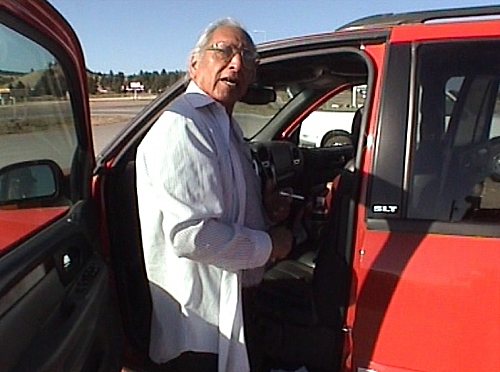 Chuck on the Pine Ridge Rez 2009
The patriach of the Pipestone Dakota Community and the President and owner of the Little Feather Center, Chuck Derby was diagnosed with stage IV pancreatic cancer in April 2010, he was given 3 to 6 months to live. Sadly he only made it to 4 months. He passed away on August 7th, 2010, at the Little Feather Center, in his beloved Pipestone. He was surrrounded by his family and friends and slipped peacefully away from us all. Since he passed the Center has more or less closed down through lack of people power. Indian Taco sales are done most Saturdays by Alice, Chuck's sister, but other than that there is not a lot going on there now.
The whole situation is sad as was Chuck's passing. He is missed by us all.
---

Rita and Jeff were not only family they were friends. Jeff was the son of Chuck's brother, Little Feather, (also Jeff Derby) and so it is a doubly cruel blow to lose both father and son in such tragic circumstances within 12 years.
The younger Derby's died when their car went out of control on slippery roads on January 18th, The car overturned a number of times killing them both instantly. They leave behind a family of small children, the youngest, Jeffery Jr. only a few months old. Both sets of Grandparents are now taking care of the children.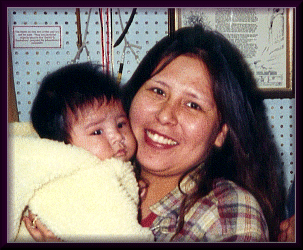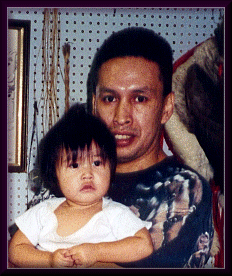 Rita with Jeffery Jr. & Jeff with Sharee
Rita Ann Derby was 27 years old, the wonderful mother of Larrisa, Athena, Sharee and Jeffery Jr.. Rita was hoping to get a teen center started at the Lower Sioux Community, and had been actively searching for funding for it prior to her death.
Jeffery Ray Derby was 34 years old, and the father to Sharee and Jeffery Jr. and step father to Larrisa and Athena. Jeff was an artist. He followed his Native American culture and was a Sundancer.
Rita and Jeff were joined in marriage In Elk Point, SD, on March 4th 1999. They were buried side by side at the Lower Sioux Reservation on January 20th, 2000.
Recently the couple and their youngest children visited us at the Center and we took some photographs of them, which we are grateful for. We are showing one of the photos below.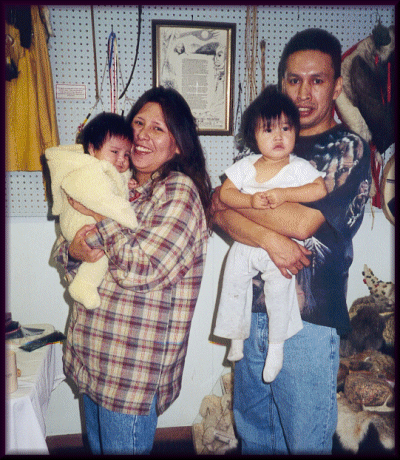 We wonder 'Why?' as we grieve for these two precious souls.
---
An Update 2005:
A number of people have asked us how Jeff and Rita's babies are doing now, well we are pleased to report that they live with Jeff's mother and step father at Santee Nebraska, and they are growing into fun loving, regular kids. They are happy within the extended family and often attend powwows with the family.