I am using the final words from people who commented in the group age on December 27th, the Day after the Ride ended in this column. First as usual we smudge and say a prayer!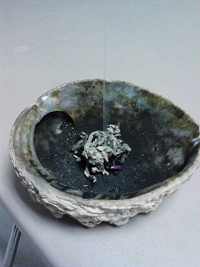 Aho Mitakuye Oyasin, Grandfather, Tankashila, we remember at this moment the hanging of 38 men in Mankato at this time in 1862. We pray that their Spirits will be at peace and all of their descendants will be able to forgive the actions of those who instigated this awful act. We thank the Dakota 38 + 2 Riders and their horses and supporters for showing us what respect, remembrance, and love look like. May they all have safe returns to their homes knowing that our prayers are with them. Please excuse me putting this prayer on here but it is the only way to connect with those who are praying worldwide in the same way. Aho. Mitakuye Oyasin. - Gloria Hazell Derby


It was a pleasure to have met new people this year. Hopefully next year we will make meet more relatives! Happy New Year All My Relations!
Grace LaMere Mantich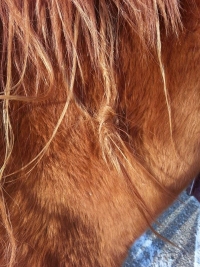 Spirit Braid in one of the Sanka Wakan's.


Good morning everyone.
As we head home and most of us are there now please remember to call back your spirit. It has not even been a full day and I miss all of you. The ceremony and group collective are very powerful and as we go our way now we will feel something missing. That is a part of your spirit left in Mankato.
It is extremely important to get into the sweat lodge and call your spirit back. If you don't have access to a sweat lodge talk to an elder they can help you. Don't feel lonely for we are still all one and I love you all. - Keith Nichols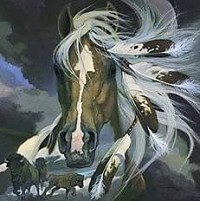 Taking the time here to thank my Huka Family Gus High Eagle n Jim Miller Families for all they do for our people. I love yous n wish you well in the upcoming year. Your continued strength n support you give is amazing. I surly miss being out there riding n praying. There's always the next ride my uncle says. So til qe ride again...take care n I love you all. - Salish Chippewa Cree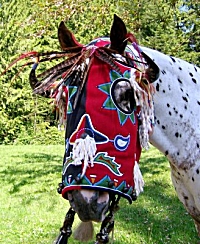 Gloria Hazell Derby, Lou Fuentes, Keith Nichols, Alberta Iron Cloud Miller, Julie Carrow
Thank you all, for the great job you did updating this page and the website, for the wise and encouraging words you shared, for the beautiful pictures you took. You allowed me feeling close to the riders and all the people involved in this amazing event, even if there are thousands of kms that "divide" us.
So grateful to all of you. - Tatiana Deflorian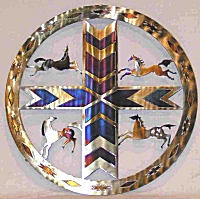 I am honored to have been a small part of this awesome ride. I have found a family in this group. I was made to feel welcome right away. These is a very strong sense of respect and acceptance and that is what I pray for in our world. I wish I could have done more. There is always next year.
I was just reminded that my baby grand -daughter has Native American blood though her daddy. I want him to teach her about her heritage so she can be proud of where she came from.
I wish everyone a wonderful new year filled with health, blessings and friendship. - Kendall Gutierrez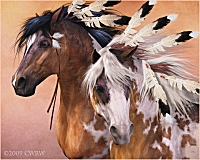 I thought I would share this little story with all of you. Yesterday morning, I made the memorial feather flag. It had a total of forty feathers. Two were special feathers. I had put it out standing on my lawn. It was so beautiful, how the feathers blew in the cool wind...
Around 3 pm, I went for a spiritual walk, to one of my haunts. There are some ospreys who nest there, and I wanted to take some pictures., as well as go by the little lake and think..
Sometime between 4-5 pm, I walked over to the tree by a Boston Market. I looked up, and there it was, a huge bald eagle looking down at me.
We just looked at each other for a long time.
Tears ran down my face, I felt something, something sacred. Many people were in the parking lot, going to the Boston market, the eagle sitting there in plain sight.
But nobody saw this bird. I noticed that, nobody knew there was a bald eagle in the tree, so close, I never saw one that close ever.
Then about ten minutes later, the eagle opened its wings, walked along the branch, and flew off to another tree across the lake.
I will never forget the day I saw this eagle, who seemed to be for my eyes only on a very special day. -
Dj-Dapper Don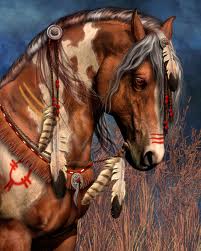 Two bald eagles flew over the road, turning so I would not miss seeing them, as I was just west of Mankato, heading home. I felt reassured about my travels. Pidamaya for telling your experience. - Betty Sheldon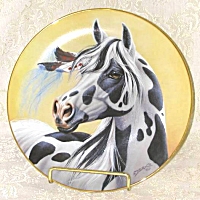 What a beautiful sight! Wish I was there in person to see my daughter ride. Thanks for sharing. Lee lee lee! Sooo proud of her and all of the riders!! - Aricka Rose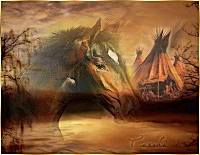 Thanks for sharing - I have cried so many tears and am covered in goose bumps AND I will be there next year, riding to honor the 38+2 - Sharlene Whiteley McGilvray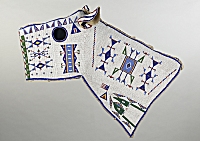 My gratitude for the riders and the Sunka Wakan for their perseverance in these harsh days. Wopila to our elder Jim Miller for his courage by sharing this vision with the World. Another thank you to elder Tokala Two Elk, that visits our community and shared the song that the Dakota 38 were singing as they were going to be executed. There is healing and good feelings amongst the people. My heart is singing! - Joy Fox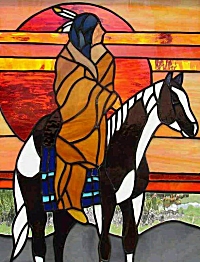 I wanted to thank everyone for a wonderful ride. It was an honor to ride with you all, to ride for my grandfather,and my people. I felt so many emotions, and connections on this ride. I'm from the Mochican nation the munsse band. I've been in Canada with the Dakotas,I was honored with the name white swan woman. I was honored to ride the horses. My horse was Lucky. I hope to see you all agian, and I'll be back to Canada soon. Hoka! - Kyra Jade Roma

I have followed this religiously and am full of admiration for these riders and horses. Well done everyone and especially those people that have made this possible. Such a high profile this year can only be for the good and the education of those that need to know. Bless you Gloria, keep in touch. - Jacqui Norman

As this day draws to a conclusion, I stand in awe of what has transpired. I truly believe the power of this spiritual awaking was felt around the world. None of us had any control over what happened, nor can we change the past. But we have the power to see that it is not repeated. For some, there is closure for others there is education. In our society, there is culture of, "If we don't talk about it or write about it, maybe it didn't really happen." We must keep and cherish the honored memories of our ancestors alive and and pass on to our youth. As a nation of all tribes, we have suffered much. We have overcome insurmountable obstacles. In spite of all, today, we stand proud, tall and united! They must never forget that..... please forgive me if I have spoken out of turn....but I am speaking from my heart. - Lou Fuentes
Thanks to all who brought us along on the ride! A good friend of mine used to participate in the run every year and I know the elder Emmet Eastman also used to be in the run. That is one reason why it interests me. But every time I saw the video of the Ride I walked away wanting to TALK to someone about it and DO something. I don't know why it affects me so deeply, but now it makes me want to get it together to gather donations and take the time to follow the Ride as a helper next year. I will turn 50 and it feels like something I need to do. I hope I can be accepted. -Diane R. Anderson
I am so thankful for those who updated the pages and shared their photos. The best way to learn about something isn't to read about it in a book, but to see it for yourself. The photos give people like me a glimpse into your beautiful culture and allows us to share the journey. I have shared the daily updates with my own kids and when I start my teaching career, these types of pages, people, and journeys will be more valuable to our youth than assigning long-winded ( largely inaccurate ) books. Thank you so much. - Mandi Jensen
Lou - what you and Gloria have done to allow the world to stand united in witness and hold space in love & prayer to support the Spirit of the Ride & Ancestors comes directly through the Heart! Your combined diligent efforts allowed us everywhere not able to physically participate in the Memorial Ride, be able to participate in Spirit and Prayer. Mahalo nui (much gratitude) for your efforts for a job well done. May Peace & Friendship prevail for Love heals all! A-ho! ? - Michele J Dragas
Thank You, which I seemingly cannot say enough as I have posted it everywhere for this ride! The Ancestors are smiling for this happening. I have learned and watched and listened, and so felt this while event with my heart. Wopilo Tunkashila! - Rebecca Bailey