In Memory of Chuck Derby
17 February 1941 - 7 August 2010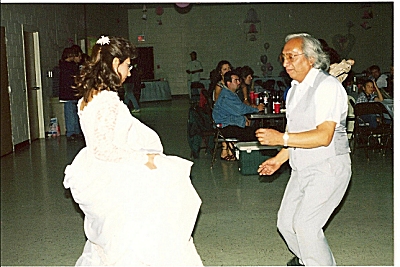 Chuck dancing with his daughter Diana at her wedding
Chuck passed away on Saturday morning, August 7th, after returning to his beloved Pipestone from hospital the evening before. He was determined not to die until he got back home. His family were around him when he said goodbye and left us. He had fought this horrendous disease as a warrior, but it had stronger weapons than he did. For those who don't know Chuck had stage 4 pancreatic cancer, he was diagnosed in April with it. In recent weeks he also had double pneumonia, a blood clot on the lung, water in the lungs, and dehydration. He managed to recover from those but was so weak he had no strength to carry on any longer.
"Chuck will always live in our memory as a kind person and a role model, who was dedicated to continuing his tradition and at the same time promoted friendship between tribes and nations."
Leonid & Luyba (Russian Friends)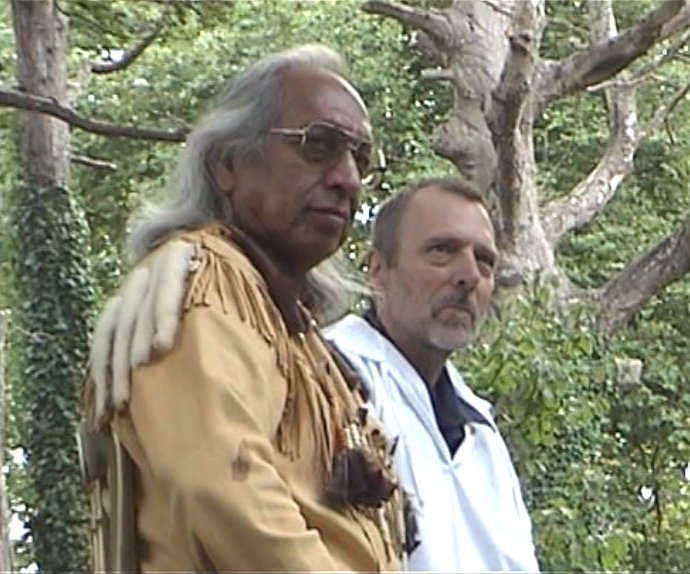 Chuck on the Isle of Wight, UK, with Maurice a Druid. 2000
On this page I will be putting some of the lovely words that were sent to us, or put on Chuck's Facebook wall after he passed. We had so many and most said the same thing that he was a gentle caring man who loved to educate people on his culture.
"I recently heard a quote that said something along the lines of if you were to pass away who would stand up behind you to try and fill your shoes.... well Chuck I say I will stand up behind you and try hard to fill your shoes you have put an imprint on all of us by being an amazing person... you will be loved and missed.... but we will not forget you and we will always strive to be like you in our own way... "

Jesse Hein - Chucks great nephew serving in Afghanistan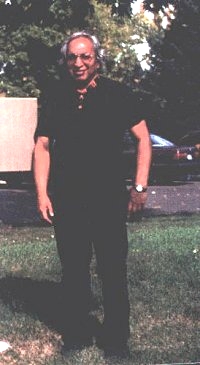 Chuck after we presented a 'Beads & Buckskins' program at Mankato University. 1996
Chuck was very sad to be diagnosed with cancer because he knew that he still had work to do here, I promised him just before he passed that I would not let people forget him or his name. This page is the first part of that promise. Since the start of his illness he has touched people in ways he didn't even know. He is still teaching, even in death.
"Dearest Chuck, we never met in the flesh but I knew you in spirit as I will continue to do. You touched my life deeply and profoundly and your influence changed the course of mine forever. Aside from mine, there are countless lives that you have touched and changed and you will live on in our hearts always. May you soar high and free now and know that you are deeply loved, admired and respected always. We are all the poorer for your loss but richer for knowing you and having your spirit touch us. xxx"
Tanya Jenkins - Botswana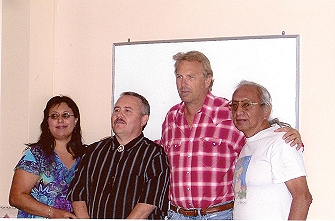 Chuck with his daughter Diana and son-in-law Richard, and Kevin Costner. 2009
Chuck and I had known each other for 20 years, we were working and life partners for 15 years, but we were husband and wife for only 3 months. I told him I would take care of him through this awful disease, and I did the best I could to do that. He was in hospital for the last month of his life and that was difficult for us because I had to let the doctors and nurses mostly care for him. However they could not save him anymore than I could. How I wish there was a cure for cancer!
"The man I once knew was born again today,
As he swings from those clouds healthy and fit,
Because the man loved by all said 'Goodbye' yesterday
And pain free watches us from up above.
The man I once knew taught me all that he knew
I carry that through, to keep his memory lit
Because the man loved by all took off like a bird, and flew
To greater heights, greater sights, as pure as a dove.
The man I once knew can rest easy and know
We'll be okay, though we may weep for a little bit
Because the man loved by all gave his heart, his soul and more.
But passed on his strength to battle, without the need for war.

So,
Please stand up and say, "Thank you" wise one, "But now's your time to rest."
As we watch the sun set with you in the west,
And send our ever-lasting Love."
MISS J D M HAZELL (Chuck's step-grand-daughter in England)
Jenny and Chuck had a standing joke together since she was little, they called each other Munty (meaning monkey) and would tell each other monkey jokes, and say that the other one was eating all of the bananas. At Christmas and birthdays they would give each other a monkey in some form. That is the meaning to the first line in the poem where she says 'he swings from those clouds' . Jenny is 21 now, Chuck helped bring her up.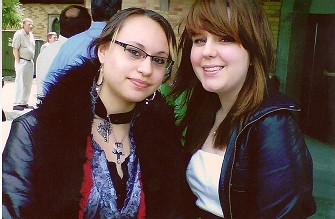 Chucks grand-daughter Dabbi (left) and my grand-daughter Jenny. 2010
Well our Chuck has gone.... The funeral was all that he wanted, it came together so well, and I know he would have been pleased. I cannot say thank you enough to everyone who helped not just for the funeral but for the past few weeks when he was so sick, the family, our friends, our FB friends, the nurses and doctors, all went to make his last few weeks bearable for him.
"I am so glad I made my pilgramage to Pipestone and the Little Feather Center, and am honored to have gotten my piece of the sacred stone that was quarried by Chuck himself I believe during his final quarry. I will now finish it with him in my mind as I work the stone to its' final shape. The spirit of Chuck will be guiding me to completion."
Mark Tilkins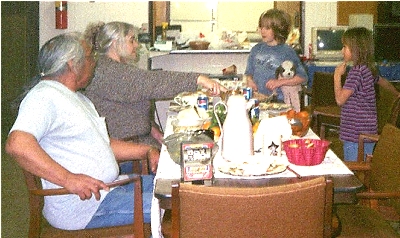 Chuck with Dabbi, Jenny and me way back in 1996. Dinner around the table.
The support we had was amazing, I can never thank you all enough on his behalf. Special thanks have to go to Chaske for doing such a wonderful job with sensitivity and love. Chuck knew that you would be the person to take him to his next journey in a good way and you did. Thanks to Marge and everyone who cooked food and served us, about an hour after he passed food started to come in to the Center and it never stopped. Thanks to those who erected the Inipi and lit the sacred fire and thanks to all of the young men who kept it alight every night. Thanks to the family for supporting me, knowing that I was missing my own family as well as Chuck, you held me up. Roxanne, Sheila, Cindy you girls were amazing. Thanks to Jenny for organizing the worldwide 2 minute silence for Chuck it was lovely to have that space to think and get out of the whirlwind that has been my life the past 5 months for a few seconds. Thanks to Elizabeth for holding my hand for so long. Thanks to Cari for staying with me each night since the funeral it has helped to have someone with me. Thanks to Paul for making me laugh and helping me through the song. Thanks to everyone who was there for us in some form or another, we all appreciated your support. Thanks to Chuck for choosing me to share his life for the past 15 years, it was some ride wasn't it Babe. Till we meet again ILY xxx

The Pipe Carver's Story of Thanks
As the sage clears the air, mind and his heart the Pipe Carver quietly pushes back a few strands of grey hair from his sweating face as he wisely studies his ancient canvas. He pushes his silver-rimmed glasses up and over his father's nose and against his sweet mothers face, and then, like holding a new born babe, he cups the sacred red stone in both hands; rolling it back and forward, left and right, up and down, in and out until he feels that deep heat move to the surface. That heat leads him to that sacred place and with that magnificent discovery; he see's the future like his father's father once did. On the table next to him rest his well-honed and readied tools. These tools have been prepared and sharpened beyond concept of most but in perfect harmony for the work that rest in the elders hands. Confidently he sets the stone and pulls aside that first perfect tool. Firmly now he gently touches the saw blade to the stone and with that touch the slightest, invisible, red dust rolls away from its body, first floating in the air and then coming to rest in the cracks and crevasses of his old hands. The Pipe Carver stops and once again gives thanks to the stone, tools and the Creator for his honored station and most sacred work. With the saw work done now the Pipe Carver picks up his fine cutting tools and finds a way across and around the body of the rock until he has found contentment and peace with his work. He then works the files and sand-paper, always with his own teachers looking over his shoulders. He eventually begins to rub in the oils of life into its being. Slowly and gently bring a luster and shine to the old stone. The elder Pipe Carver smiles, then lays his work down, leans back in his chair and thanks the Creator once again for this moment, a sacred moment of Life. With that work done, the elder Pipe Carver comes to understand that his work here is done and he gives thanks.
Thank you for your good work Pipe Carver and good journey to you.
Lionel Pinn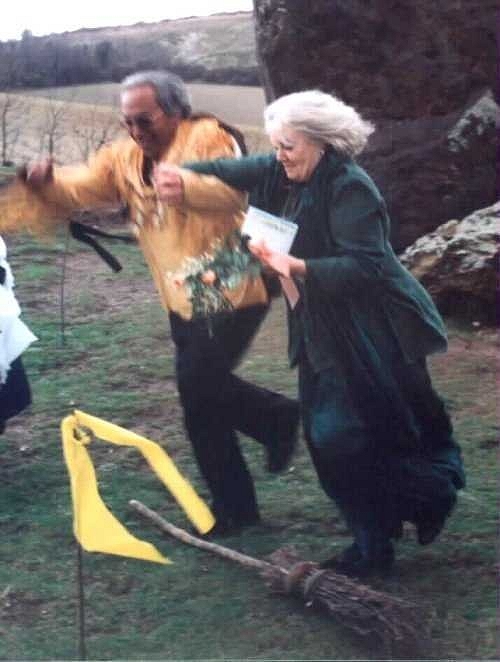 After our traditional wedding in 1998. Jumping the broomstick!
Since Chuck's passing we have been seeing Dragonflies, Butterflies, double rainbows, all of these we believe have been sent to us as a reminder of Chuck, what a beautiful way to be remembered, not a big cathedral or building, but in nature, the nature that Chuck called his church and loved.
Anyone who met (((Chuck))) knew he had a special presence about him- that humbleness and gentle spirit spoke volumes about the amazing soul he was and still is... Bless his heart...there is a new star in Heaven..his light will continue to shine for all to see he made the world a better place for being in it.....May God grant you (((Gloria and the rest of Chuck's family)))) peace in your hearts knowing he was met with open arms and the words.."well done"...
Peggy O'Neill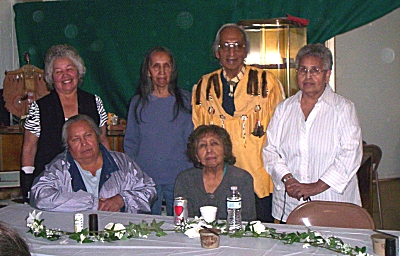 Chuck with his sisters (and orbs) at our legal wedding, May 1st 2010
It is difficult living without Chuck around, often I find that I want to tell him something, and realize that he isn't here, (but I tell him anyway) it helps to know that he was so loved and respected by people worldwide. I know I am not alone in my mourning this special man who was Chuck Derby, Running Elk, husband, father, grandfather, brother, uncle, friend and teacher. Thank you all for being a part of his life.
"xx Goodnight xx"
Marie Caller-Hazell - England. Chuck's step daughter in law.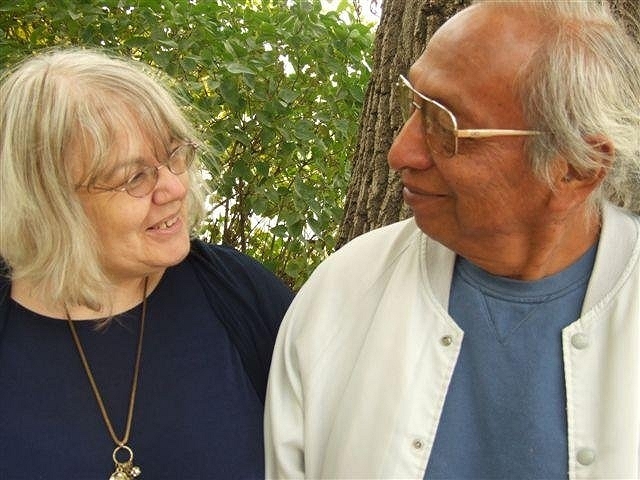 Our favorite photo taken by Nico September 2008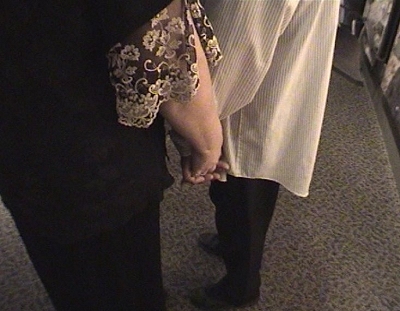 Holding hands at Wall Drug, 2008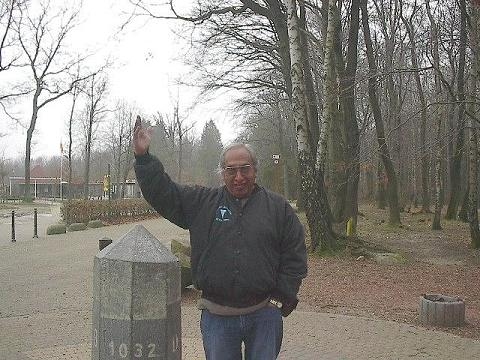 See you later! Chuck in Germany in 2002.