In Memory of Chuck Derby
17 February 1941 - 7 August 2010
FYI: Chuck's Memorial Ceremony will be on August 7th 2011 at the Little Feather Center.
If you knew Chuck you are most welcome to attend, ceremonies will be from 9am, lunch will be around midday. A butterfly release will mark the end of the day.
Also FYI the Little Feather Center does not have the Museums up at the moment. Everything was dismantled to have room for the memorial. I am sorry I haven't updated this page during the year, but will continue to do so after the Memorial, although I will no longer be in Pipestone. I promised Chuck that this site and his Facebook page would be left on line so that he could continue to educate people as he always wanted to. His DVD's will be ditributed by a group of like minded people in West Virginia, I will give more details on that later. Nico will probably have the third DVD on quarrying finished by the end of the year. It has been hard for him to watch Chuck as he edits as they were such good friends, so it has become a slow process. I know how he feels, I cannot watch Chuck's videos, it pains me too much right now. I still can't believe he has gone, even though I was by his side when he passed over.
We are having a Pipe Ceremony at the Memorial for all of Chuck's Pipes to come together in prayer. I am asking if you have one of his pipes to either bring it along to the Memorial for 9 am (CST) on Sunday (7th August) to smoke, or smoke it where ever you are in the world at that same time. Chuck would be pleased to see the Pipes he crafted for you all being smoked at the same time. Chaske is leading the Ceremony, he is the man Chuck chose to conduct his funeral ceremony, and so we have asked him to do the same at the memorial. So far we have people joining us from Botswana, South Africa, Australia, Netherlands, England, Germany, Canada, and various states in America. I hope you will join us as well. If you don't have one of Chuck's pipes but have one made by someone else you are of course welcome to join us as well.
I have been asked so many times what I will be doing now so I will update you on my new path without Chuck. I will be going back to England to live for good in September, and I will be taking the 'Ancient Voices' Native women's museum articles with me to show in Europe. I will also be continuing the talks Chuck and I did together since 1994, but they will be changed slightly. I will be doing what is called 'suitcase talks', I will have various subjects that I can talk about, mostly the same as the 'Beads & Buckskins' categories, you will tell me which you want me to talk on and I will come and do them. I will update the website with more information once I get back to England and get organized.
It is still strange without Chuck around, he was a brilliant and powerful man who had a humble and modest way about him that allowed people to approach him without being apprehensive. They asked questions and he answered them. There was no 'I don't have time for this' or 'Ask someone else' he was open to all questions and all people, and the strangers he spoke to soon became friends. Maybe you are one of those friends and know the way he was. It was my honor to be his wife and his partner for so many years. Working with him was not work it was a passion, a love, and a lifestyle. I miss him so much.

.
I have managed to set up Chuck's Memory room in his office at the Little Feather Center, in that room is his workbench and the piece of stone that he worked on last with a small cut that he made, with the dust and the saw he used. This was a week before he went into hospital, his strength had left him but he still wanted to try to cut his beloved stone, and so I took him to the Center and he sat ready to cut the Catlinite, he made a few sweeps of the saw and then said, 'I can't do any more'. So I went to get the wheelchair for him, and when I got back he was sawing again. He loved making Pipes, he became a part of the stone as he worked, he knew just where to cut to get the best possible Pipe from the stone. He was a master craftsman.
So a year has passed since this wonderful soul passed into the Spirit World, I have been through a Minnesota winter alone, scared to death because I am not used to such weather, but I knew he was watching over me and that I would be safe and I was. The snow had a healing effect on me, it cosseted me with a softness, a gentleness, everything was peaceful, white and beautiful, and I had time to reflect and put myself back together again. I will always miss Chuck, he was the love of my life, my soulmate, and my best friend. I know that he is 'just around the corner' so close but not close enough to touch, but I believe he is protecting me from his side of the etherial curtain, and I hope he is still smiling. - Gloria Derby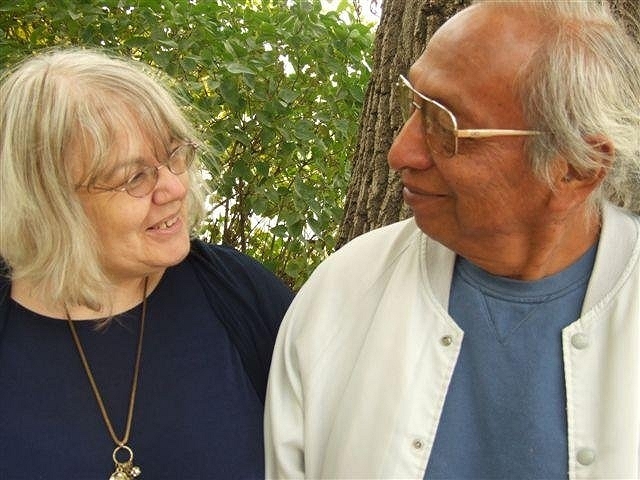 Our favorite photo taken by Nico September 2008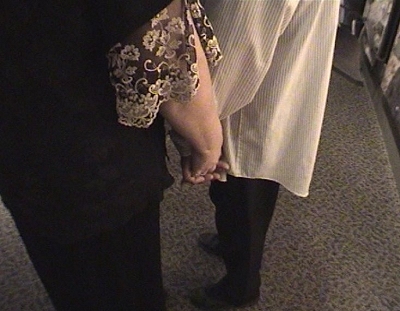 Holding hands at Wall Drug, 2008