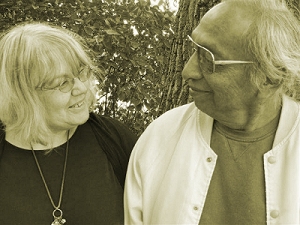 Gloria and Chuck in 2008


History of the Couple


Chuck and Gloria met in 1991 in Pipestone when Gloria was travelling around the country with her family, Chuck became a friend of the family and so they kept in touch. In 1993 Gloria moved to a small town just outside of Pipestone and started work as a volunteer in Chuck's small business the Little Feather Center. At that time Chuck worked for the Pipestone National Monument, he retired from there in 1994 and together they worked in the Center from then on. They started doing educational talks together in 1995, and they have continued successfully to this day. The talks have been done in America, England and the Netherlands, and people from all over have come to see one of the talks in the Center.
In 1998 the couple were married in a traditional ceremony on the Isle of Wight in England, they had a Handfasting for Gloria's Celtic/English culture and were joined over a Pipe for Chuck's Dakota culture. However neither ceremony are recognised by either country as being legal, and so even though in their souls they know they are married, legally they are not. Recently things have happened that made them decide to get married legally and so this ceremony will be performed at the Little Feather Center with many of their family and friends around them.

The ceremony will be performed by the Reverend Elizabeth McCabe of Pipestone, who is a long time friend of the couple.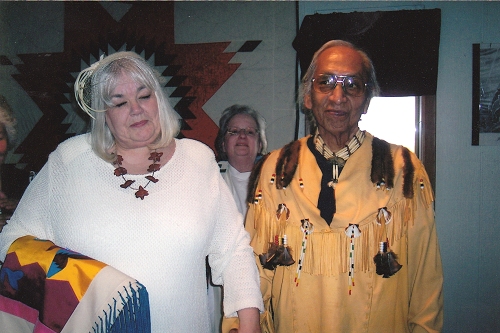 Mr and Mrs Derby after the Ceremony, with Reverend Elizabeth McCabe behind them.


Sometimes in the winds of change we find our direction.