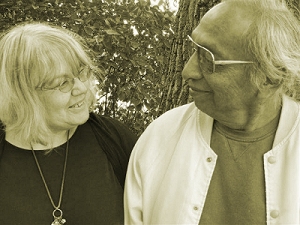 Gloria and Chuck in 2008


Poems of Love


Eskimo Love Song
You are my husband, you are my wife
My feet shall run because of you
My feet dance because of you
My heart shall beat because of you
My eyes see because of you
My mind thinks because of you
And I shall love, because of you.

Gloria's bouquet

First Corinthians 13:4-8, The Bible
Love is patient and kind; love is not jealous or boastful; it is not arrogant or rude.
Love does not insist on its own way; it is not irritable or resentful;
it does not rejoice at wrong, but rejoices in the right.
Love bears all things, believes all things, hopes all things, endures all things.
Love never ends.

Irish Blessing
May the road rise to meet you,
May the wind be always at your back.
May the sun shine warm upon your face,
The rains fall soft upon your fields.
And until we meet again,
May God hold you in the palm of his hand.
May God be with you and bless you;
May you see your children's children.
May you be poor in misfortune,
Rich in blessings,
May you know nothing but happiness
From this day forward.
May the road rise to meet you
May the wind be always at your back
May the warm rays of sun fall upon your home
And may the hand of a friend always be near.
May green be the grass you walk on,
May blue be the skies above you,
May pure be the joys that surround you,
May true be the hearts that love you.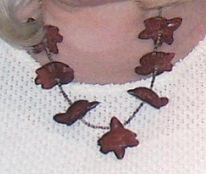 Gloria's necklace that was her 'old' and 'borrowed' for the day.
Chuck's mother Ethel, (Morning Bird) had made the necklace from Catlinite many years ago, and Gloria found it on EBay
10 years ago. She donated it to the Center. Each turtle represented one of Ethel's children



Sometimes in the winds of change we find our direction.