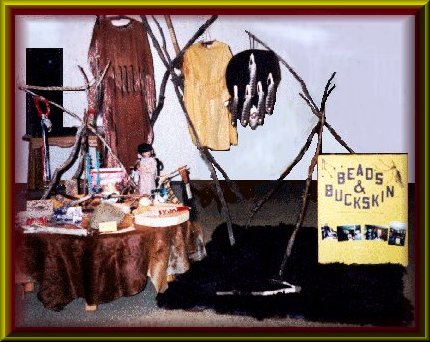 Part of the Beads & Buckskins presentation
We pride ourselves on being able to answer any question you may have, if in a rare instance we do not know the answer we will do research for the questioner and get back to them later.
All of these topics can be adapted for any age range.
*No spiritual ceremonies are taught, instead, the Hollywood myths are straightened out, so that the 'savage, heathen' image that has plagued the People for so long is removed.
gloria_hd@hotmail.com
Beads & Buckskins
Topics to choose from:
Childhood, (includes naming, umbilical cord pouch. )
Child-rearing.
Tipi, (Includes insulation, and safety.)
Pipe making, (includes quarrying the stone and the Pipestone issue.)
Spirituality, (the way of Spirituality, how it complements a way of life.)
Ceremonies,* (includes talking about the importance of the Inipi, and Sundance.)
Clothing, (including hair styles, various paint uses, and preparing the hides.)
Food, (including herbal remedies.)
Weapons, (including coup stick's, achievement marks.)
Hunting, (including the woman's place in hunting.)
The Buffalo, (including the uses.)(NEW SUBJECT)
Social customs, (including heyoka, berdache and death rites.)
Marriage, (including premarital rituals and the home.)
Female role.
Male role.
Symbols, (including circle, color, and feathers)
Respect, Most Important subject (for elders and the environment among others.)
Treaties, (including Laramie, and Traverse Des Sioux.)
Stories, (we pick which goes best with your choices, we have a selection of traditional and modern.)
Games and dance, (including 49, shinny and pow wows.)
Languages, (what the languages mean to the People, not the languages themselves.).
Elders role.
Great Chiefs, (from various tribes.)
1862 Minnesota Conflict (and the legacy it left for the Dakota.)
Petroglyphs of the Three Maidens (the various carvings and their history)
20th century Native Americans (How has history left it's mark for todays Tribal People?)
Extraordinary Women (From various tribes)(NEW SUBJECT)
Miscellaneous (We always end each program with a question time where we can give answers to subjects not covered in the program.)