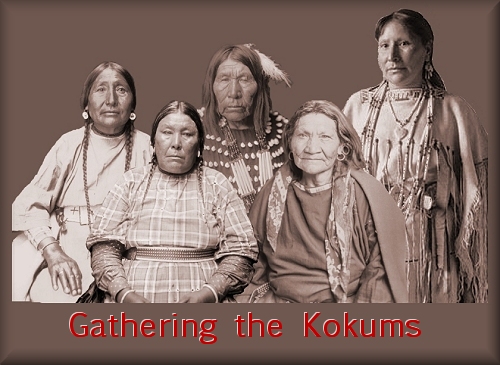 Photos

Audrey Desvents - Canada
Audry Desvants the founder of this organization. Audrey is Cree from the Treaty 6 Confederacy in Canada.

Audrey with her new Grandson
'Desvents (Many Winds)
January 29 2009

Audrey with her sister-in-law preparing fish to be smoked.
'These are called white fish, two times yearly the men go out and catch, in the fall and in march, then we the women prepare, and smoke them, what we teach the young ones is to help and try out the cutting, but as women we share stories, laugh and catch up'.

Audrey in the rain preparing meat to be dried.
'That is moose meat, one is about 1500 pounds and we never waste anything. The meat is shared with those in need, smoked, dried, canned in jar, and frozen.
Very little is left behind and each time we do this a feast is held to honor that animal's life and those who have passed on.
A tradtional woman will have all her own tools'.

Audrey looking warmer preparing meat.
'Cutting meat in very sliver thin strips for smoking, the more thin, the drier the meat will be. These are all the prime pieces (big chuck roasts) from the front & back quarters of the Moose'.

Audrey with her grand-daughter Rayanna teaching.
'Our grand daughter is now very skilled at this here she was 11 yrs old, they are tall children, fishing season is coming up soon, so you will see new pictures'.

Fish all ready to be hung in the smokehouse.
'Those purple flowers in the back are of the land here and each year when they bloom like this, the men go out to hunt moose, these are the ancestral teachings of the men to know, the name in Cree indicates the moose are ready, the men who are taught properly try not to take cows, or young ones, they are needed to reproduce.'


Two of Audrey's grandsons, Tyrell & Ray, preparing moose meat.
'Now the 12 year old and 11 year old do their own cuts, cutting and preparing has to be done as quickly as possible during summer months, late fall is the best time for drying meat & fish (no flies). Those nice round parts you see they are cut in round long strips and made into dry meat (really dry) like jerky,
This is a favorite here and mixed with crushed choke cherries is called pemican which was used by trappers, hunters. (provided food on long travels)

Audrey's grand-daughter Brookie hanging fish.
'Brookie carries a spiritual name of her grandfathers of the wolf clan'.

Two grandsons going through a 'Rite of Passage'

Two grandsons, Tyrell and Jake, cleaning fishing nets

Two grandsons canoeing

Tyrell at 12 years old with his first Moose kill.
'In our traditions a young man hunts and then feeds the old people with the first moose. He keeps nothing and has a ceremony to give thanks'.

The White fish are hung to be dried and smoked
'This smoke house is what I asked hubby to make and it has screens on the openings. This is what we speak of in preserving the ancestral teachings. I have regular family women gathering.'
Gloria Hazell-Derby - England

Until last year four generations of our women lived in the same house, l to r: My daughter, my grand-daughter (now 20) myself and my mum who passed on to the Spirit world January 2008.

It upheld a tradition in our family, as I was bought up in the household of my grandfather, my mum and dad and myself all lived in his small bungalow with him until he passed away when I was 12. After my marriage broke up when the kids were small I took them to live in that same small bungalow with my mum and dad. I remarried and we moved to America. Another marriage over and we all moved back to live with my mum, dad and aunt who by this time had a much bigger house. My sons moved out and married, my dad and aunt passed on and so the four of us were left to share the house, memories and teachings.

I now have the house and three of us plus my grand-daughters fiance live here now. At one point though there were 10 of us living here, a real traditional family caring for the welfare of each other.

I will shortly be selling this house and moving to America to be with my partner. I will get a smaller place here so that the family will always have a place called 'home' that they can come back to if needs be!

This was taken back in 1994, and it was a ceremony that I performed in the old Celtic way for my grand-daughter's naming ceremony. She and I had been seeing this creature for a while prior to this, she would see it on the way to or from school and said that she felt good when she saw it. She was only 5 at the time. I felt that the creature she saw was to give her help during a traumatic time in her life, and I had actually had a couple of dreams showing me her journey and how this creature was there to catch her, it would just sit next to her in my dreams, I knew we were lost but this creature was there just sitting with us, it was quite amazing because I don't remember many dreams but these ones were vivid as if we were really living what I was seeing. Anyway I discussed this with my friend, now partner, as he was doing the Native American part of the ceremony and he felt that what I was dreaming and what she was seeing should be her name. So on this day in September 1994, Jenny was named 'Eagle'.

We did the ceremony on some land that we felt was very special, and we had old and new friends surround us. The ironic thing is that this was the last time we were together as a family, because the following week my, now ex, left, and started a new family. This was traumatic for all of us but Jenny took it in her stride, and continued seeing eagles around her. When she stopped seeing them I realized that she no longer needed them, she was able to support herself. It took a while. Jenny Eagle is 20 now, and lives in England. She is at Uni studying acting and script writing. She has already won a prestigious award for acting, and so I believe that Eagle did take care of her, and gave her confidence to do what she is doing now.

This is my paternal grandmother, as you can probably see she is of Romany (Gypsy) blood. This photo was taken while she was hop-picking with the family back in the 1950's. It was an annual trek to Kent, to assist in the many hop growing fields of the area, most sadly now gone! This was traditional work for our folk back then, and had been for many a year. My maternal side of the family lost some members in an accident back in the 1800's when a bridge collapsed and the wagons on it that had just left the hop fields were swept away with the raging current. the youngest was so small that she hadn't even been named.

Today Gypsies still gather together at fairs across the United Kingdom, they ride and sell their horses and show their ornately painted and decorated 'waggons' that are beautifully done.

Both of these grandmothers were called Eliza or Elizabeth. My maternal family had the Heron as their totem crest.

This is my maternal great grandmother, also of Romany blood. It was this generation who began to settle down and live in houses, previously they travelled in wagons or they slept in tents. One of the interesting things was that they would basically take over a street of houses and all still live together, many a street in London and the surrounding area were home to the Gypsy tribes. They would eat together and have street parties, and they would all take care of each other's children. They were persecuted for travelling and so their only recourse was to live in houses. At one time only a few years previous to the settling times they could, and were hung for being 'vagrants'. So they joined everyone else in living in bricks and morter, but I doubt they were happy. Like any nomad tribe they were used to moving around, it had to squash their spirits being forced to live in a static way.

The funny thing is that when I was a kid we had a gypsy waggon in our back yard, the paint had come off but inside it was a glorious playground for me! Today I travel backwards and forwards to America, (on a plane!) my friends never know exactly where I am at any one time, I say that it's my gypsy blood driving me to do it!
Please send your photos and teachings in to us, it would be lovely to have pages and pages of them!

Please contact us at either
audreydesvents@hotmail.com or dragonfly_dezignz@hotmail.com
other emails will be added for different locations once we get them


Site created by Dragonfly Dezignz