Have you Thought?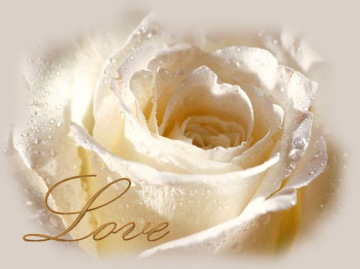 Of having a website made up for your wedding......?
Maybe your relatives and friends would like to know what you need for a gift, perhaps they would like directions to the church or reception, or find out what your colour scheme is going to be. Of course after the wedding they will certainly want to see your photos. All of these things and more can be added to the wedding web site that we can create for you. Just pick a dezign. If you don't like these dezignz please let us know what you have in mind and we will do our best to dezign or find it for you.
We will of course have a consultation with you, via E-mail, Skype, or phone, where we can find out what you envision, for your wedding and your site.
I have been looking through these 'Do it Yourself' wedding web sites, and reading the feedback on them. Some seem OK but in reading them I saw that there were problems uploading photos, and content, the customers didn't understand how to make a site, even though they were using click and drop formats they were having problems. Some mentioned the time it took to do it all, especially waiting for the photos to load when uploading. With our company we do all the work for you, there is no hassle with uploads, formats, time or anything else.
Each site is customised for the couple, showing not only their wedding details but their own personality as well. That can be done when it is entirely written in HTML for them, Our pages are not these glib stark designs, they are pretty, traditional, romantic and fun. We do not add flashing this and that, our sites are respectful to grandma, who may be looking in, and to the couple themselves. We are traditionalists who know how to build a website from scratch, and it shows in our pages. Your special personal information will always be safe with us.
The cost of the site will depend on how many pages and how in depth you want it to be. You can find the costs on the Options page.

Graphics can be customised to the couples wishes, or ready made graphics are available, it is all up to you.
You can look at a few examples of ready made web sets. These pages will all open up in new windows
You will be emailed a longer ready made list if you are interested in having a site done.
| | | | |
| --- | --- | --- | --- |
| | | | |
| | | | |
Or
we can make you up a set of graphics based on your wedding colours and decorations.
See the example below of Marie and Andrew's pages.
Three examples of Wedding Sites
Marie & Andrew 2007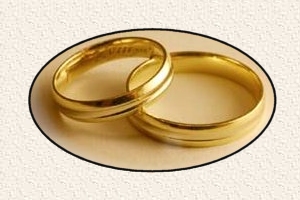 This design was made especially for Marie & Andrew. The main graphic on the background was from Maries wedding dress material..
---
Gloria & Chuck 2010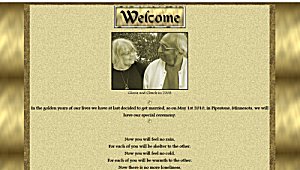 This is an unusual site as the bride and groom were in their 60's, and had an unconventional wedding...
---
After Wedding pictures
Rosie & John's 2005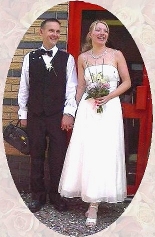 ---
Congratulations! Dragonfly Dezignz Wedding Web site development has been reviewed and chosen to bear the 2002-2003 Golden Web Award.

Thank you I.A.W.M.D.



A link to the main Dragonfly Dezignz Home page is on the dragonfly at the end of each page

All images and original designs are protected under International copyright laws.
Unless stated otherwise: Copyrightę by Dragonfly Dezignz. All Rights Reserved.