Ancient Voices

A Museum to honor the least known people in North America, the Original Tribal Women
Societies for Women
War Mothers Society also Gold Star War Mothers
started in WW2, reawakened for the Iraq War
This society was started by mothers of sons serving in the military in World War 11. The Gold Star mothers wear a gold star on their shawl to show that they have lost a son or daughter in a conflict. The mothers honor their children by dancing with special shawls and blankets at powwows. The connotation of the war mother shawls has changed greatly over the years from when they began to be worn. It used to be that only members of a War Mothers Society or Gold Star war mothers wore them, now you will see women wearing these shawls who are not members of a society but have members of their family (i.e. husbands, uncles, fathers, mothers, etc.) in the armed services. Sometimes the names displayed on the shawls are not even blood family members, but those who have become relatives. In WW11 the tradition could have been different, but now the shawls/blankets are made and worn while the service member is in service, after they have been discharged, and of course, if they are deceased.
Usually, the shawls are fringed on all sides (just like a regular dance shawl) and are the same size as the shawl you would normally wear/carry. Of course, personal preference also comes into play today so that some shawls have no fringing on them, also the colors and decorations vary, depending on tribal affiliation and the mothers own taste.
Honor blankets have also been decorated and worn as war mothers shawls. they have just the service man's/woman's name, rank and branch of service, some have multiple listings, and some have service ribbons attached and the miniatures of medals earned.

Many Tribes have a War Mothers Society including every Tribe in Oklahoma who still mourn the hundreds of Oklahoma Indians who died for their country.

The women below are and had been a member of this society. If you want your mother's name included please send me her details and I will add her.
A lady of 95 years young Lorena DeRoine is the Chaplain of the Otoe-Missoula War Mothers Society at Red Rock, Oklahoma. In 1999 she was the first American Indian to be elected as president of the National War Mothers Society. She has also laid a wreath at the Tomb of the Unknown Soldier. One of her biggest concerns is that few younger women join the Society in support of family members who are serving in the military: "Every day there are getting fewer of us, there is nobody to stand behind our soldiers."
Opal Goodeagle 1918 - 1998 was a member of the Pawnee tribe, a Gold Star Mother, member of the Pawnee War Mothers Society, the Kiowa Apache Blackfeet Society and the Native American Church.
The War Mothers Society, were also the source of the present Mothers Day that almost everyone celebrates! After Frank E. Hering attended a special Mothers Day ceremony conducted by the Society at Arlington National Cemetery in 1925, he made the first known public plea for a national day to honor all mothers. Hering is known as the 'Father of Mothers Day'.
Please thank a member of your local War Mothers Society if you get the chance. She raised a warrior willing to die for what is right and for the freedoms we enjoy.
---

War Bonnet Society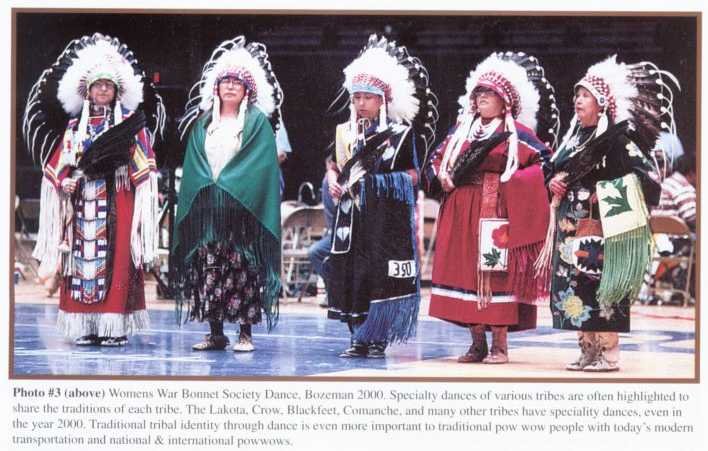 These women wear a War Bonnet with their powwow regalia to honor their men who were warriors
---
Black Leggings Society
Again this is similar to the previous two societies where the wives wear special clothes to show support of the men who were the warrier members of this military society.
---
When finished it will have information about the beadwork society and other women's Tribal societies.