Ancient Voices

A Museum to honor the least known people in North America, the Original Tribal Women
1926
Norma Smallwood (1908 - 1966)
Cherokee
The first Native American to capture the Miss America title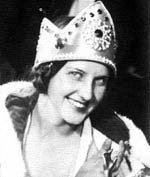 Norma Descygne Smallwood, an art major in her sophomore year at Oklahoma State College, was the first Native American (Cherokee) to capture the Miss America title. Norma resided with her family including her younger sister, Lucille, in a spanish-style house on 4th Street as it turns into Roland Street, in Bristow, OK.
In September 1926, with her long brunette hair worn in buns over her ears, wearing a delft blue velvet gown designed by Paul Nemzershe she won the bathing suit competition and the "Best Evening Gown Award," . The five-foot-four, 118 pounds of beauty, eighteen-year-old Norma from Bristow then won the Miss America title. Amid a King Neptune theme, she received a $5,000 gold cup, a vaudeville contract, a $1,000 watch, a $1,000 wardrobe, and a mermaid statue. Norma was the first Miss America to also win the award for "the most beautiful girl in evening gown" at the highly promoted National Beauty Tournament held during pageant week of the twenties. She proved to be an enormously popular selection.
Upon victory, she stated she "might leave college for a year" and looked at her tenure as Miss America from a financial standpoint. She became the poster girl for Meadows Washing Machines and Westinghouse Electric, in addition to many others. She was highly criticized in the press for her business acumen as she proceeded to make approximately $100,000 (an income higher than either Babe Ruth or the President of the United States) through personal appearance fees and product endorsements. Her romance with the son of a prominent Pittsburgh businessman was also highlighted unfavorably in the press.

Since 1925, winners were "under agreement" to return the following year to headline the event. In 1927, Norma created headlines when she left the pageant before Lois Delander was handed the title. She had booked herself an appearance at a North Carolina event. Ironically, her duties at the end of pageant week were handed to another woman of Native America heritage, Alice Garry, (see below for more details) who was making an appearance at the pageant as "Princess America". Norma claimed director Armand T. Nichols scheduled Alice to host the event, but the reports of the day painted Norma as ungrateful.
She entered into marriage with millionaire art collector and oilman, Thomas Gilcrease of Pawhuska, Oklahoma on September 3, 1928. Together they had a daughter named Des Cygnes L'Amour Gilcrease in 1930. Their marriage was dissolved on October 3, 1933.
A few years later, Norma married George H. Bruce, president of Aladdin Petroleum Corporation, Wichita.
She spent the rest of her life quietly and became quite involved with charitable work through St. James Episcopal Church in Wichita before her passing in May 1966 at age 57.

Her "Golden Mermaid'' trophy, which was awarded to her, was rediscovered in 1995 in California and was displayed in Convention Hall for the pageant's 75th anniversary.
"The American Experience"
- Miss America (2002) TV Episode
---
Alice Garry
Spokane Tribe
(Probably a descendent of Spokane Chief Garry 1811 -1892)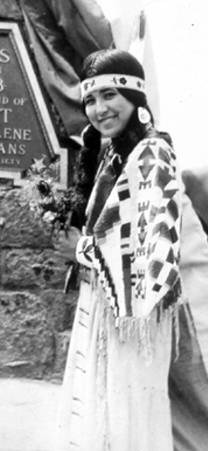 For the second time, Miss Alice Garry (Princess America) of the National Indian congress, will represent the northwest Indians and Spokane at the Atlantic City beauty pageant,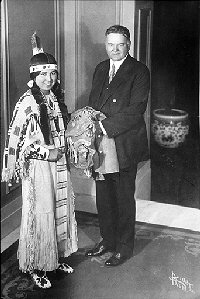 August 19th 1926
Alice Garry (the first Miss Princess America) and Herbert Hoover pose in the corner of a room after an Indian hunting jacket has been presented to him.
Alice wears beaded headband with a feather in the back, a long fringed dress necklaces and decorated shawl.
Alice Garry information courtesy of Northwest Museum of Arts and Culture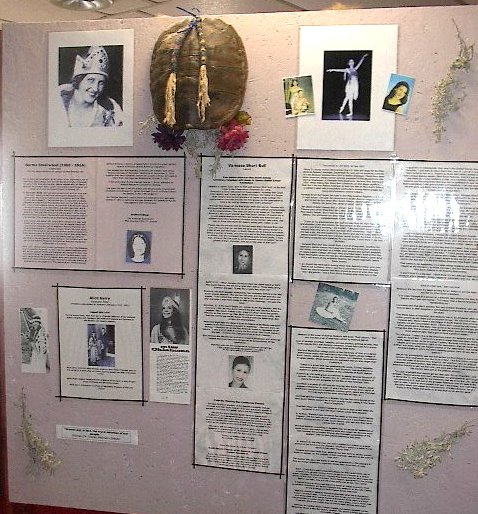 The panel for the beauty queens in the museum