Ancient Voices

A Museum to honor the least known people in North America, the Original Tribal Women
Sandra Sunrising Osawa
First Native American woman to produce for commercial television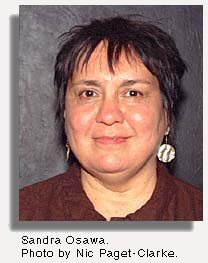 A member of the Makah Indian Nation in Washington State, Sandra Sunrising Osawa has been an independent producer longer than any other Native American in the country. She was the first Native American independent to produce for commercial television with an information series on Native Americans that aired in 1975 on NBC. She was the recipient of an Outstanding Producer Award for the ten-part series. She currently heads her own production company, Upstream Productions in Seattle.
Before becoming a filmmaker, Osawa created and directed the first Indian Head Start early childhood education program in Washington State, while serving as the War on Poverty's Community Action Director for the Makah Nation.
Osawa, one of America's premier Native American film producers and directors, is known for documentaries that capture the heartbeat of contemporary Indian life and advocate for Native American rights. Her award-winning credits include "Lighting the 7th Fire" about the spearfishing struggles of the Chippewa of Wisconsin, "On & Off the Res with Charlie Hill," a profile of the Native American comedian, "Usual and Accustomed Places", about treaty rights in the Pacific Northwest, and "Pepper's Pow Wow," a film about the legendary Native American jazz musician Jim Pepper that aired on PBS. Osawa's works have screened at countless film festivals including Sundance and have shown on public and network television.
Sandra has been a producer and independent videomaker since 1970, beginning her work for television with The Native American Series, a ground-breaking 10-part series for KNBC-TV. She received a United Nations Fellowship to study at NYU's Center for Media, History and Culture in 1996, the National Video Resources' Media Arts Fellowship in 2002 and the Taos Mountain Award for lifetime achievement at the 1996 Taos Talking Pictures Festival.
Osawa works with her husband, Yasu, and they have produced two documentaries about treaty rights: Usual and Accustomed Places, funded, in part, by the Ford Foundation, and Lighting the Seventh Fire, which inaugurated Native American programming on P.O.V., a showcase for non-fiction on public television.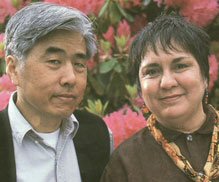 Yasu and Sandra Osawa, producers
of "Usual and Accustomed Places."

Osawa's interest in contemporary Indian artists led her to explore their work in On and Off the Res' w/ Charlie Hill and Pepper's Pow Wow—and her current work-in-progress is Maria Tallchief: America's First Prima Ballerina*. Osawa has taught script writing at Evergreen State College and video production at Seattle Community College. She is a member of the Writer's Guild of America and her poems are published in Dancing on the Rim of the World, an anthology of Northwest Coast Native poets.
Osawa heads Upstream Productions and has also produced some 40 programs for various clients. She received a BA from Lewis and Clark College in Portland, Oregon and did graduate work at UCLA's School of Theater, Film, and Television and the Universities of Washington and Oregon.
"I jumped into the film world early, at a time when no other Indians were producing. I did so mainly because the images I saw of Indian people in everyday life and the images I saw on the screen were so vastly different. I also thought it was difficult for us to achieve the political victories we sought in the 60's and 70's because our image in the media was so poor. I thought American Indians should be portrayed as contemporary figures with a vibrant culture, full of humor and strength, and with our own inspiring role models. By claiming and defining our own history, I believe we can more easily build a better life in all other areas. I think media has long been an overlooked part of our struggles and true sovereignty cannot exist until we are truly able to tell our own stories."
Director - filmography
On and Off the Res' w/ Charlie Hill (2000) director

Usual and Accustomed Places (2000) director

Going Back (1995) director

Lighting the 7th Fire (1995) director

Pepper's Pow Wow (1995) director

In the Heart of Big Mountain (1988) director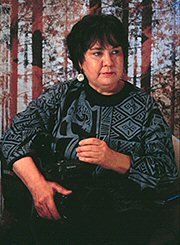 Image credits: Sandra Sunrising Osawa - courtesy of the filmmaker
* See the page on this site on Maria Tallchief