Ancient Voices

A Museum to honor the least known people in North America, the Original Tribal Women
Jackie Bird
Sisseton-Wahpeton Dakota,
Singer, hoop dance performer, inspirational speaker, fancy shawl dancer, designer, and artist.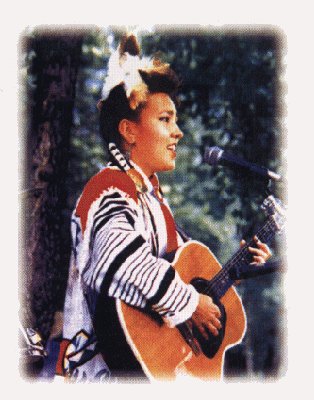 Jackie Bird Mixes traditional native sounds with a retro 80's rock feel and Native American blues rock. She calls it 'Indian Blues Rock' and by combining English lyrics and Indian vocal traditions with rock drums, keyboards, guitar and native instruments Jackie creates this unique style.
Jackie who was born in 1966, is an enrolled member of the Sisseton-Wahpeton Sioux tribe, currently living in Bushnell, South Dakota. Her mother is JoAnne Bird, (Dakota) the renowned artist, and her father is Gordon Bird, (Mandan/Hidatsa/Arickara ) a musician. Jackie has been performing alongside of her sisters and parents in the family group Featherstone now BIRD! since she was a child. Her own daughters also performed in the same group when they were little. I remember the first time I saw the Birds performing back in 1990, how cute Jackie's daughters were performing a hoop dance alongside her. They are now grown and her daughter Randi is still performing.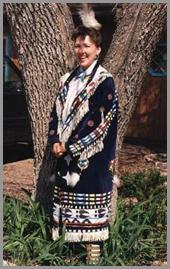 Everything Jackie does emerges from a deep love for her culture and people and also because of a deep respect for the Creator. She is deeply spiritual, and is a great role model for young women. As well as the performing Jackie designs and makes her owl line of shawls, these are created with spiritual and traditional natural elements using beadwork, ribbons and feathers. Both her mother and her late grandmother, Pansy, played an important role in teaching her about the value of family, and walking "the good road." She feels that she has been given a responsibility by her Creator to be an example for youth. As she continues to spend time with elders, learning from their wisdom and experiences, Jackie honors them and her family by sharing their values and teachings with all the people she meets. Her positive message brings joy to all ages as she shares the beauty of her Native American culture in an expression of love and respect for the whole world.
She has performed in many places of the world, including Europe. In all of her performances, Jackie has been praised for her ability to get her audience involved with her contemporary and traditional music, songs and dances.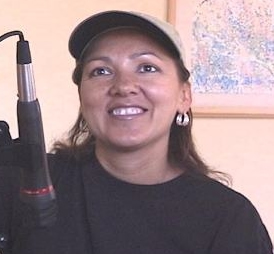 Jackie at home
Because Jackie has the gift of bringing happiness and joy to people's faces, she has received names from several tribes. She was once honored by a Montana Crow tribal member after a performance by being given a Crow name, which translated means "One Who Makes the People Smile." The Blackfeet people, named her "Blue Sparrow Woman", because the sparrow has the ability to lift up people's souls. Her Mandan/Hidatsa name is "Corn Woman." It was passed down to her from her grandmother Pansy Parshall whose mother had the same name. It must be very special to Jackie that her grandmother favored her with her name and her great-grandmother's name. Jackie's album 'Lady' is dedicated to her grandmother. I was with her when she recorded the album, and her grandmother is recognised in a very special way on the album. She was spoken about a lot during the recording sessions. I felt very honoured to be there with her and her family at that special time.
One time she was asked to perform on the Rosebud Reservation, so she drove all night to get there. Despite being tired from the long drive, she performed for the children. An elder gave her an eagle feather, a Pendleton blanket, and some tobacco. "As soon as I received the eagle feather and tobacco, I felt revived, and my energy was restored," she said. To Jackie these rewards are more valuable than the standard gifts of money and recognition.
| | |
| --- | --- |
| | Jackie performing the Hoop Dance |
Hoop Dancing has a different meaning for every tribe, but for Jackie Bird the dance is for healing. The hoops stand for the circle of life and in her performance she uses them to explain the story of creation.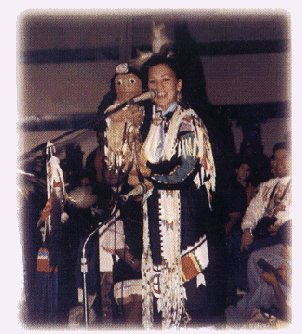 Jackie also has a puppet that she uses to tell stories of traditions that are being forgotten, her puppet is named 'Wild Flower'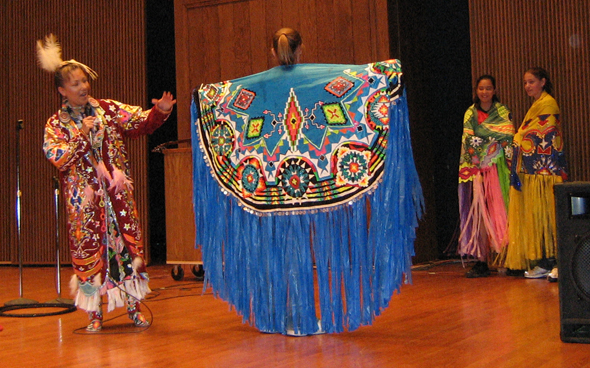 Jackie showing some of her hand made traditional designed shawls


This remarkable young woman shares a deeply spiritual message of respect, love, energy and joy through her music, dancing and artistry as she honors her culture with her many gifts. She walks cautiously in this life and world because she is acutely aware of her responsibility to the people
See a short video of Jackie performing HERE
---
Joanne Shenandoah
Wolf Clan member of the Iroquois Confederacy - Oneida Nation
Singer/Performer/Composer/Actress/Lecturer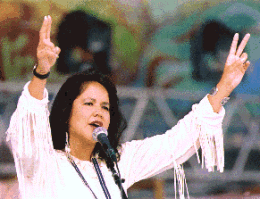 Joanne Shenandoah has drawn upon her rich heritage in establishing a reputation as one of America's foremost Native recording artists. In addition, Ms. Shenandoah has given hundreds of lectures and workshops throughout the world, from the Parliament of the Worlds Religions, to Commencement speeches and multicultural affairs. Ms. Shenandoah appears in a principle role and performs" in "The Last Winter" which stars Ron Perlman (Hellboy-Beauty and the Beast) and will be released in fall of 2006. In addition, she has been featured in many PBS, video and television documentaries.
Ms. Shenandoah's music reflects the indigenous philosophy and culture which continues to have a profound effect on the world today." From traditional chants to contemporary ballads about Native ways, her music has been described as an emotional experience, a "Native American Trance".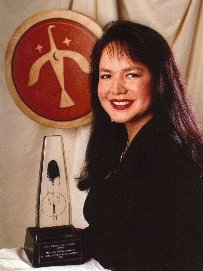 What Billboard has to say about Joanne:


" When Joanne Shenandoah's first album came out, some critics dubbed her a Native American Enya. But this Iroquois singer has evolved beyond that, and "Peacemaker's Journey" is her most impressive album yet. Shenandoah avoids the cliché's of Native American crossover music. There are no cedar flutes, one beat tom-tom drums or exhortational chants. . . Like Enya singing in Gaelic, Shenandoah uses her voice as an instrument: its silken smooth tones draw the listener into her songs -- even if the listener doesn't understand the language. "
Awards:

2003 Peace and Power - Best Compilation, Native American Music Awards


"PEACEMAKERS JOURNEY"

2001 Peacemakers Journey - Grammy Nomination
2001 Peacemakers Journey - Best New Age, & Best Producer, NAMMYS
2001 IFIM Indie Award Winner
2001 First Americans in the Arts-, Outstanding Musical Achievement
2001 New Age Voice - Native Recording of the Year
2001 Oren Lyons Award
2001 Joanne Shenandoah Day, City of Syracuse
2001 Spirit of American Women Award

Best Female Artist
Best Traditional Recording (Orenda)

1999 - AFIM Honorable Mention 1999 Indian Award "Orenda"
1999 - SAMMY Awards (Orenda - Best National Recording)
1998 - Native American Music Awards, Best Female Artist
1998 - Governor's Commission Honoring the Achievements of Women of New York
1998 - ASCAP - Popular Awards Recipient
1998 - Native American Music Awards Winner for:

Best Female Artist
Best Children's Album

1998 - Nominee - Native American Musician of the Year, First Americans in the Arts Awards
1997 - SAMMY Awards (Syracuse Area Music Awards) "Best Acoustic Act"
1997 - SAMMY Awards (Syracuse Area Music Awards) "Best National Recording"
1997 - New York State Country Music Association "Female Entertainer of the Year"
1997 - New York State Country Music Association "Duet of the Year"
1997 - Film Advisory Board Award - "Aurora Award" for Freedom Rocks Video & CD
1997 - "Addy Gras" Inland Northwest Advertising Award for Freedom Rocks Video & CD
1997 - Outstanding Achievement Award - Post Standard Newspapers
1997 - Native American Woman of Hope for America- Bread & Roses Cultural Foundation
1997 - Nominee - Native American Musician of the Year, First Americans in the Arts Awards
1996 - Native American Woman's Recognition Award
1995 - Female Vocalist Award
1994 - Who's Who Among Native Americans
1994 - Native American Musician of the Year, First Americans in the Arts Awards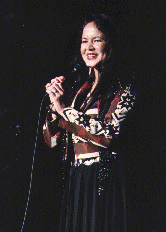 photos of Joanne Shenandoah only:
Copyright © 2001 Joanne Shenandoah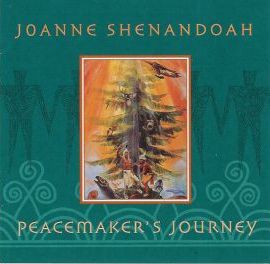 "Peacemakers'Journey wins - Best New Age Recording - Nammys and Best Producer awards"


The world in which we live has caused us all to think of our children and of those yet unborn. In light of all the violence, war and pressure placed on the children of the 20th century, I was compelled to compose songs which tell the story of our beloved Peacemaker who helped bring peace to the Haudenosaunee, the People of the Longhouse, known also as the Iroquois. The prophecy of the Haudenosaunee says that one day everyone will hear about this great message of peace.