Ancient Voices

A Museum to honor the least known people in North America, the Original Tribal Women
Pottery
Acoma
Acoma Pueblo "Sky City" in New Mexico, is located 365 feet above the surrounding area. the city is one of the oldest continuously occupied villages in North America. It was almost destroyed by the Spanish in 1598 but survived.
The Pueblo is also famous for it's talented potters such as Stella Shutiva, Lucy Lewis, Mary Chino, Dorothy Torivio, Wanda Aragon, Rose Chino Garcia, Barbara Cherno, Carolyn Concho, Rebecca Lewis, and Lolita Concho and their wonderful pottery. Many potters display their individual wares at Sky City while living in surrounding communities.

In digging the clay, grinding it, blending it with temper, forming and smoothing it by hand, preparing the pigments, and painting the designs, the potter speaks with the clay, and the clay answers.
Lucy Martin Lewis
1899 (?) - 1992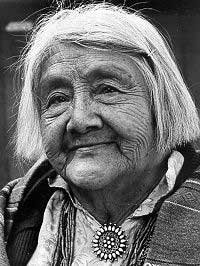 Lucy M Lewis grew up in the Acoma pueblo, a Pueblo Indian community and the oldest continuously inhabited settlement in North America. Miss Lewis, who was a self-taught artist, won many awards, including the New Mexico Governor's Award in 1983.
She followed pueblo tradition in every step of pottery production—offering prayers of thanks to Mother Earth for the clay, taking only as much clay as she needed, working the clay with only her hands, forming the vessel from coils of clay, scraping the walls with tools fashioned from gourds, painting the vessel with slips and paints made from clay and vegetal sources and, finally, firing the finished pieces in an outdoor handmade kiln.
Lucy Lewis's works have been exhibited in museums and embassies around the world, and are included in collections at the Smithsonian Institution in Washington and the Museum of the American Indian in New York.
In 2004, one of Lucy's pots along with nine pieces of art created by Native Americans, was highlighted by the U.S. Postal Service on a set of 37 cent commemorative postage stamps and a booklet of twenty 23-cent stamped postal cards. Her daughters Delores and Emma attended a ceremony that showed the new stamps to the public for the first time.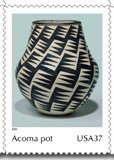 The Women's Caucus for the Arts honored Miss Lewis for her artistic accomplishments by presenting her with an award in 1992. Lewis, who was ill at the time, was not present to accept the award. She received the medal at her home at Acoma, and she died a few weeks later.
Seven of her nine children became potters in their own right
Two books were written about Miss Lewis;
Lucy M. Lewis: American Indian Potter
by Susan Harnly Peterson and Fred Kabotie
A Tribute to Lucy M. Lewis: Acoma Potter
by John E. Collins and Dr. Frederick J. Dockstader
Some work of the daughters of Lucy M Lewis are shown below



Marie Zieu Chino
1907 - 1982

"Marie Z. Chino was at the forefront of innovation and revival of the Acoma tradition of masterful use of positive and negative geometric compositions, as well as the combination of life forms and abstract symbols, which give Acoma pottery its special vibrancy and dynamism." Sarah Schlanger, chief curator of the Museum of Indian Arts and Culture

Marie Z. Chino made pots for tourist trade created by the railroad as well as for domestic and ceremonial use by her people.

Along with Lucy M. Lewis and Jessie Garcia, Marie Chino was an invigorating figure in the revival of Acoma pottery in the Anasazi region during the 1950s.

The Southwestern Association for Indian Arts 'Lifetime Achievement Award' was established in 1995 to recognize artists whose body of work reflects a lifetime of integrity and excellence-artists who have made significant contributions to the work of American Indian art. In 1998 Marie Zieu Chino was a winner of this prestigious award.

Marie had five daughters who were potters, of whom Grace, Carrie and Rose achieved reputations as excellent potters and carried on the traditional work, Rose's daughter Tena Garcia continues the tradition today




Rose Chino Garcia
1928 - 2000

Rose was born in 1928, the daughter of famed Acoma potter Marie Z. Chino who taught her the art of working the clay into wonderful pieces of art. Rose is known for carrying on the tradition of Acoma pottery established by matriarchs like her mother and to create pieces characterized by artistic elegance. Her work has been rewarded with awards for excellence at many competitions including the prestigious Santa Fe Indian Market.

Rose passed away on November 10, 2000 and her creations are becoming more and more difficult to find.

Rose Chino Garcia says that water tastes better when kept in a pottery jar, "cool and clean."




Emma Lewis Mitchell
has been an active potter since 1952 working with Mimbres and Anasazi Revival black-on-white and polychrome ollas, jars, bowls, seed pots plates and owls. She began showing at the Santa Fe Indian Market in 1960 and has won many 1st place awards during the four decades of her participation.




Carmel Lewis Haskaya
She has been an active pottery since 1952 working in Anasazi, Mimbres and Tularosa Revival polychromes, black-on-white, and black-on-orange jars, bowls, seed pots and canteens. Her distinctive designs are often derived from her study of traditional symbols used on ancient pottery shards. She was taught by her mother.




Mary Lewis Garcia
is regarded as one of the Southwest's greatest pottery talents. The earliest days of her career produced mainly the black and white fine-lined vessels for which Acoma Pueblo is now celebrated, and for which her own family achieved great renown. She worked in this style for some time, mastering each step of the process, from gathering the raw materials to make clay to the final phase of firing. She then began experimenting with the increasingly rare polychrome designs of Acoma's past.




Sandra Victorino

Sandra Victorino was born in 1958 and has been a potter since she was 10 years old. She was inspired to learn the art of hand coiling pottery from admiring her famous Aunt, Dorothy Torivio, who is one of Acoma's finest potter's still alive today. Her grandmother, Lita Garcia, also helped Sandra to develop her expert technique. Sandra strongly believes that traditional ways must be kept alive to continue the long lived legacy of her people.

Sandra specializes in striking eyedazzler designs on her handcoiled pottery. Her designs may feature hundreds of geometric symbols: spirals, pinwheels, checkerboards, snowflakes, swirls, or finelines
http://www.finepueblopottery.com/
Please click on the links below to see the various pottery families.


Thanks ©Sparrow for this wonderful feather
Please click on any of the links below to journey around the museum. If you need to get back to the main page at any time just click on Sparrow's feather on any page and you will be transported home.
---
Exceptional Women Pages
Rest of the site
Ancient Tracks part of the Business
Museum Research & Curator Gloria Hazell
Site created by Dragonfly Dezignz ©August, 2006