Today I am going to honor the horses, The sacred ones who carry our Riders in all weathers, they run in snow, rain, fog, sunlight, freezing cold and boiling heat, and they enjoy it. They are loyal and loving, they can be docile, or spirited or downright hornery or all three, but they will stand by their riders through thick and thin, these inquisitive, clever four leggeds who know when ceremony is being done and will stand and wait patently for it to end. We even have a photo of one, Captain, who closes his eyes during prayers. A friend sent in a story today that I am going to use here. A photo was also sent in yesterday that went perfectly with the story. I hope you like it. - Gloria
Nancy Kohn Raven
The Soul of a Horse and the Soul of a Man are almost identical, they are each made from Stardust, once you are intimate with a horse with one horse , exchanging breath blowing each on the other, you will be connected to all horses. In the eye of a Horse you can see many things, the beginning of the World and the red glow of its ending, and all this the horse knows and more as well, How many of our Warriors felt the anguish of their ponies falling in the sand, its nostrils blood red, staining the Earth, So many died this way, and massacred by white mans greed, Did they die with regret you ask?? No they died with Valor and Nobility of Heart, and with acceptance of what is and was and what will ever be, Today these same ponies walk with the riders, blowing their sacred breath into the cold of a winters day, snorting and prancing, talking in horse talk to their brothers. Telling them stories of where the grass still grows belly deep and how they run still in high chaparral, and drink long and deep from cold rivers., and what it is to be free , running in the wind. Today I send a prayer, to where the Sun goes down, the place of horse and its beginning, Be with us now . and forever,
Aho Nancy Raven Kohn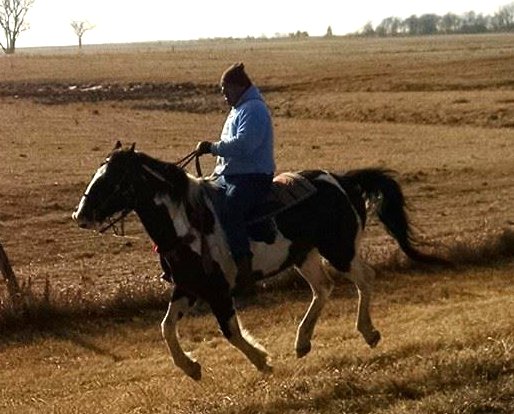 This horse, Eagle Bear, is flying in the wind, chasing the stars with Richard on board...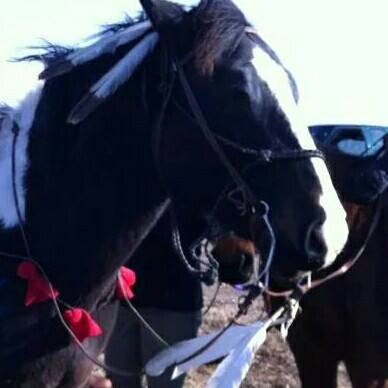 Eagle Bear with his feathers and prayer ties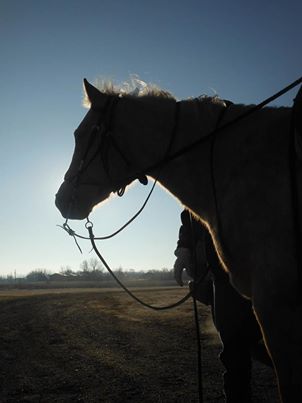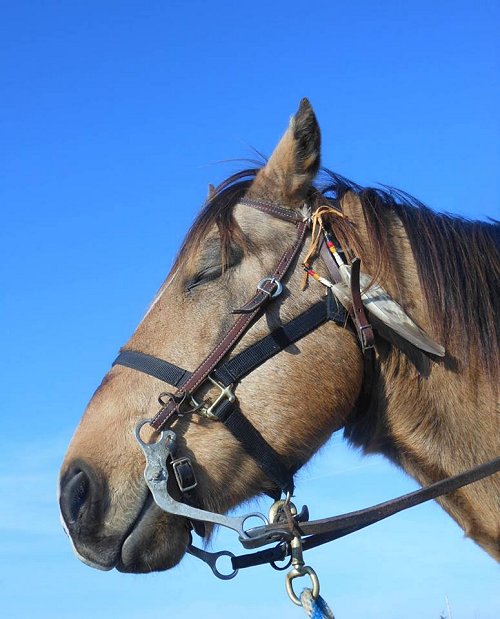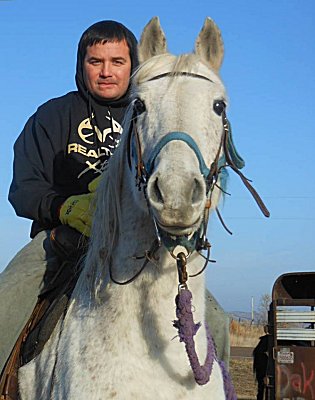 Darcy Good Crow
at My Thunderdome

Thank you all for sharing your wonderful posts and pictures today with us here in Porcupine. I'm happy my son Jay M. Garnette gets to experience this event with you all. Many blessings of the day. ~Thank you Auntie Pat Patt Iron Cloud for being there~
Debbie Snowolf Como
sleep tight tonight...may creator bless you...may the ancestors sing you all to sleep and tell you secrets of the old ways.... i love you all even though i dont know u lol

Candace Zapata
GM old man winter has arrived! I couldn't sleep last night thoughts of you all kept running thru my head! I said prayers for you all I asked the creator to keep you safe & warm! I love you all bundle up good & have a good day!

Josette Peltier
Hahanna Was'te Mitakuyepi! Day 6: Rest day for our beautiful relatives: the Sunka Wakan n our riders. They endured some cold wet weather n it was very humbling to be amongst them. Want to say thank you to Carol Weddell-Zephier for providing hot coffee, chocolate, sandwiches n snacks for the riders. Also the socks n hand warmers. We appreciate everything you n your staff do for the riders n supporters. It will be good to have the rest of this day to rest up. FIS- Ed Lunday, GeriAnn Headrick n their staff were awesome. From Administration n all the departments involved it came together. Pidamayaye!
Day 7: Rest day in Flandreau RRC. Getting moving, the snow plows are out n about. As I get ready to go back to work my heart goes out to all the riders, supporters n most of all my beautiful relatives the Sunka Wakan. It has been the most amazing 6 days of being in prayer, humbleness n gratitude. I will be praying for you all and will catch up on the 18th with you all. Mitakuye Owasin.
Patt Iron Cloud
Such a blessing this early morning hour to be among the Sacred Riders of the Dakota 38+2 Reconcilation Riders in Madison, SD on our way to Flandreau, SD . Wopida Tankan to my Brother Richard Milda for teaching me in a good way about this beautiful way of our people.. I was Humbled all day because of the beautiful songs and prayers for all of us and for the Shunkan Wankan. Grandma Patt from Montana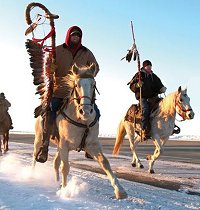 Tonia Goertz
Sending prayers for each of you this day. Hoping the things you ride for and pray for come to a good resolution. Praying for safety and the ability of each of you to do what you need to do to heal yourselves and the communities you will touch when you get home. I am praying for blessings for each of you, and thank you for including my family in your prayers. Safe travels and much love.
Jeanne Zimmerman
Ever since I watched the video, I have been praying for you on this annual tribute journey. I feel this should be seen in all schools in the country. I sent a link to every TV channel I could in SW PA and a few others (27 different places) and requested they consider placing this in their lineup. No responses of course, but the fact that so many are following you now, it will spread everywhere. Many prayers for riders and horses, and the ones who help you along the way.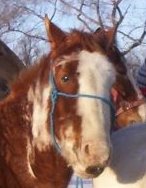 Alice Erickson
Good morning everyone. The elements are not the best. Please be safe, warm and most of all take good care of the one who carries you on your sacred, humble, journey.
As I have my morning coffee, I sit and say prayer for all of you, can you imagine how it was for our ancestors, no car to warm up, only what was provided them by our 4 leggeds. I feel such a ache in my heart for them,
We look forward to your arrival here in our small Indian community in Pipestone.