In 2008 Craig rode for his family, today on the Ride a young lady joined for a short while to ride for her grandma Alice Erickson. Alice does the food at the Little Feather Center in Pipestone, she has done since 2008. She wanted badly to ride for a while this year but she has been sick, and was very upset that she wouldn't be able to. A few days ago her grand-daughter Shaina DeRuyter told her mom that she would ride for Alice. It was to be a surprise. A few of us knew about it happeneing but Alice didn't. She was told last night and was overwhelmed by it. So this morning Shaina joined the Ride, she looked so proud. She said that she was riding for her Grandma's sisters as well. Marge Parsons, Betty Tellinghuisen, Maddie Redwing and Carol Derby. I am so happy because these women are my sister-in-laws. They are my American family. Thank you Shaina!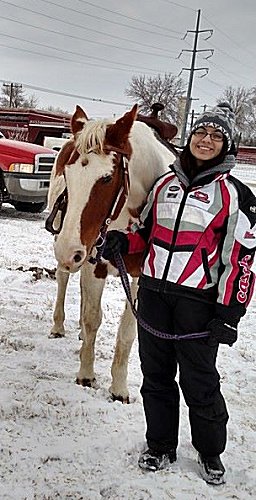 ---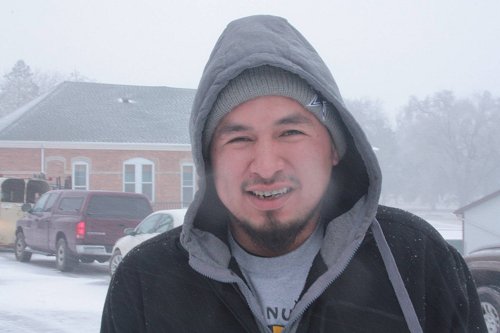 Garrett White
My HERO !! Pidamaya to this young man who helped me to my car today at the Flandreau Indian School Honoring of the Dakota 38+2 Reconciliation Riders. It was awesome because the streets had black ice and the snow was so slippery.. There was ice everywhere !... Wopida to Mr. Garrett White for all your help today in getting me safely to my iced up car !!! hugz, Grandma Patt
---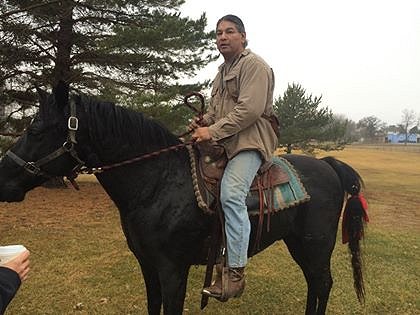 Matt Black Eagle Man

HAD AN AWESOME EXPERIENCE TO MEET THIS YOUNG MAN NAMED 'KENTUCKY'.. CONGRATULATIONS ! ! ! ! FOR HAVING YOUR FIRST TAKOJA DURING THIS MEMORABLE SACRED RIDE...THE WONDERFUL DAKOTA 38+2 RIDERS.....IT WAS SO AWESOME TO HEAR YOU SPEAK TODAY WITH THE FLANDREAU YOUTH...I KNOW THEY WERE HUMBLED BY YOUR TRUE SPIRIT OF LOVE... Grandma Patt
Lynny Prince For those who do not know him: Matthew is nicknamed Kentucky because that is where he lives now, but he is a Warrior from Long Plain First Nation who was stolen from his family as a child. I am so happy that he has found his way back to his people and I can only thank the Dakota 38 for this miracle. While promoting my book "Scattered Leaves: The Legend of Ghostkiller", which is about the hangings, I stumbled across the documentary on Youtube. I watched and cried and told my husband, 'we must go do this ride!' The rest is history. Now, he has met many of his family members and is meeting more everyday. It is hard for him living so far away from them. I support him as best I can in his walk. I love him very much and am thrilled that he is finding himself, his people, again.

In Washington DC during the summer against the Pipeline Matt represented the 38 + 2 Riders and group, on the Ride he represents Long Plain First Nation.
---
Another family on here are Richard Milda's here are some photos of them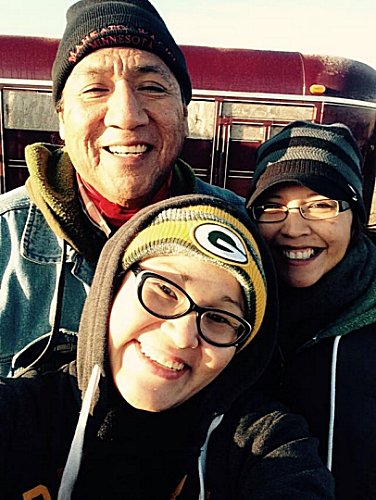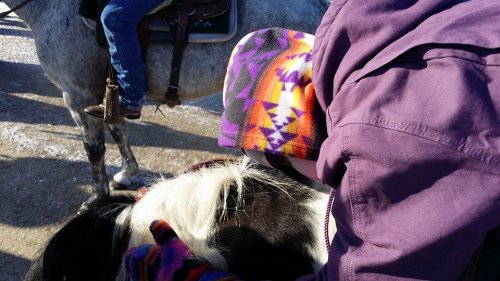 ---
Another family are Rebelmann Mann, a group of young people who came on the Ride for the first time this year. They are shown below with Patt.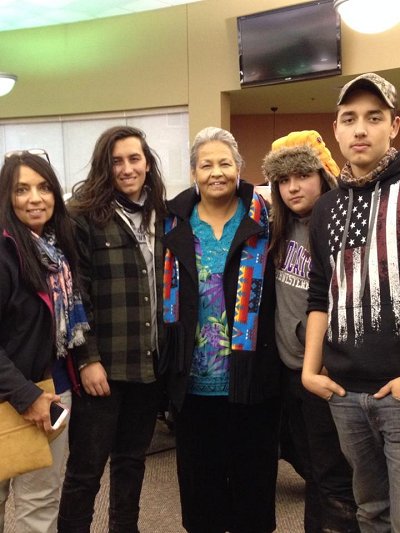 Bruce Weigle

posting a couple pics for Joyce Kadlec from the awesome dinner at the little feather center tonight. what a wonderful evening sharing great food with old and new friends telling stories laughing praying together. looking forward to having breakfast with the rides and supporters in the morning before they hit the trail again. good night all, sleep well.

Anomi Aquene
Moments like this are heart touching. Our young ate observing the behaviors of all of these amazing men. Teaching our young through example love, compassion, honor, dignity and self respect is what this world needs. Thank you. May you be blessed ??
Mary Lee
It touches my heart to see the respect of the Young Generation.Be Blessed my friends. Walk In Peace.
Carol Bearss
Boon, MI,
Thank you for allowing me to be a small part. Dropping tobacco

Janelle DaChief Love hope all the tasunkas are doing good. In wicked weather, strong beings they are.

Rosemary Halsey
Good morning! Prayers being sent to all Riders & their families/supporters & their Horses, Aho!


Lornagene Drum
· Ronan, MT,
Good Morning Family & Frenz. Prayerz of Blessings on ur ride today. Strength & Courage for all of you & da Sunka Wakans.

Frieda Chanku
Tanka Hihanni waste' to all the riders and prayers are with you as you ride be safe stay warm
Kendra Thomas
Fast & Prayer day 9
This morning I fast and pray for the safety net created by "Prayer". I see an invisible spiritual veil that encircles the riders, linking them in unity, protecting them, keeping them safe. The veil looks like breath on a frosty morning, or smoke from a smudge. This to me, is the evidence of the power of Prayer. When we pray for the Riders that prayer really does manifest around them keeping them safe. They are guided. They are protected. The Ancestors are in that veil smudging them and brushing them off. "Prayer" matters
Joy Maddox Dacus
· Ruthton, MN,
Watching this ride from the beginning to today has been one of the most fulfilling experiences I've ever had. Seeing such promise for the next generations to come is so inspiring. These souls are hungry, they want hope for a better world, a world that is not afraid to open it's heart to others. It's time to forgive and time to come together as ONE.
Pamela Kay Leverenz
Good Morning members, riders, this has been a wonderful journey with you, even by airwaves! I ask for patience and strength for all of us~these young people are stepping up~Thank you~I think of you all throughout my day~you give to us here, and we appreciate you all.
Josette Peltier
Day 8: Our Dakota 38+2 family gathered this morning for a breakfast. Beautiful ceremony with song at the gravesite of Chief Little Crow. The Sunka Wakan with their riders departed Wakpa Ipaksan. It was a beautiful, beautiful sight. The feeling of love n compassion overcame me, as I watched them leave. I thank each n everyone of them for allowing me to start this spiritual ride with them. I will carry you all in prayers today n tomorrow. Until I meet up with you again, I love you n thank you for your sacrifices you are making on this spiritual ride for our ancestors n the Oyate. Mitakuye Owasin.
Elaine McCloud
We are Canoe Nations where I come from. But a part of my heart travels with the Horse Nations on your Sacred Journey! Our Canoe Journey this year took us away from our family and home for over a month this past summer! And the same is true for those making that sacrifice with this ride! On the Paddle to Bella Bella, we were hosted by many Nations and I read of the generosity and hospitality that The Riders are receiving! Our People had treacherous times but we persevered as I know the Sacred Riders will! I follow you on Facebook and love all the pictures! My prayers and admiration travel with you every day!