Patt Iron Cloud
TODAY IS THE FIRST DAY...FIRST SUN..FIRST SHUNKAN WANKAN WALKING UPON THIS MEMORIAL RIDE.. WHAT A GREAT HONOR TO HAVE THE STAFF CARRIERS RIDE AS WELL. PIDAMAYADA, PIDAMAYELO ...LILILILILILILILILILILILILILI !!!
Elif Ahmad
Wishing every rider a safe journey to Mankato and gratitude to all who are helping and feeding the group along the way. Every step is a step of healing and a step towards unity between races. Will do my thing from here for all of you and the horses. Respectfully and with Love - ELIF

Kendra Thomas
Day 1 - prayer and fast
This morning I fast, pray and sacrifice for my brothers Alberta Jim Miller, Matthew Black Eagle Man and Richard Milda who are making their journey... for your healing, for your personal truth and reconciliation - I pray. May your journey be filled with peace, love, joy and healing May you have strength

---
(see the guys to the left)

Rebelmann Mann
REBELMANN sponsor and partner Hoo-Rag is sending us, and ALL the riders, hoo-rags for neck/face protection! Thanks ?#?HooManiacs?!
http://www.hoorag.com
---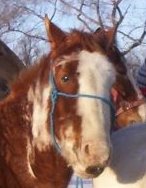 One of the horses on the 2010 Ride

---
Alice Erickson
Will say prayer for a safe ride, you are in my thoughts daily as you begin the first day of this spiritual journey.
---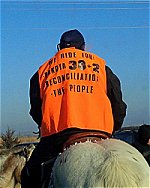 ---
Danielle K Hagen
Thinking of all the riders today and praying for them as they make the journey to Mankato. With you there in spirit. Will check in daily for updates. I may watch Dakota 38+2 in honor of the beginning of the journey.
Diane Vitrac-Kessler Prayers and healing lights sent to Jim and all riders for a safe journey. May all benefit from this vision quest, may all find healing and love within themselves. We never met, but we are connected through the heart and love you all!
Jamie Leigh
feeling thankful
Prayers for each and everyone of you I'm so sad I could go this year like I wanted to. I'm gonna be praying for all the horse's,rider's, and supports. That you have a safe journey. I shall see you all in Flandreau when you arrive in a few days. This brings tears to my eyes that you all are doing this makes my heart happy.

Patt Iron Cloud
May Wankan Tankan bless this memorable and sacred ride and all the riders !! Lilililililililililili !! Patt
Danilo Indiano
aho

Carole Butcher
Travel safe.

Marcine Larrison Prayers for the Riders and their ponies.....Be Safe...and Stay Warm...

Kathryn Hamilton Praying for safety, health and warmth ~ love and peace to the riders and the ponies and those who accompany them that we can no longer see with our eyes.

Candace Clark
Prayers for safe journey on our travelers

Dawn Cunningham Beard
There is something about believing in ourselves, there is something about believing in our family, our community, our Nation …in our purpose here today... there is something in feeling full by that belief. That something makes things better. Our prayers for the strength, clarity and calling in of healing to each and everyone this ride touches.

Brittany White-Iceman
im so sad im not going this year. You guys pray hard and stay warm. The love and comfort i felt there was unexplainable it was like all my pain went away for a short time and i could really use that again. Safe travels to you all

Zitka Duta
Like Brittany, I also found healing on the ride last yr. I am unable to travel right now but I plan on catching up on the ride along the way. Will b watching posts so I will kno what route you will be on. Prayers for all.
Tawa Witko
Wishing you all safe journeys today and throughout the ride. Thank you everyone for what you are doing.

Nolan Buffalo-Royal
Anpetu waste Kodas many blessings to all the volunteers, the runners, the riders and may horses they ride on bring blessings to everyone, with all the food donations may wakan tatanka lead the riders on a good journey. Today day is a new day appreciate this life from wakan tatanka. It's a long journey in memory of our ancestors and those we have lots wopida. Mitakuye oyasin

Joy Maddox Dacus
Lower Brule, SD,
Prayers on this first day of the ride. As the Dakota 38. + 2 riders prepare to start, may you be blessed and Creator watch over the horses and their riders.

Nancy Hamilton Britt
Prayers today for all horses, all riders, all supporters...steady on with resolve and vibrancy.
Celeste Long Elk
Blessings to Dakota 38 riders!
Blessings from Restoring the Circle magazine!
We wish you all a safe journey to Mankato.
Love n prayers
Elrae Mazakahomni
Thinking of you all as you make your annual ride. It makes my spirit happy to watch all this healing from afar. My prayers are with you. *Spirit Lake Dakota*
Debbie Snowolf Como
good morning 38 +2 family....so it bigins!!! i light a candle that will burn till its over...may creator guide you all..riders..runners....horses.ppl hauling hay..food prep...those that offer shelter.. i pray that this ride is safe passage for all.....creator plz watch the horses....touch thier hooves.....bless you all!!!

Missy Whiteman
Ho'hou my relatives for riding for all of us and for the healing of the people. We honor and keep you in our hearts and in our prayers.

Pat LaMere
Wishing all my Dakota relatives a safe journey and may the Creator be kind while heading out this morning and through out the ride, thank you for riding in honor of our ancestors, blessings to all.

Jeff Galuza
May your Ancestors smile on you throughout this ride. May you see and feel their freedom and joy for your healing. May we all be in the moment of love and trust. It's all we have.

Maryhelen Paavola
Prayers and smoke up this morning to all riders.