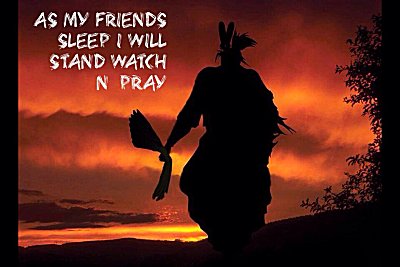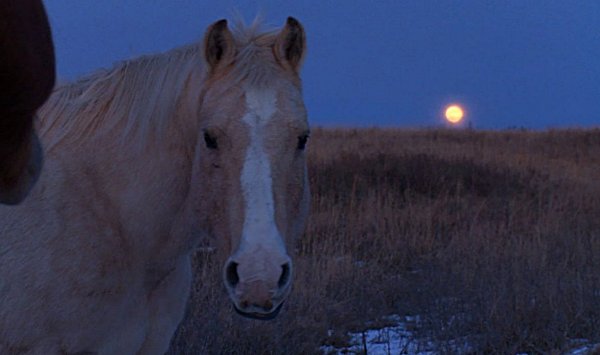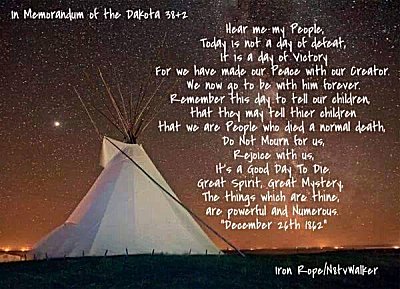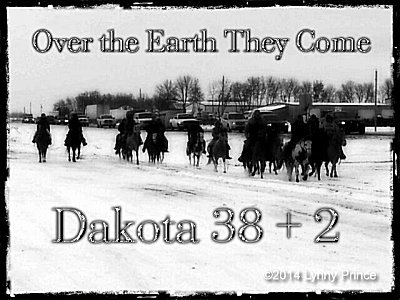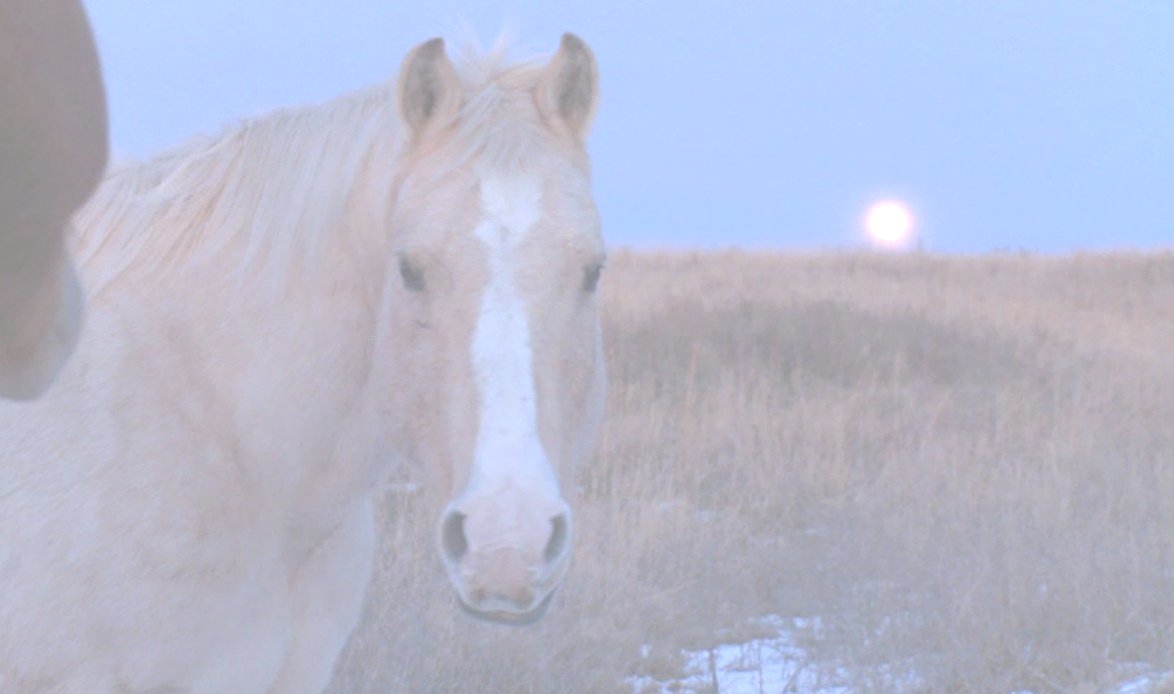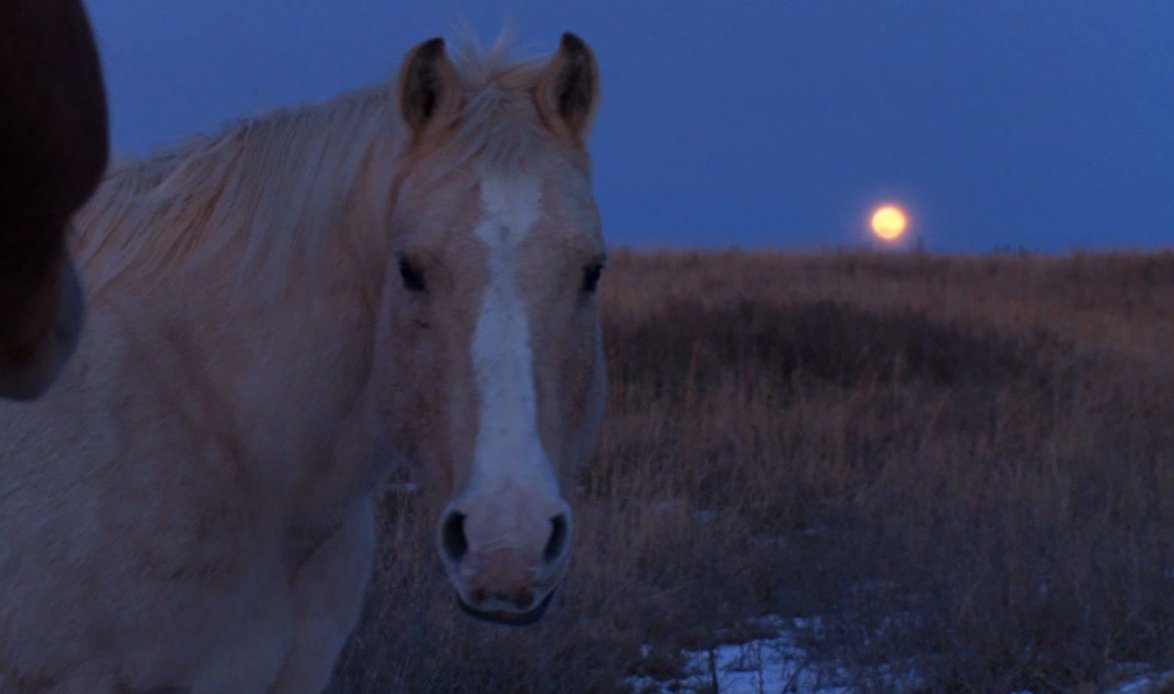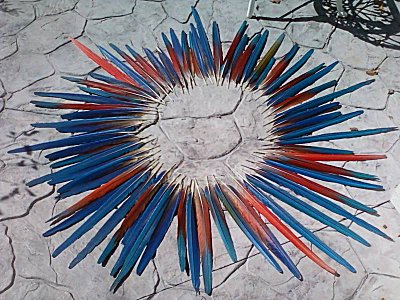 A Dream Comes True
Horse in the Moonlight

Alberta Jim Miller (2014)

The Dakota 38+2 Memorial is a drug and alcohol free horseback ride that focuses on prayer. During the rest day of this year's ride we will also include presentations about community healing, overcoming addiction to meth, the sacred relationship between the horse and his/her relative and genealogy. We are thankful to Tamara Stjohn, THPO from SWO, who has offered to share information on Dakota family history.

Photo taken from the Dakota 38 movie of the 2008 Ride. Courtesy Smooth Feather Productions
Dakota 38 + 2 Memorial Ride 2014 - The day before the Ride.
This year I will be using the stills from the Dakota 38 movie on each page with a quote from the person shown.
Today people are heading off to the Lower Brule Reservation to gather before the Ride begins tomorrow. On the way in one vehicle are Keith Nichols, who was a rider last year, Josette Peltier from Flandreau, Joy Maddox Dacus who travelled by bus to Sioux Falls from Georgia, David from Slovenia, and Sharlene Whiteley McGilvray from South Africa. I would love to be a fly on that wall! Also travelling right now are Jon Eagle Sr coming down from Standing Rock, and Garrett White heading across from Sisseton. Safe travels to you all. - Gloria Hazell-Derby
Yesterday on the Sisseton Memorial Ride Jim Miller's horse fell on him, and Jim has injured his knee. We are all praying that he will be well enough to lead the Ride tomorrow.
Below are messages that came in to the group today with good wishes and prayers for the Ride
Alberta Jim Miller
Early this morning I received a beautiful call from a new friend in Rapid City who shared that her hasani is Viet Nam vet who like Jim, suffers from Agent Orange. She said despite his disability he is a prayerful man who always prays for the riders and the horses every year, praying for protection. This warmed my heart, I will share the full conversation this evening in Lower Brule. Thank you my new friend LS!
Tracii Gunz Barse
It's almost time to ride again. I want you all to know that I will be waiting, singing for all of you as you ride into Flandreau SD Wakpan Ipaksan, again this year. See you all on the highway. Ride safe and I love all of you. My prayers for a good ride and for everyone to be well prepared. Hau Mitakuye Oyasin
Kathy Rencountre
Fort Thompson, SD, United States
I cant wait for the ride to start from across the river Lower Brule. I got to witness the last day of the ride and I feel so honored to be a Dakota. My aunt Stella P.S. Flute used to cook and feed all the riders along the way. She is in the spirit world now and no one can ever fill her moccasins. She was a great woman with a very loving cante'. I want to honor her and all those that were executed.
Jason Standing Wolf
Wóphila cousin Sharlene, I wish you the other riders well on this year's ride. If everything turns out well I will be joining you for next year's ride but for now following it on this page means a lot.
Dj-Dapper Don
Still on my list to ride one day, once I am healthy enough and have the finances. But I realize just how many do not know about this, and how sad that is. I have shown so many people the documentary, and even got it shown in schools. Every little bit helps. For every person I show and touch their lives, I have accomplished something. I will be making the biggest staff this year, and put it out along with the one I made last year. This new staff will have hundreds of Macaw and other parrot feathers. I will hopefully get the Dakota 38 T shirt, and carry this giant staff where I go. People will see it, and ask, I will spread the message. This giant staff, made from these feathers, will represent healing and knowledge. It is an honor to be a part of this.
Theresa Gamble
Safe ride my relatives .. My prayers are with you as we'll I'm lighting a candle everyday for you
My prayers are with you all. May you have a safe Journey. We are going to try to get to Morton, Mn and if not will be in Mankato.... I will be volunteering to assist with the meal which will be such a Honor to Serve My people !!!!!!
Jean Nahomni
Mani Mitakuye pidamaya De yuonihan Yuhapi c'ante was'te Wopida
unkenic'eyapi. Thank you, all my relatives, for honor, with a good heart , we thank you.
Desideria Egna
have a safe journey there and back.
Mark A Dull
Sharing this for a SPIRITUAL PEACEFULL JOURNEY !! You all are in my thoughts and prayers!
Debra Wills
praying for all of you
Kathleen Wright Nyhuis
I have followed this commemorative ride the past two years, and look forward to doing it again this year. Prayers go to the warriors and to the many who show hospitality along the way. My heart is with you.
Tonia Gill
I really wished I could b joining the riders this year, but I am with you all in prayers and I give my utmost respect to all involved in the Dakota 38 ride!!! Love & prayers sent from Bismarck, N.D!!!
Marten Iron Rope
feeling blessed
with Alberta Jim Miller

To those who rode past, present and future, may the spiritual healing bless you and those along the trail. I'm blessed and grateful to those who have taken this trail of us as a people.

Alberta Jim Miller
I am so very proud of the wikoskalaka from Cansayapi owanke who have been part of the ride since 2005. Gianna Strong, Vanessa Good Thunder and the others have brought pride and strength to their Dakota people. They have become ambassadors for the younger generation and I am so happy that they will be on the Ride again this year. Their choices to be strong Dakota winyan on the Red Road is truly a blessing for us all!
Ima B. Musing
Lauderdale, MN, United States
Best wishes to the riders, horses, traveling support crew, and hosts. Is there a public website for people to follow along virtually? It was great last year but need a link for this year. Merci!!
Isabelle Afraid of Enemy
Prayers to the wokiksuye riders & sunka wakan have a blessed & safe journey...Wopila
Debbie Snowolf Como
That time is here again...i pray that creator gives you all safe journey....i pray the poinies are strong and surefooted......were all here cheering you from all over!!!
Candace Zapata
As you all start your ride today I ask the creator to watch over you & your horses! Weather is suppose to be good keeping all in my daily prayers!
Zoongwebinesiik Martha Kay Anderson
Prayers for all as they journey through their miles.
Galan Renville
I wish I cud ride with u all but my prayers r with u n ill b in Mankato wen u guys get there...aho..
Kathryn Hamilton
Peace and Prayers to the riders. A great example of learning reconciliation and forgiveness. May the road rise with you and the wind be at your backs.
Dee Torrez
Prayers for safe traveling.. shelter..food..safe from elements ...strong horses..Peace.. We will keep you all in our Prayers Warriors !!
Sara EagleBoy .
Hokahey!
Kathryn Beaulieu
Prayers for a safe journey to Mankato. Mii gwech to all the riders and the horses for their sacrifice. Thanks to all the supporters along the way. Sincerely, a Red Lake Band member
LaVerne Whitebear
My prayers to you as you begin the trek. I'm very happy. The time is here and well get to see all of you again. My heart is happy .
Author Lynny Prince

As we move into this sacred time, let's all pray for the safety of our horses, riders, and supporters, as well as the sacred beings who will join them. Wopida Tanka for this opportunity to be a part of something so profound.

Tracy Schantzen
Safe travels, much healing and may the creator protect and guide them.
Jeanne Zimmerman
Many prayers for all.
Vickie Graff
I am so proud of these riders, they are making a change for the world. Safe travels and blessings to each and everyone involved.
Rosemary Halsey
Safe travels there & back everyone! Prayers for the Riders & their Horses & their families & friends! Aho! Shared.
Cherie Haney
Prayers sent for you during this time in remembrance..
Elona Tyler-Bergstad
Prayers for a safe journey
Jason N Wendy Stevens
Prayers covering you, safe ride & journey my friends w & j
Nancy J. Horvath
Prayers for a safe journey.
Ruth Gerhardt
All good thoughts and prayers ....
Jeanne Zimmerman
Blessings on a safe journey. Thank you so much for sharing your tribute journey for a tragedy that should never have taken place. God be with you all.
Dee Romero
Johnstown, WY, United States
Our deepest thoughts and prayers are with you all. Wopila for your sacrifice, Tunkasila hears our cries for healing and honoring those who are no longer with us.
Becky Ballantine
Down here in New Mexico will be praying for you and your horses. Will follow you every day. Ride strong.
Gianna Strong ·
Since the Dakota 38 Memorial begins tomorrow, I thought this would be an appropriate, new cover photo. I look forward to this every year! This ride is powerful and so important as it is about reconciliation and healing... to honor the Dakota 38+2.. to honor the men, women, and children who were forced to march across the cold winter prairies to Mankato, or to Fort Snelling during the time of the conflict... and about remembrance of the past, and hope for the future, as we ride from a place of exile to the place of the shameful event.. I can't wait to start riding! (featuring Nes and myself)

Joan van der Heijde
yes. Prayers will be heared, Godspeed
Alberta Jim Miller
Our late brother Gus High Eagle strongly believed in the power of the sunka wakan and reminded us often that they were leading us on a trail of healing. Tomorrow the horses will carry their riders from the site of the tragedy committed in Sisseton on to Agency Village as they ride in prayer. Please take some time tomorrow at 10:00 am (CST) and send your prayers out for healing and strength for our Dakota relatives. We are all part of the Oceti Sakowin, we are One.
Diane Whitlock
Prayers and guidance for the riders.
Yvette Leecy
Prayers for healing and forgiveness !
Bayday Liend
May the earth be your floor, the sky be your cathedral and the creators altar all around you...keep you bonded, protected and strong. You are all so loved. The eagle rides with you all again, in honor & pride.
Maureen Yuzicappi
many prayers to all
Lisa Yankton
prayers
Debbie Snowolf Como
Creator....look upon our brothers and sisters.. Heal them from the atrocities committed so long ago.....keep them safe and strong....give them warmth to sleep in...guide the ponies..touch their hooves make them surefooted..we ask you keep everyone safe and healthy on this journey to honor ancestors taken from us.. Bless this ride!!!AHO!!!!
Lydia Rutledge
With you in spirit.
Michelle TatankaMani
Prayers for healing for the families in our community, for the Dakota 38+2 riders for safe travels.
Melissa Hughes Wolfle
My prayers are with all of you on this journey!!
DeeDee Dixon
Stay Safe my Beloved Friends. The Great Spirit is always with you. Love, hugs and plenty of prayers.
Dj-Dapper Don

Feeling quite sad I am unable to come and join the ride. My heart is heavy. Due to health and financial issues, I am unable to go this year. I am happy for the ones that did go, and I will be praying and sending my support. While I can not be there in person, I can be there in my heart. I will be making the parrot staff, praying and going on spiritual walks. Praying for the riders for a safe and happy journey

(the feathers shown are for the staff that Don will be making).
Alice Erickson
Good morning everyone.
As you start the first days of a Spiritual Journey, You all are in my thoughts and most of all in my cante' (Heart). I pray for all of you for a safe ride, this healing ceremony, pray for our ancestors who had to suffer, as I am sure you will in one way or another. I look forward to your arrival here in Pipestone, MN.
Cheryl Little Crow
My heart and spirit are with you..safe travels
Kayla Bluhm
Prayers and flags are flying.. blessings to this family
Clarice Elita Grant-Flores
Im from tha Omaha Nation from Macy Ne. I find this ride to be so beautiful! Prayers and love to all tha riders and their families. I would love to be there wit em on their journey. Even to be in Mankato when they arrive would be a blessing. Much respect for tha Dakotas. WE ARE ONE NATION
John Nelson
We hope to see you in mankato.
Praying for all riders anf support crews. Ride like the wind.
Romona Hawkins
Blessings n Prayers on the ride.
Henrietta Wise
All health and strength to you and the horses. Riding with Spirit. Love to you All. Henny & David.
DeeDee Dixon
Prayer Riders your presence is highly honored The power of prayer will see us througth on our path to forgiveness. .The Great Spirit is riding with you. Love, hugs and prayers
Abby Lulabelle Peawhistle
Prayers.....
Helen Merrick
thank you.....prays will be sent while I work ..my new found family
Pua Case
Aloha I will be at Manaua to send my prayers at 10:00 for the riders and horses
Kendra Thomas
I couldn't raise quite enough funds to cover my transportation to South Dakota for the Ride. Hard to accept, but I'll have to wait until next year.
I want to offer my support to the riders, to the Sunka Wakan, to the Dakota Warriors who stood up so the people could live, to the ancestors who suffered in the Dakota war, the Fort Snelling internment camp, and the trauma of dislocation – banishment from traditional lands, to their spirits that have continued to suffer in search of peace ever after. I want to do my part to help carry the burden, and I well know the medicine of prayer and the power of intention. My desire to help comes from my heart of hearts.
I will be fasting starting on Day 1 of the ride, Dec. 10. I am committing to the first four days of the ride but have an intention to attempt to fast throughout the entire ride, breaking my fast after they arrive in Mankato on the 26th. If any friends, relatives, or supporters wish to join me in a collective fast, feel free to post your intentions and prayers here. Together we are stronger. For the Riders! For the Dream! For Truth & Reconciliation! I pray…
May we find our right place in Creation and witness the return of balance and right relationship with All Things. My love to you all
Rick Collins

near Gallipolis, OH, United States ·
I will pray for your safety have a good ride

Thank you all for your good wishes and prayers.