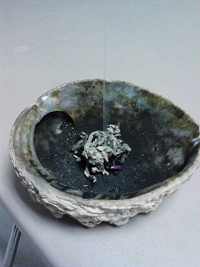 My spirit eyes look for you over the horizon as I sing to you my prayers WELCOME HOME - Annie Hansen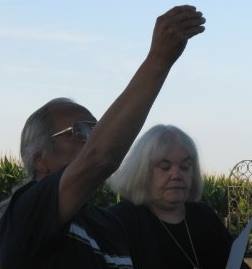 As the Riders are going to the Little Feather Center today I thought a photo of Chuck Derby praying to Tunkashila would be apt, as, had he been there it is something he would have done at the meal.for them. - Gloria Hazell-Derby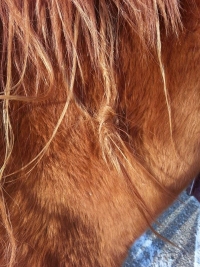 Spirit Braid in one of the Sanka Wakan's.


So many songs and hours at my altar today.. so many prayers. Ride safety, oyate! - Kayla Bluhm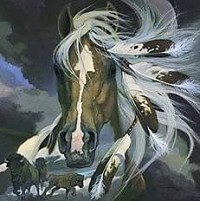 Thank you for adding me to this site. May all involved have a safe and sacred ride. - Curt Lauret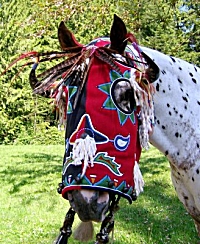 Blessings for doing a Great Job and sharing, Prayers with Sage and Sweet grass for all of us, as you make it possible for all of us to be able share this journey - Mitukuye Oyasin - Janet Nagle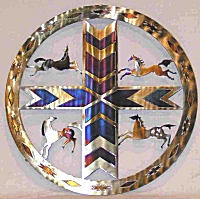 goodmorning to all.....wishing everyone & shunkawakans a blessed beautiful day for journey you take today! love thots & prayers frm ft washakie wyo - Maria Menard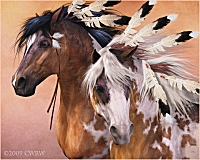 Thank you for accepting me. I watch the movies Dakota38 and was deeply touched as I could feel the healing of this ride. Prayers to the riders and all of those who are helping this ride happen - .
Vickie Blackeagle Williams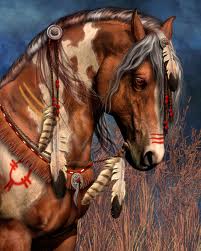 Even AFTER the Ride, you ALL, esp the younger ones, WILL REMAIN in our thoughts and PRAYERS. The Prayers just DON'T stop with the Ride. We carry EVERYONE involved in our hearts. You are NOT forgotten......Your Family just got bigger. Hugs and Blessings - Abby Peawhisle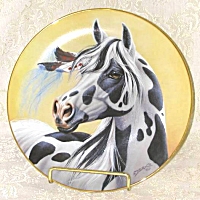 It's a rainy morning here, in South Louisiana, but that didn't stop me from offering tobacco for a safe journey. - Vicki Williams Barry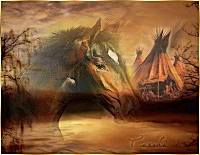 For the Memorial riders
I call my fastest horse from the darkness
Horse wild as wolf teeth
Horse patient as stone
Horse who whispers to wind
From the West he comes
Pejuta Sunuka
Medicine Dog
Yah Yahhhhhhhhhhhh
- Nancy Kohn Raven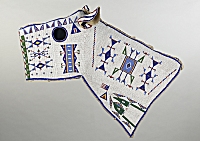 The horse is even holding its head up with pride. Thank all the horses and riders for this wonderful commemoration. Praying for safety for horses and riders and support team. - Linda Daniel OConnell

The Riders listen to Perry Bobtail Bear talking in Eastman Hall, Flandreau



As the Dakota 38+2 memorial ride is under way and I reflect back on why this event is so important to me today I often find myself searching for reasoning and understanding with regard to the Dakota U.S. War….. we "our" generation continues to feel the impacts of forced removal and oppressive federal policy "still in place" that restricts our basic freedom and liberties as Americans….having an accurate understanding of some of the historical wrongs that were inflicted upon the Oyate has allowed me to better understand the decisions and choices my ancestors made leading up to, during and after the events of 1862…. my families legacy of survival allows me to be here today!!! Learning my personal connection "family history" has allowed me to reason and understand rather than judge….. As Dakota we all have a legacy of survival to share with one another that celebrates and contributes to the survival of the Dakota Oyate!!!! Share your family history it contributes to the historical context of the Dakota Legacy of Survival!!!! - Oyate Duta Ob'Mani Jackson

prayers for the riders! and all the supporters feeding and providing shelter for them and their horses big thank you and prayers for you all! - Michael Ryan Smith

Drumming in Flandreau

Jim's voice has been used to touch so many lives, as he has so bravely shared his truth. May the healing rivers flow into his mouth, freeing him to continue to speak his truth. May the doctors be lead by creator's hand. "SOUND IS THE FORCE OF CREATION, THE TRUE WHOLE, BECOMES THE VOICE OF THE GREAT COSMIC, ONENESS AND THEREFORE THE OPTIMAL WAY TO REACH THIS FINAL STATE OF HEALING" - Annie Hansen

BLESSINGS this day to Jim Miller, his family, and his friends~Blessings to all who support the DREAM~Speedy Recovery! Love,Support, and continuing faith. - Pamela Kay Leverenz


*Candle and Sage* Blessings on the riders and Creator's wing to shelter Jim, His hand to guide the surgeons. - Cinnamon Moon



Hihanni was'te friends and family trusting you are all well and safe, prayers still going towards the riders and everyone taking part and healing prayers towards Alberta and Jim for his surgery loads of love - Leanna Nativegirl Williams


Tonight I spent some great quality time with my brothers and elders. Many of us post beautiful pictures here so that everyone can enjoy them. But tonight I was able to receive something far more valuable. Something you cannot receive via a photo on facebook. I spent time with my brothers and elders listening to them describe how THEY feel about the ride, what happened to their culture and way of life, what happened to the 38+2 that were hung, and what it means to them today. Many times the white man thinks HE knows but nothing could be farther from the truth. I listened closely as they helped this poor white man start to understand. My brothers and elders are wise, strong, intelligent, insightful and patient warriors. It will take my lifetime to understand and yet I cannot help but think that there will be so much more to learn and understand when I leave this land for the sky.

Wopida my brothers, sisters and elders for helping me. - Keith Nichols



Mason Red Wing and Talon Voice visit with Santa in the Royal River Casino at Flandreau



Brandon Shepherd meets Santa!

Riders going to Little Crow's Grave in Flandreau


Little Crow's Grave in Flandreau




Very emotional. As the riders made prayers at the grave of Little Crow n departed for Pipestone,Minnesota where they will meet at Little Feather center for a meal n share time with the people in this community. - Josette Peltier


Going to one of the most sacred places in the known universe today...prayers to those having a hard time. Aho - Richard Milda



Peace on Earth Photo Donna Patterson


Youngest Rider with Richard Milder

Pidamayaye' for having an open heart and an open mind!!:) And for all you do!!:) Prayers for my Dakotah Ancestors!! - Zella F Utley





Sending prayers as the riders are resting and words cannot express the gratitude and respect that I have for this ride. My spirit is with each one. There is such honor in this ride. As they start their day tomorrow, I put tobacco on the ground as smoke from the sage rises . All my relation's - Joy Maddox Dacus








Leaving Flandreau




Young Riders with Richard Milda


Today was a day of rest. But for Mike Powers and myself it was anything but that. We got up early this morning and started to head to Morton. We stopped at Pipesone, said hello to Alice, Checkout the pasture at Russel, dropped hay off at Vesta, dropped food off at Morton, visited Southwest Minnesota State University, got materials to fix my trailer lights, returned to Flandreau, talked with team leaders, picked up a friend from work, put food way from evening dinner and now working on posts. Glad today was an easy one, LOL. - Keith Nichols






I'm proud of you guys you are all in my prayers love you - Elizabeth Jorges


OK! 1001 hits on our map! Some of us can carry the message on horseback .... some of us have to settle for the internet... but together ... WE'RE GETTING THE WORD OUT!!! From Hawaii to the British Isles, from Canada to Mexico!!! Thanks to everyone who has helped me by sharing!!!! - Lou Fuentes



Alice Erickson, Monica Jones and Carol Derby prepare food for the Riders in the Little Feather Center Pipestone today

NOTICES
for Morton

Meals: all meals on Dec 20, 21, 22 and 23rd and breakfast on the 24th will be served in the Lower Sioux REC Center....
Fri, dec 20th: dinner - - Dakota Wicohan
Sat dec 21st: breakfast - - Dakota Women'sSociety
dinner - - Thompson Family
Sun dec 22nd: breakfast - O'Keefe family
dinner, Columbus Tiwahe
Mon Dec 23rd: breakfast - - Lower Sioux Health Department
dinner - - Lower Sioux Community
Tuesday, dec 24th: breakfast - -Cindi Wittwer
dinner - - Upper Sioux Community in Courtland
Sandee Geshick

and Mankato
By Dakota Wicohan

The Dakota 38+ 2 Ride.. .
Meals for Dec 25th 6pm and Dec 26th at 1pm will be at the United Methodist Chruch at 325 Sherman Street in Mankato.
If you are staying at the Best Western the front desk clerks will provide maps and directions.
Please bring a dish to share with the riders and supports. Pidamaya ye -
Oyate Duta Ob'Mani Jackson






G'MORNING TO ALL DAKOTA 38 + 2 RIDERS N HORSES, ALL PPL INVOLVED. MANY BLESSINGS COMING YOUR WAY FOR A SAFE & WARM RIDE. SHARE YOUR SMILES, MAYBE SOME PPL HAVE A HEAVY HEART TODAY, A WARM HANDSHAKE, EVEN IF YOU JUST SEEN THEM YESTERDAY, TODAY IS A NEW DAY TO SHARE. PIDAMIYA - Zitka Duta Maza Waste




ANNIN MY NAME IS GIIWEDINOOKWE AND I LOVE TO RIDE FOR MOTHER EARTH!!!! I'M GOING ON THE BIGFOOT RUN IN A FEW DAYS AND HAVE ALSO RIDEN FOR THE PIPELINES IN WI,MN ND,SD AND MORE TO COME LOVE THIS LIFE AND FIGHTING HARD FOR IT !!!! - Lorna Hanes





Sunka wakan wicasta kin Anpetu waste uha omani... Horse riders have a good ride today. - ..Edward. B. Mazawasicuna

Reading all these comments makes me want to hop the next plane from Heathrow to help. What an amazing team of people and horses. - Jacqui Norman

I bow down to all of you in humility and gratitude. Please forgive me as a white person, I am so sorry for any part I or my ancestors may have done to contribute to the hardships your people have had to endure. Words are small but my heart is full of love to all of you. - Patti Bollinger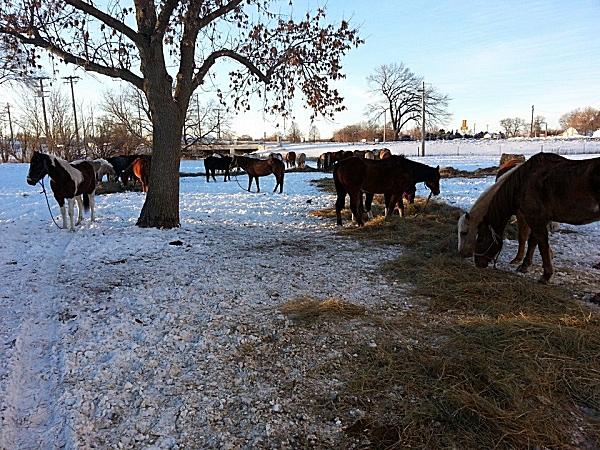 The horses in their home for the night in Pipestone