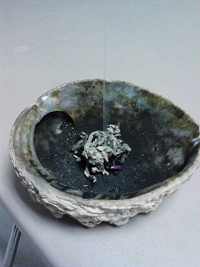 Morning prayers and tobacco offered. Here's praying that this ride will impact the young people in positive ways, for the rest of their lives. - Vicki Williams Barry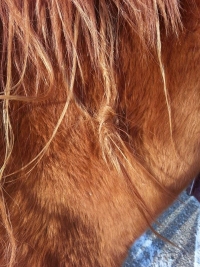 Spirit Braid in one of the Sanka Wakan's.

So many songs and hours at my altar today.. so many prayers. Ride safety, oyate! - Kayla Bluhm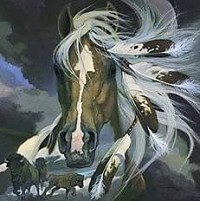 Thank you for adding me to this site. May all involved have a safe and sacred ride. - Curt Lauret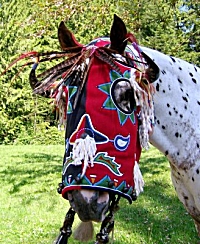 Blessings for doing a Great Job and sharing, Prayers with Sage and Sweet grass for all of us, as you make it possible for all of us to be able share this journey - Mitukuye Oyasin - Janet Nagle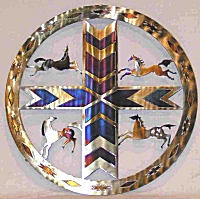 goodmorning to all.....wishing everyone & shunkawakans a blessed beautiful day for journey you take today! love thots & prayers frm ft washakie wyo - Maria Menard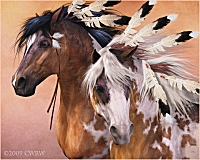 Thank you for accepting me. I watch the movies Dakota38 and was deeply touched as I could feel the healing of this ride. Prayers to the riders and all of those who are helping this ride happen - .
Vickie Blackeagle Williams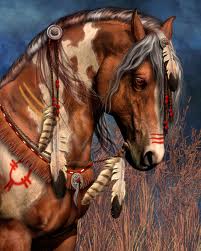 Even AFTER the Ride, you ALL, esp the younger ones, WILL REMAIN in our thoughts and PRAYERS. The Prayers just DON'T stop with the Ride. We carry EVERYONE involved in our hearts. You are NOT forgotten......Your Family just got bigger. Hugs and Blessings - Abby Peawhisle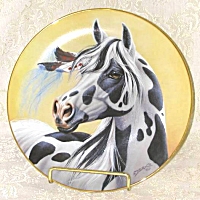 It's a rainy morning here, in South Louisiana, but that didn't stop me from offering tobacco for a safe journey. - Vicki Williams Barry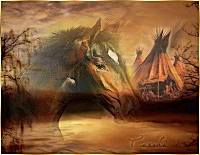 For the Memorial riders
I call my fastest horse from the darkness
Horse wild as wolf teeth
Horse patient as stone
Horse who whispers to wind
From the West he comes
Pejuta Sunuka
Medicine Dog
Yah Yahhhhhhhhhhhh
- Nancy Kohn Raven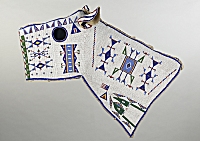 The horse is even holding its head up with pride. Thank all the horses and riders for this wonderful commemoration. Praying for safety for horses and riders and support team. - Linda Daniel OConnell

Not a lot of photos today...
On the road to Fort Ridgley




Prayers - Janet Nagle


Tunkasila, have pity on us. We are pitiful peoples. The riders left from Birch Coulee for Ft. Ridgeley in below zero temps. Have pity on the Sunka Wakan. I felt an urge to sing this Unci/Kunsi song that I have learned. The feeling that overcame me, was so overwhelming. Tunkasila hear my prayers I say for the Sunka Wakan, the riders n the runners. I humble myself before you. Mitakuye Oyasin. - Josette Peltier


Please stay safe, warm, very frigid temps today and tomorrow. Light snow with wind in our area, blowing snow here, tomorrow. My thoughts and prayers will follow you as you continue the last leg of this powerful ride. Bless all. - Alice EricksonDakota


Up and at it, headed to Birch Coulee to ready the horses. I pray for a safe and good ride today for horses and riders. 2 degrees with a wind chill of 25 - 35 below. - Lynny Prince


On the mountain today...will be praying for everyone..Dakota 38 +2 riders...journey on, we are following you! - Pua Case



Coming into Fort Ridgley





Sitting at the airport watching the Dakota 38 and I feel a little different now after this years ride. Feeling the Healing. Prayers for the riders today, HOKA! - Kxsw-fm Dakotah-Radio


Prayers for the riders I was reading posts Josette Peltier posts same here when I think of the ride being at home the most overwhelming feelings of sadness and tears!! I know hoe out ancestors suffered! And the children at this time I think of all that remain in fostercare!! Thank you for all that are riding!! - Janice Howe



Many thanks to all the supporters near and far who are keeping the riders in their hearts. There are more riders pulling in from all the directions, there's a strong pull to ride even if its -13. Keeping the Si Tanka Riders in our prayers as well. Our 3 nephews (Dustin Baird, Jake Iron Cloud, Richard Milda) will be riding again so I ask our Mahpiya Maza tiwahe to remember them. Dustin drove in from Denver and arrived at 2:00 am yesterday morning. Wish I could stay and be with them but we need to head home today. Thank you to Sandee Geshick and her crew for providing the meals to the riders, ever so grateful for this time. - Alberta Iron Cloud Miller


I'm so fortunate that I was able to hear stories from some of the riders about what pulled them to the ride. Kentucky's story was so moving, we decided that we really need to have a group conversation about genetic memory. Its obvious that the ancestors have been sending messages to many of the riders and that is what brought them here. Thank you Lynny Prince and Kentucky for being part of this family. - Alberta Iron Cloud Miller


Thinking of all the Riders, Horses, and supporters on this really cold day. Prayers for you all! - Kandi World Turner


Prayers for all the riders, prayers for my son Denton as he joins the riders for the last leg! - Collette Renville

Beautiful people from all over come here and bring their goodness. It is powerful. I am honored and grateful. Wopida tanka. - Betty Sheldon


Perry and Jacob walking




Prayers for Safe Travels to everyone riding....Thank You So Much.- Mary Goette


Prayers too the riders and everyone participating in this. its so beautiful that this is going on makes me proud to be Dakota. - Juanetta Standfast

This is sunrise sun sign/blessing at Morton, MN as the Dakota Riders leave to continue on their journey. This sign came after resting, eating & pow wow, and the farriers came to take care of the horses. - Lisa Yankton


Keep me posted on what time everyone's gonna Circle Up tomorrow morning. It would be an honor to be able to sing for all of you again. I had a dream the other night I was singing for all of you, and today I talked to my Great Grandmother, my Kunsi, And she told me about her Grandfather John W Redwing and her Great Grandfather William Columbus, who were both Taken to Prison in Davenport. Had they all been Hanged by Lincoln My family would have been changed. But they're strength and courage wouldn't let that happen and they made it to be among the many first homesteaders in Wakpan Ipaksan MdeWakanton. I feel a Sacredness to be able to say that. I pray for all of you for strength and warmth. I have nothing but Respect for all of you.
Pidamayedo Tanka To all of You for doing these sacred things. I'm here to give you my voice, for the Sunka Wakan Oyate and all you Warriors. Hau Mitakuye Oyasin - Tracii Gunz Barse

Fort Ridgley



Hihanna waste' Dakota 38+2 riders...morning prayers...ride safe and keep warm!! - Wakaninajinwin Eastman


Good Morning
I send you all my love and prayers on the cold morning.
May you be warmed by the prayers of your ancestors, who are sending you a blanket of prayers filled with their light and love to keep you warm and safe today.
-
"O Creator, give me, I pray thee, light on my right hand and light on my left hand and light above me and light beneath me,
O creator, increase light within me and give me light and illuminate me." A.T.M.
- Annie Hansen


prayers out to the whole group for a beautiful day & safe travels - Tina Scheidle


This is wishing all the riders the very best on the final stretch of your healing journey, God bless you indepth. - Joan van der Heijde






Stay warm Riders! I am holding you in warm thought and prayer on this cold winter morning. Aho! - Nancy J. Horvath


Sending prayers and Harmony to the riders and horses today, as well as ALL the behind the scenes folks. Take care, be safe, be warm. - Janet Roper


As I offer tobacco on this cool morning in South Louisiana, I pray for an inner fire, for the riders and their helpers, to help keep them warm on this very cold day in Minnesota. You all humble me. - Vicki Williams Barry

Aho, wopida tanka. Prayers back at you. - Allen Longie


Your prayers will help them as they ride today in frigid temps. It is expected to be -13. Thank you. - Alberta Iron Cloud Miller


Am here on the ride also very osni out! Bbbbrrrrrrt - Allen Longie


bundle up really well and be safe - Vicki Williams Barry


Prayers on Smoke and Sound for a Safe Ride....Listen for the Sound of Flute in the Wind...... - Doug Luzar


Richard with Rider Cheyenne


My Father, Leland Spotted Bird, My Nephew, Emerson Boyd, My Cousin, Tuffy First are Riding in this Ride. My Mother, Doris Spotted Bird, and Nephew's Girlfriend, Talissa Eder are following in the Truck and Horsetrailer. I am Very Proud to have Family Members Representing in Such an Honorable Ride.......Pidamiya! - Myron Lee Spotted Bird


A big THANK YOU and a shout out for ALL the farriers who provided services to the Riders and their horses. Can we have a list of who they are and where they are located? Deb ? in Pipestone for one. Blessings.... - Abby Peawhisle


Blessings shining down on the riders as we prepare to journey to Ft. Ridgely this morning. - Lynny Prince

My heart goes out to all, the elements are brutal, please Tunkasila watch over each and everyone of our Riders, the four leggeds. -
Alice Erickson



Beatrice Menase Kwe Jackson.


My grandma Beatrice Jackson is bringing 38 lbs. of smoked white fish to the Dakota 38+2 Memorial Ride. — Eric Peters





I feed the people, I pray for the people, I share my stories for the people, I advocate for the people, I enjoy the people .... I do all this and more to bring awareness and honor to my ancestors, for it was them who sacrificed for us.... to do otherwise would be a dishonor. ihun hecetu - Sandee Geshick


We cannot be there, but we send prayerful support from Boise, Idaho along with several folks of Dakota/Lakota/Nakota heritage who are following you on the blog. We spent 20 years with the Memorial Run from Fort Snelling while living in Mankato, MN and welcome this great effort to complement the honoring of the Dakota 38+2. - Sheryl Dowlin

Mitakuye Oyasin.
Bruce and Sheryl Dowlin

NOTICES
for Morton

Meals: all meals on Dec 20, 21, 22 and 23rd and breakfast on the 24th will be served in the
Lower Sioux REC Center....
Fri, dec 20th: dinner - - Dakota Wicohan
Sat dec 21st: breakfast - - Dakota Women'sSociety
dinner - - Thompson Family
Sun dec 22nd: breakfast - O'Keefe family
dinner, Columbus Tiwahe
Mon Dec 23rd: breakfast - - Lower Sioux Health Department
dinner - - Lower Sioux Community
Tuesday, dec 24th: breakfast - -Cindi Wittwer
dinner - - Upper Sioux Community in Courtland
Sandee Geshick



and Mankato
By Dakota Wicohan

The Dakota 38+ 2 Ride.. .
Meals for Dec 25th Dinner at 6pm
and Dec 26th Lunch at 1pm
at the United Methodist Chruch at 325 Sherman Street in Mankato. The corner of Blegrade and Sherman in North Mankato. 507-625-3759
If you are staying at the Best Western the front desk clerks will provide maps and directions.
Please bring a dish to share with the riders and supports. Pidamaya ye -
Oyate Duta Ob'Mani Jackson


For donations of $ or food please contact Darwin at 507-430-5246, He can direct you.

Remember, Dec 26 the meal at 1:00 pm is for the runners coming from Fort Snelling and the Riders coming from Lower Brule. - Keith Nichols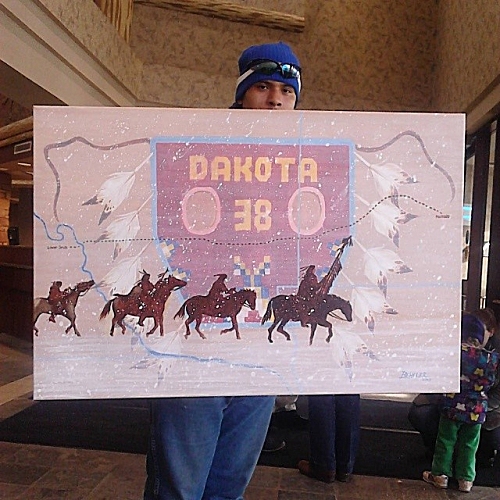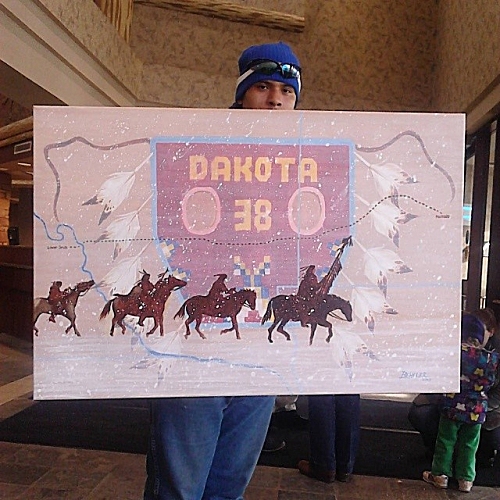 A painting of the Dakota 38