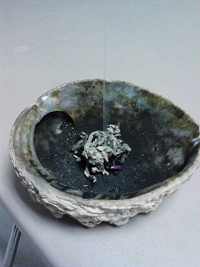 Morning prayers and tobacco offered. Here's praying that this ride will impact the young people in positive ways, for the rest of their lives. - Vicki Williams Barry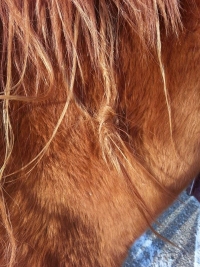 Spirit Braid in one of the Sanka Wakan's.

So many songs and hours at my altar today.. so many prayers. Ride safety, oyate! - Kayla Bluhm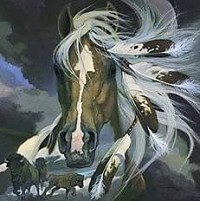 Thank you for adding me to this site. May all involved have a safe and sacred ride. - Curt Lauret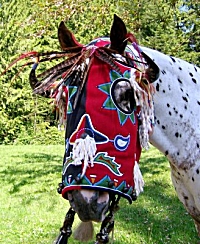 Blessings for doing a Great Job and sharing, Prayers with Sage and Sweet grass for all of us, as you make it possible for all of us to be able share this journey - Mitukuye Oyasin - Janet Nagle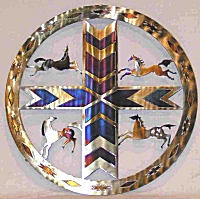 goodmorning to all.....wishing everyone & shunkawakans a blessed beautiful day for journey you take today! love thots & prayers frm ft washakie wyo - Maria Menard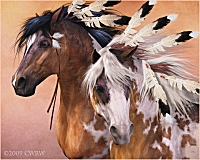 Thank you for accepting me. I watch the movies Dakota38 and was deeply touched as I could feel the healing of this ride. Prayers to the riders and all of those who are helping this ride happen - .
Vickie Blackeagle Williams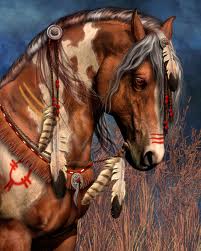 Even AFTER the Ride, you ALL, esp the younger ones, WILL REMAIN in our thoughts and PRAYERS. The Prayers just DON'T stop with the Ride. We carry EVERYONE involved in our hearts. You are NOT forgotten......Your Family just got bigger. Hugs and Blessings - Abby Peawhisle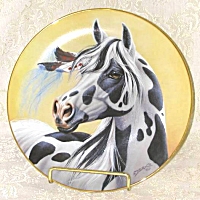 It's a rainy morning here, in South Louisiana, but that didn't stop me from offering tobacco for a safe journey. - Vicki Williams Barry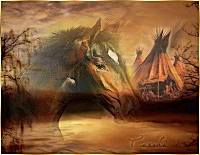 For the Memorial riders
I call my fastest horse from the darkness
Horse wild as wolf teeth
Horse patient as stone
Horse who whispers to wind
From the West he comes
Pejuta Sunuka
Medicine Dog
Yah Yahhhhhhhhhhhh
- Nancy Kohn Raven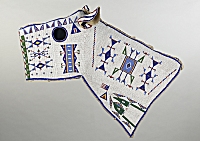 The horse is even holding its head up with pride. Thank all the horses and riders for this wonderful commemoration. Praying for safety for horses and riders and support team. - Linda Daniel OConnell

Sunset in Pipestone


My Elder , Long Standing Bear Chief passed on to his Beloved Sweet Grass Hills four years ago.He was champion of the oral tradition, and passed many stories forward. As I have been engaged Heart and Soul with our riders during this time, I happen to remember a story he was fond of telling in order to inspire and uplift, and it reminds me of our Warriors today and what they have done to the hearts and minds of those watching. I would like to share it here.

He used to say 'When I was quite young, I remember the Elders
talking about the Holy man Golden Sky
Who was in a trance and Walked bare foot
unharmed , through hot Embers
left from the Council fire.
To the eyes of the unenlightened,
this was magic,
a marvelous feat,
so very incredible
that they are astonished even years later.
Golden Sky had said,'Greater Magic than this
is performed
by all who have been able to destroy
their own patterns of Belief.
The greatest magic
is in confronting all fears squarely and completely.With forgiveness
and a open heart
such a person can walk on the Sun

Nancy Kohn Raven

Mason Redwing flat out in Russell!


We are truly blessed to have Warriors willing to sacrifice in order to remind us of where we came from, the hardships and struggles to make life a better place for our future generations, much love, respect and prayers for all involved in this Memorial Ride. Pilamaya -
Bernadine Catches Dabutch



Sending Prayers into the Past, for Healing, Prayers into Today for Strength, and Prayers into the Future for Hope...... -Doug Luzar


The Staff in Russell

Jake Iron Cloud



Good morning to everyone. As you continue your Ride, my thoughts and prayers are with all of you from the bottom of my heart. Please be safe, warm, full with food, I love all of you for this sacrifice you are making. Mitakuye Oyasin - Alice Erickson



Gabby Flute Player - now how did I know that?


Relaxing after a hard Ride in Russell



It is an honor to be a support structure for your ride group. We were happy to be able to assist at the Flandreau Indian School. Safe travels. Dave Schildt - Home living Assistant - Boys Dorm. - David D Schildt


Yes! Prayers for all were offered at Full Moon ceremony by members of Roaring Fork Valley Circle. - Rita Marsh


Awesome pic awesome dedication, awesome Warriors! AIM - Marge Hebda


I just returned home from the sight of the firs killings at Acton mn there is a historical marker there on the west side of the farm house on a little hill it was beautifully done by the minesota historical society. It points out that the dakota were adolentent males daring each other to do bad things, ( some things never change and we still have that problem today) but also this place bought me back in time and a saying came to mind from a man much more educated than myself ... - Allen Sheppard


It is warming up here today but I know our riders are still in the frosty cold. I can't step outside without thinking of them. I don't think I will ever think about the cold the same again. I honor them and continue to send prayers and beautiful energy to ride with them today. - Kendall Gutierrez



All of my friends in Canada...it does snow in Hawai?i too and I am thinking of you today! I am thinking also of course of the horseback riders of Dakota 38 +2, I know they have entered into Minnesota and my 8th graders and I are wishing you good journey! me ke aloha. - Pua Case


Thank you all for doing this..horses n riders..supporters...right on to all of you - James Whatley

This is such a powerful ride, so much so that you can feel the great Chiefs spirits riding proudly with each rider! - Joy Maddox Dacus





Mason relaxing again!




Riding into Russell


Han, I am Manager of KODA 93.5 FM 'Canada's ONLY Dakota Nation Radio Station' right here in Sioux Valley Dakota Nation, Manitoba, CANADA! I have been announcing your updates and asking our oyate to say prayers for the Dakota 38+2 Memorial Ride and all that are participating....WOPIDA!! - Desiree Wasicuna




Well this is it. We are packing up and getting ready to leave for MN this morning.. My hearts sad to leave Sioux Valley.. Excited to ride though... Nervous.. We should reach North Dakota by Night fall. Pray for safe travel for us and all our equipment holds up and the horses travel well. Lucky, Coochese ,Rudy, Dakota,and Scar. Going to be an amazing ride! Hoka! - Unity Ride Horses




A young Rider with his Dad
Look at that ponies tail swishing!



Some young Riders taking it easy in Marshall tonight

NOTICES
for Morton

Meals: all meals on Dec 20, 21, 22 and 23rd and breakfast on the 24th will be served in the Lower Sioux REC Center....
Fri, dec 20th: dinner - - Dakota Wicohan
Sat dec 21st: breakfast - - Dakota Women'sSociety
dinner - - Thompson Family
Sun dec 22nd: breakfast - O'Keefe family
dinner, Columbus Tiwahe
Mon Dec 23rd: breakfast - - Lower Sioux Health Department
dinner - - Lower Sioux Community
Tuesday, dec 24th: breakfast - -Cindi Wittwer
dinner - - Upper Sioux Community in Courtland
Sandee Geshick

and Mankato
By Dakota Wicohan

The Dakota 38+ 2 Ride.. .
Meals for Dec 25th Dinner at 6pm
and Dec 26th Lunch at 1pm
at the United Methodist Chruch at 325 Sherman Street in Mankato. The corner of Blegrade and Sherman in North Mankato. 507-625-3759
If you are staying at the Best Western the front desk clerks will provide maps and directions.
Please bring a dish to share with the riders and supports. Pidamaya ye -
Oyate Duta Ob'Mani Jackson


For donations of $ or food please contact Darwin at 507-430-5246, He can direct you.

Remember, Dec 26 the meal at 1:00 pm is for the runners coming from Fort Snelling and the Riders coming from Lower Brule. - Keith Nichols



Today is a special day for Dakota elder Sid Byrd, Flandreau, SD. He turned 96 and is still sharp as a whip, clear minded and is a treasure to his people. Anpetu Tunpi waste yuhaye! - Alberta Iron Cloud Miller



Happy Birthday Sid Byrd!



Hey look there's Keith on a horse!!