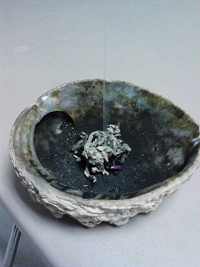 Morning prayers and tobacco offered. Here's praying that this ride will impact the young people in positive ways, for the rest of their lives. - Vicki Williams Barry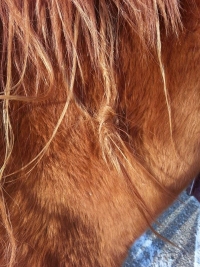 Spirit Braid in one of the Sanka Wakan's.

So many songs and hours at my altar today.. so many prayers. Ride safety, oyate! - Kayla Bluhm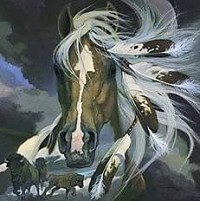 Thank you for adding me to this site. May all involved have a safe and sacred ride. - Curt Lauret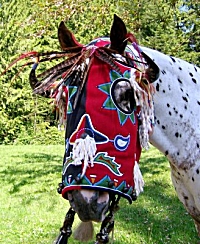 Blessings for doing a Great Job and sharing, Prayers with Sage and Sweet grass for all of us, as you make it possible for all of us to be able share this journey - Mitukuye Oyasin - Janet Nagle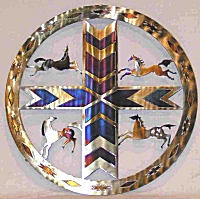 goodmorning to all.....wishing everyone & shunkawakans a blessed beautiful day for journey you take today! love thots & prayers frm ft washakie wyo - Maria Menard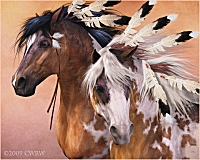 Thank you for accepting me. I watch the movies Dakota38 and was deeply touched as I could feel the healing of this ride. Prayers to the riders and all of those who are helping this ride happen - .
Vickie Blackeagle Williams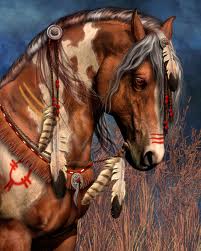 Even AFTER the Ride, you ALL, esp the younger ones, WILL REMAIN in our thoughts and PRAYERS. The Prayers just DON'T stop with the Ride. We carry EVERYONE involved in our hearts. You are NOT forgotten......Your Family just got bigger. Hugs and Blessings - Abby Peawhisle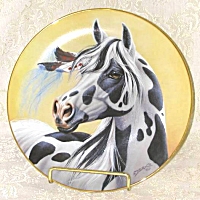 It's a rainy morning here, in South Louisiana, but that didn't stop me from offering tobacco for a safe journey. - Vicki Williams Barry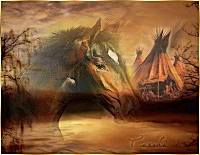 For the Memorial riders
I call my fastest horse from the darkness
Horse wild as wolf teeth
Horse patient as stone
Horse who whispers to wind
From the West he comes
Pejuta Sunuka
Medicine Dog
Yah Yahhhhhhhhhhhh
- Nancy Kohn Raven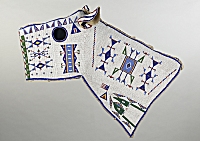 The horse is even holding its head up with pride. Thank all the horses and riders for this wonderful commemoration. Praying for safety for horses and riders and support team. - Linda Daniel OConnell

A Day of Rest for the Riders
Arvol Looking Horse being interviewed on the radio this morning.

Sheldon Wolfchild in his interview



Seth Eastman and his interview

Thanks to Tom Wilson of KXSW_FM in Sisseton for the show


Richard in his interview. Thanks for mentioning all of the Communities Richard


This is great listening to Kxsw-fm Dakotah-Radio & hearing what the riders & supports have to say. Makes my whole day!! I know I'm no alone when someone has a dream from the Creator & follows it. It is important to do this & help others. Prayers for the riders, horses & all the supports! Red Love/Tradish style - Laura Charles

Thanks for the add! I've been following posts on the riders since they started:) Sending good positive vibes their way this morning=) - Wakinyan Nape Catka


Mason and Daniel having fun with their interview!



Prayers and tobacco on this cool morning. You riders deserve your rest today as you're nearing the final push of your journey. You have inspired me and brought me to tears. I so miss being in Minnesota and being part of the healing. Finish strong...I know that you have touched many hearts. - Vicki Williams Barry


I wish I could be there, I know it was a most spiritual experience. A day to celebrate the journey and the love that all have for the riders and supporters. This has been a great experience for me to get to share this with each and everyone of you. Thank you so very much. I am a little said as many people I have asked if they were aware of this weren't. How could they not know, because no one every taught them. That is even sadder. Perhaps now this will open up a whole no outlook for all people and even the Indians I spoke to who didn't know. God speed, and love to all. - Terri Kaye


Thanks been a long three years away from home ill be home for x-mas this year my only gift to my family an that's mine too. People take things for granted and you don't know how precious things are until their far or taken away. I deployed to Haiti....any way live, laugh, love - Crystal Rain Blackowl


the commeradery among everyone on this site is so warming. i could only dream of being around them everyday of my life, im spanish and german, poss taino because of where my grandfather comes from, but my heart and spirit knows a diff life and everyday i feel native inside.....i feel everything you do..i honor your ways as i believe they were once mine as well, im sorry for the loss of a good friend, im sorry for your ancestors. struggles, i stand with you in spirit as i am in California, if i could id be along with you.... - Debbie Snowolf Como


I see you Dakota people. .I see your hearts. .I see your pain...I see your relatives that are no longer hear to speak. ..I see your struggle...be brave and strong..May all SEE you and learn to acknowledge your truth and past and God bless you with a future of rejuvenation and pride. - Michele Goldberg Harvey


A meal in Morton


Had our "table of knowledge" for after breakfast coffee this morning...pure joy! Emmett
Eastman, Sandee and Ray Geshick, Lillian Columbus Wilson, Lonna Stevens Hunter, Clifford Canku.... - Betty Sheldon




As we arrived into Redwood Falls we were informed that the mayor had passed away half hour before we arrived. As the riders rode through Redwood falls we all detoured by his office and said a prayer for him. - Keith Nichols

we had a "true" ally in Gary. He did all he could for the Dakota community, he went to bat for us when he had to, he had our back when others didn't, he truly showed compassion for us, always spoke out for our causes and never hesitated when we went to him for anything - in his heart, he was a Dakota himself. Cansayapi lost a dear friend.... - Sandee Geshick

As always, the way we we're taught. The natives always thinking of others first before themselves. I pray things are no different next year.
Prayers & strength to his family in their time of sorrow. - De Iyt

Prayers for the mayor as he begins his journey, and for his loved ones and community. Redwood Falls is a special place to me. It's where I know my family returned after being exiled. Whenever I travel through the area, I always think of them and pray. It's nice to hear the mayor was such an ally of the ride and its message of reconciliation--very heartwarming to read of the riders tribute to him. Peace and love to you all. - Desirée Furman Dion



LeAnne and Crazy Boy


Auntie LeAnne RedOwl as I look at this picture tears come to my eyes and stream down my cheeks because of all you have been thru and all the hardships you have been thru in your life. My heart is so happy because this will just make you stronger in the end i know from this picture demarcous is looking down on you and all the riders smiling proudly i love you so much and give crazy boy a hug he is a stong little guy also with a big heart i love you auntie! - Rhonda Darkcloudwoman LaMere



Matt takes the eagle Staff for the ride to Morton


Anpetu' Was'te!! Just got done watching the movie with my lil takojan who is 3 yrs. old but very smart!! We want to send up Smoke and Prayers today for the Riders and All who make this Journey possible!! She said Nana some day I wanna do that for my People!!:) She also said I love my People Nana!!:) Lets me know I'm doing the right thing instilling our ways and traditions in my lil takojan's!! Proud to be Sisseton Wahpeton Sioux!! Han Wopida' Tanka' Tunkasina' for this day you have blessed each and every one of us with!! Mitakuye' Oyasin' - Zella F Utley


Good morning to all,

It is raining here in WV this morning which is melting all the snow. I am sending Prayers and Blessing to the horses, riders, volunteer staff, and all other volunteers that are involved with the Memorial Ride. I have asked Great Spirit and the Angels to guide you to go deep within self so that all ugliest can be dissolved and that only compassion will shine through you each day from this day forth so that forgiveness will be a powerful tool shown to the world that each living being is a part of the whole and peace will blanket Mother Earth so she will feel the warmth and love of her children once again. Have fabulous day and I will talk with you in the morning. - Pennykay Hoeflinger



your pictures make me cry....and my soul home sick. in this life im not native but my heart is, and if i were there id be riding with you....stay safe all of you horses too....you are loved!!!!! - Debbie Snowolf Como



So impressed with all the beautiful horses on the ride. They look well cared for. Blessing to riders and horses as they continue on this memorial ride. - Linda Daniel OConnell



Wopila Tanka for the add, IDK Jim personally but I wrk @ Porcupine, SD Post Office n he gets his mail there n last wk he came in n sent a pkg out n said he was on his way to Rapid City SD n he went out the door n came back in n handed me a dvd movie Dakota 38 n wished me a Merry Christmas so wen I got home my hubby n I watched it n thats the first time I learned about the 38 + 2 warriors who wer hung.... my heart, my prayers n healing go out to Jim Miller, all the riders, all the horses n all thr supporters.....Mitakuya Oyasin ? - Pearl Rossman




Ready to Ride




Hihani Waste Mitakuyepi, Jim and I arrived last night in Morton safely. He was cleared to travel and is recovering well thanks to all the prayers said for him. We are so thankful and extend our hand in gratitude. Today at 10:00 am we will be meeting here at the hotel in the Tatanka Room with the One Nation One Voice Prayer Ride 2014 team to finalize plans for the ride from Washington state to Washington, DC. A message and the canupa will be carried to President Obama by the riders in support of the treaties and to hear the plea of our nation and for the protection of our living waters, clean air and our sacred Unci Maka. Many of the riders are also Dakota 38 riders and supporters so you are invited to share your thoughts. We look forward to meeting you! - Alberta Iron Cloud Miller



The day is winding down. Alot of relatives/riders pulling in here at Jackpot Junction. Good to see everyone. Glad everyone made it here safely. Turning in, have busy day ahead of us. Good night n pray everyone has a restful sleep. - Josette Peltier

Status is we are here at the hotel someone nicely covered that for us for this part We ride tomorrow .. Funds low .. Leave for Mankato Tuesday that's what we need help with and returning.. Rest day for everyone today ..
Thanks Pops .. Horses are ready to go .. Warmed them up today .. Everyone has been super kind to us .. -All DayImages


NOTICES
for Morton

Meals: all meals on Dec 20, 21, 22 and 23rd and breakfast on the 24th will be served in the
Lower Sioux REC Center....
Fri, dec 20th: dinner - - Dakota Wicohan
Sat dec 21st: breakfast - - Dakota Women'sSociety
dinner - - Thompson Family
Sun dec 22nd: breakfast - O'Keefe family
dinner, Columbus Tiwahe
Mon Dec 23rd: breakfast - - Lower Sioux Health Department
dinner - - Lower Sioux Community
Tuesday, dec 24th: breakfast - -Cindi Wittwer
dinner - - Upper Sioux Community in Courtland
Sandee Geshick

Thompson family dinner - Thank you

and Mankato
By Dakota Wicohan

The Dakota 38+ 2 Ride.. .
Meals for Dec 25th Dinner at 6pm
and Dec 26th Lunch at 1pm
at the United Methodist Chruch at 325 Sherman Street in Mankato. The corner of Blegrade and Sherman in North Mankato. 507-625-3759
If you are staying at the Best Western the front desk clerks will provide maps and directions.
Please bring a dish to share with the riders and supports. Pidamaya ye -
Oyate Duta Ob'Mani Jackson


For donations of $ or food please contact Darwin at 507-430-5246, He can direct you.

Remember, Dec 26 the meal at 1:00 pm is for the runners coming from Fort Snelling and the Riders coming from Lower Brule. - Keith Nichols



Blessings to all on the ride today! Praying for the one man who is recovering from stroke. Thanks for all the great photos! Glad you all a good rest day and refresh your spirits and got to be @ Pow Wow! Dancing is in my blood too and it works miracles! - Diane Whitlock

Prayers for him and all, and may all those who ride, find warmth and peace while on this journey in memory of our Ancestors who believed in something so strong that it is still being tested today. And that belief is the continuation of the lives of our future generations. For they are the ones who carry on the traditions and values of our culture and heritage. May each footstep, each hoof print lead everyone down the good Red Road. Mitakuye Oyasin. - Justin Post


Aloha from Hawai?i...
ll is Sacred on this Solstice Day -for all in ceremony - pray for everyone, those who are standing, those who are not, those who are Idle No More, those who are not, those who are aware, those who are entering into awareness... we are all in this together! - Pua Case

May tunkashila watch over you all as you begin another day - Isabelle Afraid of Enemy



Thank you Southwest Minnesota State University for all that you did for us. This photo is a community breakfast we we head out for another days ride.

We also want to extent a great thank you to the City and residents of Russell and the Living Word Lutheran Church in Marshall, MN. All the riders and horses appreciate all that you did to make our stay wonderful.
- Keith Nichols

I cannot wait to be there next year - my prayers and love are with each and everyone of you Alberta Iron Cloud Miller and my "bestest ever moment" is going to be when I get to hug Jim and say THANK YOU for sharing your vision with us all. -Sharlene Whiteley McGilvray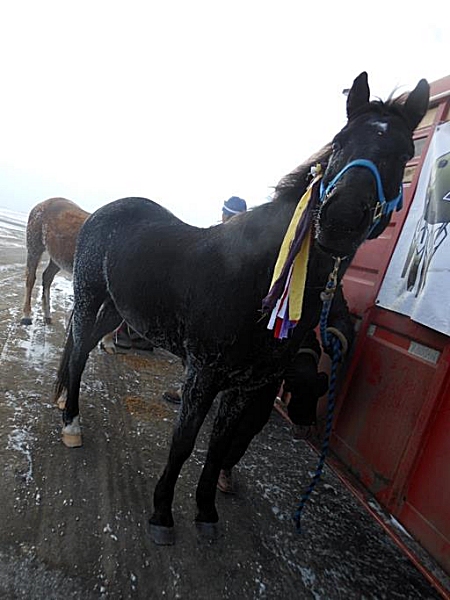 When will you be ready to Ride again? I'm waiting!!