Latest flare up. 2004


Catlinite


Which stone do you want your Pipe made from?


False Stone Quarries


Why pay for Pipestone


Latest on the False stone


Pipestone Quarriers Guild


Rumors


Who is Chuck


Pipestone Pipes


The sacred Pipe


Derbys


Petroglyphs


Council Circle

Museum

Visitors to the Museum


Beads & Buckskins educational program


Frequently Asked Questions

Edu-tainment

History of family

Old Visitors to Pipestone


Pipe making instructions

Shame at the Three Maidens


Arvol Looking Horse directive

Minnesota Tour

In Memory

Squirrely


Miracle

Workshops

Chuck & Gloria in Europe

Volunteers

Ancient Tracks


Ancient Voices


Books


Map to the Center

Donations

Links


Form

Site map
This site redesigned
June 2007
Copyright:
Gloria Hazell
1997 - 2007
All Rights Reserved.
This site is rated by the following organizations
This site designed by




Dragonfly Dezignz
Graphics by Gloria Hazell 1997 - 2007
The background is from a quilled moccasin, graphic by Gloria Hazell
The medicine wheel logo was drawn by Solomon Derby and gifted to the Center for our use.
Thank you Solomon
Thank you for the skill with which you present your products. There are no big marketing schemes, just the simple truth. That is a good thing for people on the internet to discover.
Beth, MN. November 14, 2001
Thank you for your continued educational and informational efforts to protect the Pipestone quarries from those who would misuse, abuse and deplete this precious resource! -
Kathleen, Indiana, April 2002
Thank you, both, for your efforts upon this site. It is extremely well done and informative. Thank you, for extending your time and energies to this site. Walk with the Sun; Dance with the Moon; Sing with the Stars; But always...Run with the Wind. -
Snow Owl, Nevada. December 8, 2001
Our Volunteers
The people who work alongside of me as volunteers at the Center are very special. In honor of them I would like to use this page on the site to give information about them and to thank them for all they do so willingly. - Chuck
2007
This year we are expecting Nico Verhoeve to come over in September to assist us in day to day running and setting up the museum. Nico comes from the Netherlands and we met him back in 2005 when we were in Holland, we have stayed friends with him since. This will be Nico's first visit to the States.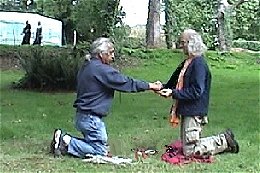 Chuck and Nico on the Isle of Wight UK, September 2006. This was taken after gifts had been exchanged after a ceremony. Gloria and Jan are standing in the background
Volunteers
Mariska Wobbe, Kathleen Anderson and Jenny Hazell 2002

Mariska Wobbe

Mariska (on the left, above) from the Netherlands helped us in 2002 at the powwow, and she has returned again a number of times to lend a hand.

Thank you Mariska

| | |
| --- | --- |
| Robert, Rosa and Markiska 2003 | Mariska again, this was taken in 2003. With her are her friends from the Netherlands, Robert and Rosa, who also helped for a while at the Center. Thanks, it was good to see you! |

Jenny Hazell

Mariska, Jenny and Paul who helped us in 2002 and became great friends.

Thanks go to all three.
Kathleen and Sheena Anderson

Behind Mariska in the photo above is Kathleen Anderson, she and her daughter Sheena have helped at the powwow for the past three years. They will be returning again this year from Ohio when Kathleen will be taking over the running of the taco stand. Sheena is a powwow dancer but she also helps us out on the food stand and is a great favorite of everyone.

Thanks Kathleen and Sheena

Kathleen and Sheena
| | | |
| --- | --- | --- |
| Carol Derby | Maddie Redwing | Alice Erickson |
Chuck's sisters Carol, Maddie and Alice help at the Center whenever they can. If you call the Center and Chuck isn't around it is usually Carol that answers the phone. Maddie does a lot of the book keeping and keeps us all ship shape. Alice makes the frybread!
Carol and Maddie both worked at the Pipestone Indian Shrine Association for 20+ years until 2000 when they were terminated from their positions. They then started their own business Spirit of Peace Crafts that is also located in the Center. Carol and Maddie also work at the Flandreau Indian School.
Alice worked at the Pipestone National Monument until 2004.
Elizabeth McCabe

has worked tirelessly on many events and ideas for about eight years. Elizabeth and Gloria were friends in New Jersey where they both lived, she moved to Pipestone shortly after Gloria and her family did, staying with the family until she found a place of her own to call home. Elizabeth works part time at the Pipestone County Museum, is a Reiki Master, and a Reverend. She was instrumental in organizing the Pipestone Teen Center. She gives the Center and the Tiospaye continual support in all that we do and volunteers her time to help here as well.

2007 An update on Elizabeth:

Elizabeth is now the founder and director of a womans healing center in Pipestone. Pipestone Wellness Center. They have a gathering for sharing and coffee on each first Sunday of month from 2 to 5 pm .It is located in the old Keyes building. Elizabeth holds various guest speaker sessions and therapies there, including Reiki that she does herself.

Elizabeths Reiki site is HERE
Previous Volunteers
Jan Harper-Whale - England
Mike Edwards - Virginia
Rachel Lee - Australia
Alan Goodliffe - England
Conor (Luis) Hawk - England
Lynn Stillwater - Oregon
Shawn Koons and Anne - Travelling America
Marge DeRuyter - Holland, MN
Buddy Moen - Pipestone
Kevin Moen - Pipestone
Rick Moen - Flandreau
Cindy Pederson - Pipestone
Roxanne Feyereisen - Pipestone
Petula Hazell - England
Andrew Hazell - England
The O'Toole Family - England
All the people who help with the Powwow each year,
The Security Team: Ray Derby, Mark Pederson, Cari, George, Reg, Donna, Dennis, Jeff, Katie, The Willing Family,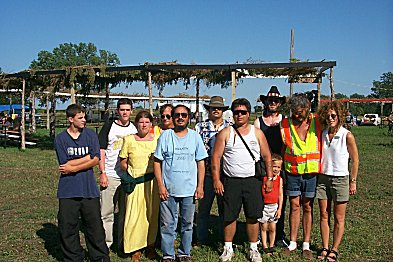 Dave DeRuyter, Solomon & Monica Derby, Gary Erickson, Cynthia Brady, Jackie & Karen, Ray Redwing, Vivian, Monica & Melanie, Colleen Bird, Jessie & Channa, Matt Derby, Major Redwing, Gary Brady, Todd Tellinhuisen.
---
Many thanks to the Pipestone Community, Shakopee Mdewakanton Dakota Community, the Sisseton-Wahpeton Dakota Oyate, Flandreau Santee Sioux, Santee Dakota Sioux and Mille Lacs Ojibwa for supporting our powwow with donations
---
Then of course there's me, Gloria, but as Chuck's asking me to write this I can't really thank myself can I!!!! The work I do at the Center isn't a lot as I'm in England most of the time, but I do whatever I can do from here as a Virtual Assistant. The website is my baby, and all the writing that goes with it, and as you can see I have been redesigning it yet again. I do hope you enjoy your visit here, please come again. I must just thank all of you for your kind words about the site, I really appreciate every one.
---
317 4th Street North East, Pipestone Minnesota USA
littlefeather4 at hotmail dot com