Moses Crow
| | |
| --- | --- |
| | September 1890 - September 1938 |
Moses Crow (Santee Dakota from Niobrara, NB) and his family were the first Native American people to come to Pipestone to live, on the invitation of his sister, Julia who was married to Joe Taylor (Indian Joe). Moses had married Estella Pearsall, in Granite Falls, MN. They had known each other since they met at the Pipestone Indian school during the early 1900's. Her family had been a part of the Upper Sioux during the Conflict in 1862, and had returned there when it was safe to do so. In actual fact her relatives were in Pipestone quarrying when the Conflict started. He and Estella, had 9 living children, one of them, Ethel, married Harvey Derby.
Moses was not known as a Pipemaker although he did make a few which are highly regarded by collectors. He learned quarrying and passed down to his children the art of quarrying and craftworking. His children all helped with the quarrying, including the girls. If it wasn't for Moses Crow and his family the art of quarrying the Pipestone could have been lost many years ago.
You may hear the story that Moses came to Pipestone to settle because of the quarrying and Pipe making, but that is not true, he came looking for steady work which he found at the Indian school in Pipestone where he worked as a 'Fireman' for 10 years, although he worked in the Dairy Barn for a while too. He didn't learn quarrying until later. Then he passed the knowledge down to his immediate family, his daughter Aileen had said that all of the children quarried.
Moses was a World War One Veteran in the Medical Corps.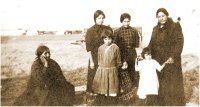 Estella Pearsall with her family camping at Pipestone early 1900's, on the left is Great, Great, Grandma Amos, who was with her family quarrying in 1862 when the Conflict began, next is Grandma Estella (later Crow) as teenager, with Great Grandmother Pearsall on the right, all from Granite Falls, Upper Sioux Agency. 2 of the 5 children in the photo are still alive, both are in their 90's and they still live in Granite Falls.
---
Harvey Derby
Harvey was born and raised on the Sisseton reservation, in South Dakota, his father was 'Sitting Down Walking'. He moved to Pipestone in 1938 with the CCC. He met and married Ethel Crow and they had 7 children, their eldest son was Chuck. Harvey's father and grandfather had also quarried in Pipestone so he was familiar with the process, Moses helped him to perfect the art.
Harvey served in the Army in World War Two, he received a number of honors including the Purple Heart which he earned when he saved a comrade's life and was injured during the rescue.
(The middle picture above drawn by Jackie Bird)
---
Chuck Derby
February 1941 - August 2010
| | | |
| --- | --- | --- |
| | Chuck in his quarry, and (r) giving offerings during a visit to an ancient English Sacred area. | |
Chuck is carrying on the traditions of his family, and also teaching others the traditions which he adheres to in his everyday life, that of sharing, caring, prayer and respect. He continues quarrying year after year, and his Pipe making skills are often used when people ask him to make them a special design.
By running the Little Feather Center in Pipestone he manages to pass his cultural knowledge and experiences on to many people he wouldn't meet otherwise. People from all walks of life visit the Center, both Native and non-native, and they come from many different countries. Sometimes the Center looks and sounds like the United Nations! These visitors are very interested in his culture, and he answers their questions in the best way he knows how, always with a smile on his face.

Since having this web site virtual visitors are many with thousands walking thru the virtual doors every month, so the eductional process is continuing further afield. Due to all of these visitors who wanted to know all about the Center and the work done here Chuck decided to start a Friends of the Little Feather Center group in 2003. Membership is growing nicely with people from countries as far away as South Africa, New Zealand, and Australia joining so that they can be closer to the Center even though they know they will probably never get to it in real life.

Chuck passed away of cancer in 2010 after a short illness, he is sorely missed.
---
Jeff Derby (Little Feather)
February 1945 - February 1987
Jeff was the youngest son of Ethel and Harvey, he was an expert craftsman, who made beautiful Pipes. He also taught the younger generation of the Dakota Tiospaye in Pipestone the way to carve Pipes. Chuck and Jeff used to quarry together once it became too much for their parents.
Jeff started the Spirit of Peace Indian Center which he directed in the old Depot back in the 1970's, he was also instrumental in implementing the powwows that took place back then which many people still speak about with enthusiasm.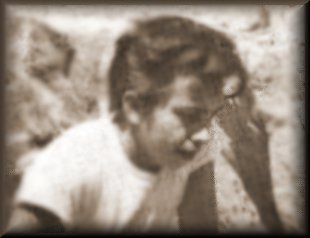 Jeff died tragically in a house fire in 1987. This became a great loss not only for the Derby family, but for the Dakota Tiospaye as a whole because not only was he greatly missed as a person he also had a lot of skills that could have been taught to others.
When Chuck obtained the Center in 1988 it was decided to call it after Jeff, who's name was also Little Feather. As you enter the Center please take a moment to look at the memorial wall erected in honor of Jeff.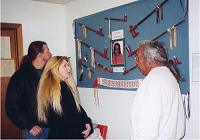 The memorial to Jeff in the Center
---
Look closely at this photograph and you will see some children, one sitting on the ledge, another standing in the quarry. These are 2 of Chucks sisters, the younger one on the ledge is now 50 years old. You can also see Harvey and Ethel Derby quarrying.

This picture shows how long this family have been going into the quarries, the children played there as children and then worked there when they grew up. Chuck worked there for 31 years, Carol and Maddie 25 years each and Alice has recently retired after 27 years. They never moved from the area, they are still here now.