Latest flare up. 2004

Petition for the above
2009 - Not yet done


Catlinite


Which stone do you want your Pipe made from?


False Stone Quarries


Why pay for Pipestone


Latest on the False stone


Pipestone Quarriers Guild


Rumors


Who is Chuck


Pipestone Pipes

The sacred Pipe


Derbys


Petroglyphs


Council Circle

Museum

Visitors to the Museum


Beads & Buckskins educational program


Frequently Asked Questions

Edu-tainment

History of family

Old Visitors to Pipestone


Pipe making instructions

Shame at the Three Maidens


Arvol Looking Horse directive

Minnesota Tour

In Memory

Squirrely


Miracle

Workshops

Chuck & Gloria in Europe

Volunteers

Ancient Tracks


Ancient Voices


Books


Contacts

NEW
News
2009


Map to the Center

Donations

Links


Form

Site map


Previous photos

NEW

Arizona Sweat Deaths
'I received your newsletter and logged on last night to discover both the tour and the pipe-making workshop! I can't come! I cried a lot!! Anyway, by this morning I'd got over weeping and resolved to come some time next year. You will hold another workshop on pipe-making won't you Chuck? There is nothing I want to do more than to sit by your side and make a pipe.' - TJ, South Africa. Feb 2003.
We took a trip and visited you all last winter, We have all been thinking about you all a lot and just wanted you to know how much visiting you has meant to us, we came in with the Raven with a bad wing she now is flying, thanks for the information you gave us on the Raptor Center, we wish you all well, and if we can ever help ya out let us know, with all our hearts. - The ODDer clan, November, 2002
This is one site I will return to often. The music of Running Elk's site is awsome! The information in your text is more detailed than I have found anywhere else. GREAT JOB! Again, Beautiful site. I would be very thankful for any and all help concering the sun dancers. - John, August 1999
The Little Feather Center is an excellent way to promote not only the beauty of the Native American heritage and culture but keeps us informed on current issues affecting Indian country. - Arthur, South Dakota, August 2002
Thank you Gloria. I recieved the name of the Little Feather Indian Center by Ed McGaa through a chance e-mail. I am traveling through pipestone Sept. 13, 14 with my almost 18 year old son as he follows his mother in search of that which is searching for her. I hope to stop and learn of the pipes and order one. I was sad earlier today, very sad and thought of leaving the path that my medicine woman is guiding me on. I am encouraged by the site. Thank you, Fyrstartyr.
rHello Little Feather, I'd like to thank you for making our travelling special! We came by with 12 people from Holland and we all had a great time passing through your museum. Thanks.

Mariska, The Netherlands, Jul 17, 2001

Note: Mariska visited the Center again in 2002, 2003, 2004. 2005 and 2006, and we have visited her in Holland in 2004 & 2005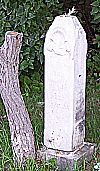 Grave of Chuck's Great, Great Grandfather that we found last week in Sisseton.
He was a scout in the 1860's.
This site redesigned
September 2009
Copyright:
Gloria Hazell
1997 - 2009
All Rights Reserved.
This site designed by




Dragonfly Dezignz
Graphics by Gloria Hazell 1997 - 2009
(not the feather bar)