Latest flare up. 2004


Catlinite


Which stone do you want your Pipe made from?


False Stone Quarries


Why pay for Pipestone


Latest on the False stone


Pipestone Quarriers Guild


Rumors


Who is Chuck


Pipestone Pipes


The sacred Pipe


Derbys


Petroglyphs


Council Circle

Museum

Visitors to the Museum


Beads & Buckskins educational program


Frequently Asked Questions

Edu-tainment

History of family

Old Visitors to Pipestone


Pipe making instructions

Shame at the Three Maidens


Arvol Looking Horse directive

Minnesota Tour

In Memory

Squirrely


Miracle

Workshops

Chuck & Gloria in Europe

Volunteers

Ancient Tracks


Ancient Voices


Books


Map to the Center

Donations

Links


Form

Site map
This site redesigned
June 2007
Copyright:
Gloria Hazell
1997 - 2007
All Rights Reserved.
This site is rated by the following organizations
This site designed by




Dragonfly Dezignz
Graphics by Gloria Hazell 1997 - 2007
The background is from a quilled moccasin, graphic by Gloria Hazell
The medicine wheel logo was drawn by Solomon Derby and gifted to the Center for our use.
Thank you Solomon
Thank you for the skill with which you present your products. There are no big marketing schemes, just the simple truth. That is a good thing for people on the internet to discover.
Beth, MN. November 14, 2001
Thank you for your continued educational and informational efforts to protect the Pipestone quarries from those who would misuse, abuse and deplete this precious resource! -
Kathleen, Indiana, April 2002
Old Things
During the summer 2002, we had visitors to Pipestone some who came into the Little Feather Center, we thought that you may be interested in seeing some of them.
Model T Fords
This group of cars arrived at the Center one day in August, they parked outside and came in to see the Museum, we took advantage and took some photos to add to the museum.
These are such distinguished cars, none today can touch them for class and staying power. The people in this club were in Pipestone for a week, and it was great to see these cars mingling with todays modern ones.


Stereopticon
Yet another day a man came in toting a contraption that we had only ever seen on 'Little House on the Prairie'. We checked it out and it was amazing. A Stereopticon viewer and it's photographs are a great invention of Victorian times. He decided to leave them with us for the people coming in to the Museum to see. In the picture below a younger visitor enjoys the show.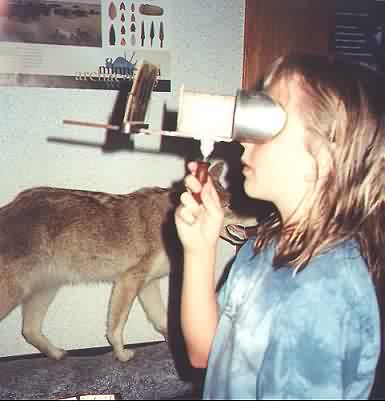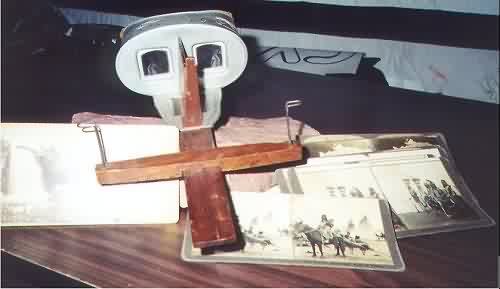 B17 Bomber

There was also a B17 Bomber that arrived in Pipestone for a few hours, we went to see it. Also called a 'Flying Fortress' this old aircraft was used during the Second World War in Europe. Below are various photos of the aircraft .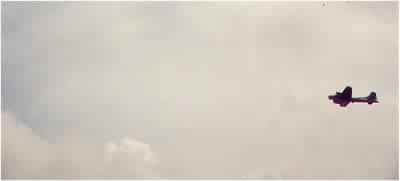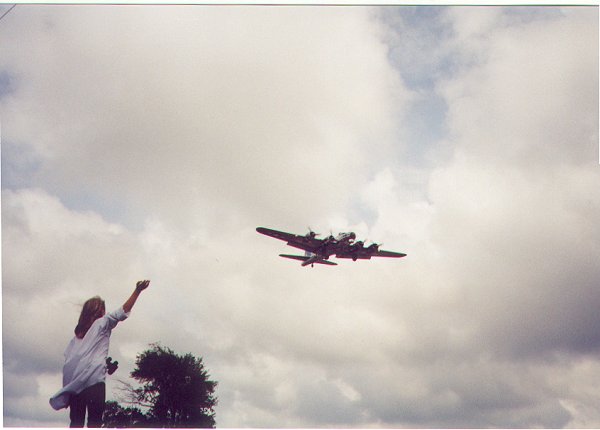 1,(below) 2 & 3: The B17, Sentimental Journey, comes in and circles the city of Pipestone, then comes back thru again to land at the airport. We stood under the flight path and it went right over the top of us. A pretend land-girl waves at it, as they did in England in the 1940's.

4. A picture of Betty Grable is painted on the side of the plane and our Betty stands underneath her namesake.

5. Chuck speaks to an elder of the Pipestone Community other people are looking at the plane and spending time chatting socially to one another.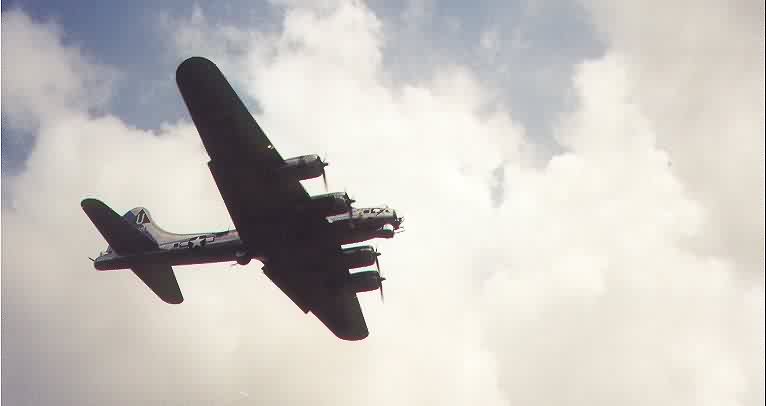 Copyright: All photos on this page taken by Gloria Hazell 2001, 2002, 2003, 2004, 2005. 2006, 2007 All Rights Reserved.
Thank you, both, for your efforts upon this site. It is extremely well done and informative. Thank you, for extending your time and energies to this site. Walk with the Sun; Dance with the Moon; Sing with the Stars; But always...Run with the Wind. -
Snow Owl, Nevada. December 8, 2001
317 4th Street North East, Pipestone Minnesota USA
littlefeather4 at hotmail dot com